Driving much of the wood bioenergy industry's production capacity are policies that encourage and incentivize the use of sustainable fuels in electric power production. Governments across the globe are seeking sustainable fuel sources and reduced carbon emissions.
There are a variety of ways to so do in the search for better fuels and energy sources: Solar and wind are two well-known examples that have gotten much publicity. Yet any such path toward sustainability must fit within a range of acceptable economic dislocation that doesn't require too much societal upheaval.
Indeed, as they say, when someone hits a switch at a ball field, car lot or suburban kitchen, for example, the lights have to come on.
Wood-based fuel sources in the form of industrial fuel pellets fit the need perfectly to provide sustainability while transitioning to a low-carbon emissions environment—with the least disruption to current infrastructure and power production systems that rely heavily on coal.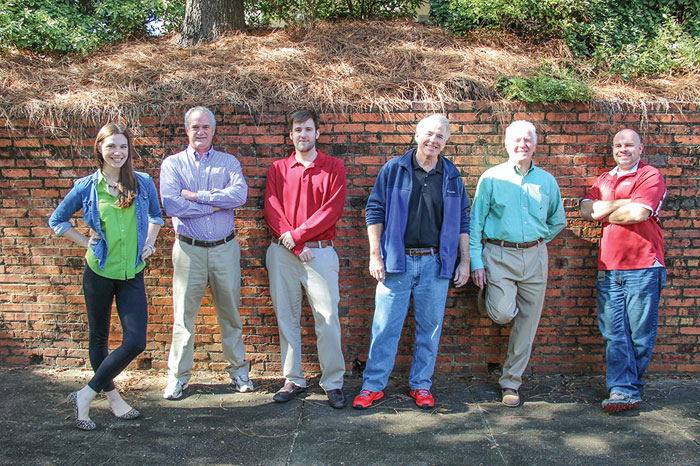 From Left: Jessica Johnson, Associate Editor; Dan Shell, Managing Editor; Jay Donnell, Associate Editor; Rich Donnell, Editor-in-Chief; David (DK) Knight, Co-Publisher/Executive Editor; David Abbott, Senior Associate Editor
Well-known industry consultant Bill Strauss makes the case in a new position paper covered in this issue on page 11, showing how wood fuel pellets offer an economical way to make such a transition—and unlike wind and solar, wood pellets are a baseload fuel that enables power producers to truly guarantee the lights will come on. And it's reliable baseload power that forms the most critical part of a power grid's foundation upon which natural gas and other renewable sources rely, Strauss notes.
By co-firing wood pellets along with pulverized coal fuel, Strauss shows how sustainable wood fuel can be phased in with minimal modifications to existing plants and markets. He uses extensive data points, charts and graphs to make the case, illustrating the variability of non-baseload power sources and the difference in fuel costs per MWh between wood pellets and coal from 2009-17. By phasing in wood fuel co-firing in coal power plants in increasing amounts over a number of years, markets can adjust to a new low carbon regime that may mean marginally higher power costs—but without external costs in environmental damage that are currently unaccounted for.
Also, allowing power producers to get a full return on their current infrastructure investments through the use of wood fuel pellets is critical to gaining more acceptance among the producer community.
Among other fuel source options as part of the transition to lower carbon power production, co-firing wood pellets with coal offers the lowest risk to power buyers and grid reliability while also providing stable, consistent power from existing plants, Strauss notes.
The use of wood bioenergy at the major power producer level, as evidenced by Strauss' paper, can play a critical role in the transition to a clean power future.