The industrial wood pellet production roster of players is a small but powerful one—and in the Mid-Atlantic region Enviva brings the heat. As is the Enviva way, its newest plant, located in Sampson County, NC, follows the lead of its other pellet startups, while procuring roundwood and chips for processing with the newest generation of equipment. Capacity approaches a productive 600,000 metric tons annually, making Sampson one of the largest of the six Enviva plants, whose combined capacity is nearly 3 million metric tons annually.
But what sets Enviva Sampson apart is its proximity to the newest gem in the Enviva crown: Enviva's Port of Wilmington marine export terminal, with its two pellet storage domes and ship load out system. Enviva manages the port facility, while Host Terminals provides daily operational support. Nearly 30 personnel across three companies staff the facility.
Completed in December 2016, the port has real-time storage capacity of 90,000 metric tons. Currently two plants feed that capacity in two ways: Enviva Sampson ships pellets to the port via truck, and another third party production plant ships pellets to the port via rail.
According to Rob McCulloch, Enviva Public Affairs and Community Relations Manager, the relationship demonstrates the overall health of the export pellet market in the U.S. "It's the same concept as the rising tide lifts all ships," he says. "It's great that the market is big enough for all of us. If Enviva can help establish that and grow it, that's great!"
Yohn Ellis, Enviva Wilmington Manager, credits a strong line of communication with the trucking company hauling from Sampson and both pellet plant management teams for enabling the port to operate effectively.
Port Operations
It takes approximately six minutes to unload a truck of 30 metric tons and approximately 15 minutes to unload a rail car with between 90-100 metric tons, before entering storage in one of two domes, each with a capacity of 45,000 metric tons.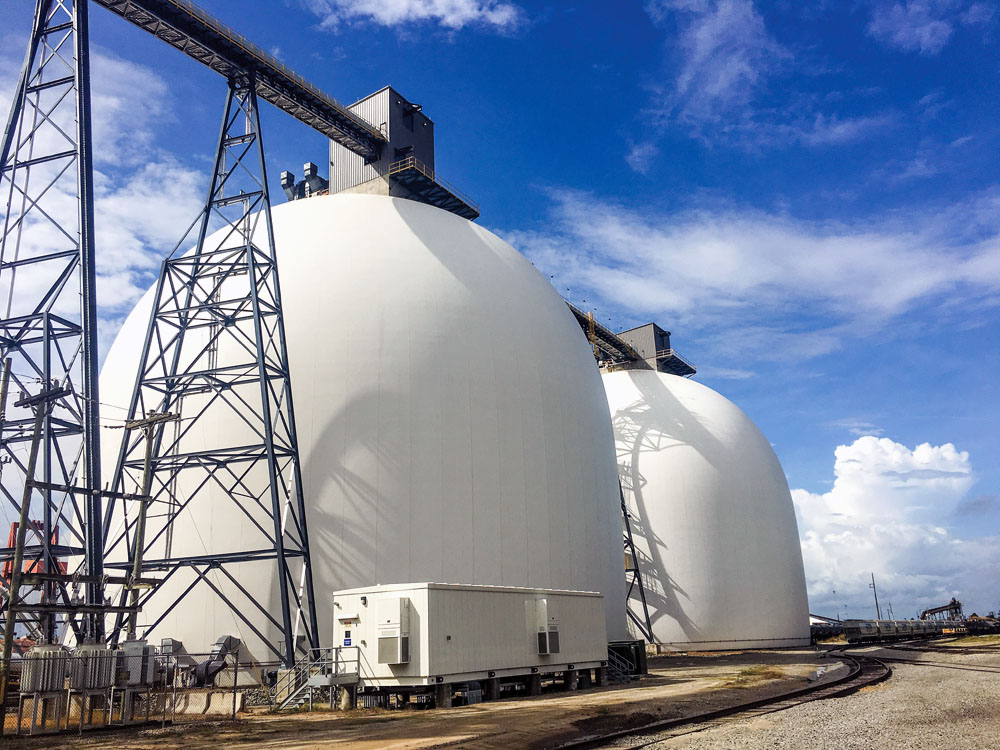 Pellets are unloaded to a conveying system before entering storage domes, which entail spark detection and dust control technologies.
During receiving, Control Union, a contractor in partnership with Host Terminals, pulls samples for durability testing, fines testing and begins temperature monitoring. .
Once the ship docks, the port becomes a flurry of activity and pellets are conveyed from the domes to the actual water's edge where a Bruks crane and Cleveland Cascade chute assists with loading. Since Wilmington is a deep-water port, the facility can handle Supramax vessels with 42,000-48,000 metric ton pellet capacity.
When the ship docks it's a 24/7 "all hands on deck" operation. Host Terminals employees will switch from eight-hour shifts to 12-hour shifts in order to get the ship loaded within the shipping company's allocated time to avoid demurrage.
Pellets disperse from the bottom of the domes via conveyor to ship load out at a maximum rate of 1,500 metric tons per hour. Over 3,600 feet of conveyors move pellets throughout the facility.