Given its vast resources, Russia is always the 800 pound "gorilla" in the room (okay, "bear" in their case), and so we decided to look into the state of wood pellets in Russia. We came upon a report from the U.S. Dept. of Agriculture (USDA) Foreign Agricultural Service (FAS) Global Agricultural Information Network (GAIN). It's basically an update of the bioenergy industry in Russia, including wood pellets. We're all pretty much numbers hounds around here, so here are a few numbers for you (but be wary, as the GAIN report acknowledges that Russian statistics are difficult to piece together. Really?).
Russia's wood pellet production is relatively young, ranking eighth in the world at 1.33 million metric tons in 2016, an increase of 5% over 2015, and forecasted to increase 10% in 2017, primarily driven by continued strong demand in the European Union as well as Asian countries.
Russia is the third larger exporter of wood pellets to the EU, after the U.S. and Canada.

However, a lack of a domestic standard for pellets, poor transport infrastructure, and lack of warehouses will all drag on the development of the wood pellet sector.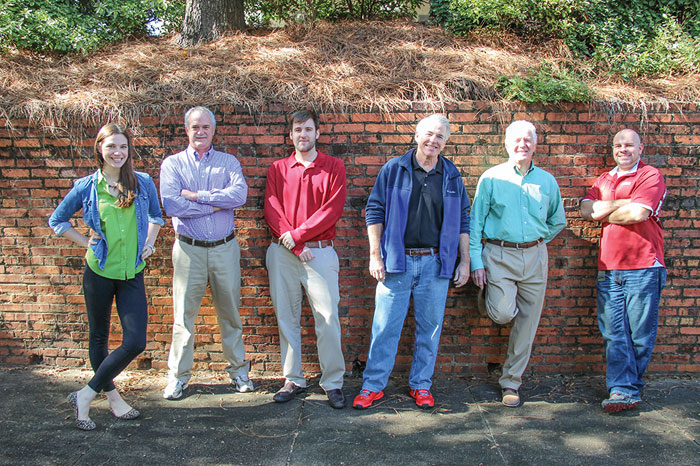 From Left: Jessica Johnson, Associate Editor; Dan Shell, Managing Editor; Jay Donnell, Associate Editor; Rich Donnell, Editor-in-Chief; David (DK) Knight, Co-Publisher/Executive Editor; David Abbott, Senior Associate Editor
About 65% of Russian production of wood pellets is manufactured by 12 processing facilities. 
There are about 20 wood pellet facilities in Russia with production capacity from 30,000 to 70,000 MT.
Vyborg Forestry Industrial Corp. was the leading production facility until 2016 with annual production capacity as high as 400,000 MT. But the GAIN report, based on sources, says various legal claims, tax issues and management changes eventually resulted in the idling of the facility in 2016.