Shaw Resources has been keeping Atlantic Canadians warm throughout harsh winters for more than 20 years. The Shubenacadie based company has been producing wood pellets for residential heating under its Eastern Embers brand since 1995.
Shaw Resources has an even longer history throughout the region. The company has been a fixture in the aggregates business supplying Atlantic Canada for more than 60 years. In fact, it was two employees on the aggregates side of the company who first brought attention to the potential for producing wood pellets for the residential and industrial markets to Shaw's upper management. The two employees got the idea while vacationing in British Columbia where they observed wood pellet plants in operation.
"We've always been into tapping our employees for ideas," says Rene Landry, director of wood pellet operations for Shaw Resources, adding that building a pellet plant back in 1995 wasn't a walk in the park. "Building a plant back then was trial by error."
The majority of the wood pellets produced at the Shubenacadie plant supply the company's residential heating market with more than 90% of pellets sold heading to homes across Nova Scotia, New Brunswick, Prince Edward Island and even a few in Newfoundland.
In addition to the residential pellet market, Shaw Resources uses its wood fiber to produce animal bedding and industrial wood pellets.
"We've done some exporting to the U.S. and a little to Ireland," Landry says. "We have more capacity here. We have about 50,000 tonnes of capacity."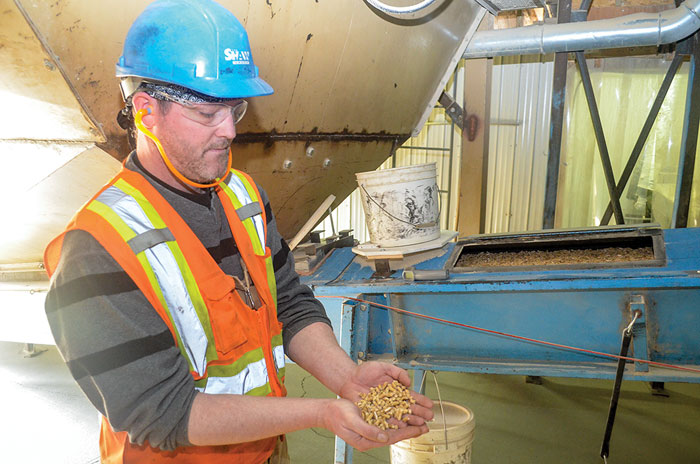 Recent capacity expansion and additional market potential have Shaw ­Resources in good position.
Fiber Supply
Ensuring there is always a plentiful amount of fiber available when operating a wood pellet plant is a concern for all producers, but this is especially true when the plant is a stand-alone facility that is not being fed directly from an on-site wood processing facility.
At the Shubenacadie plant, the primarily softwood spruce fiber supply of sawdust and shavings comes from local sawmills the company has had long-standing relationships with, including Elmsdale Lumber in Elmsdale, NS, Ledwidge Lumber in Enfield, NS, and J.D. Irving's sawmill in Truro, NS.
"We want to be known as having the best quality product," Landry says, adding that local stove installers they work with will often recommend their customers use Eastern Embers wood pellets to keep their stoves running smoothly due to their high quality.
The high sap content of the spruce fiber translates into a higher BTU value and low levels of residual ash.