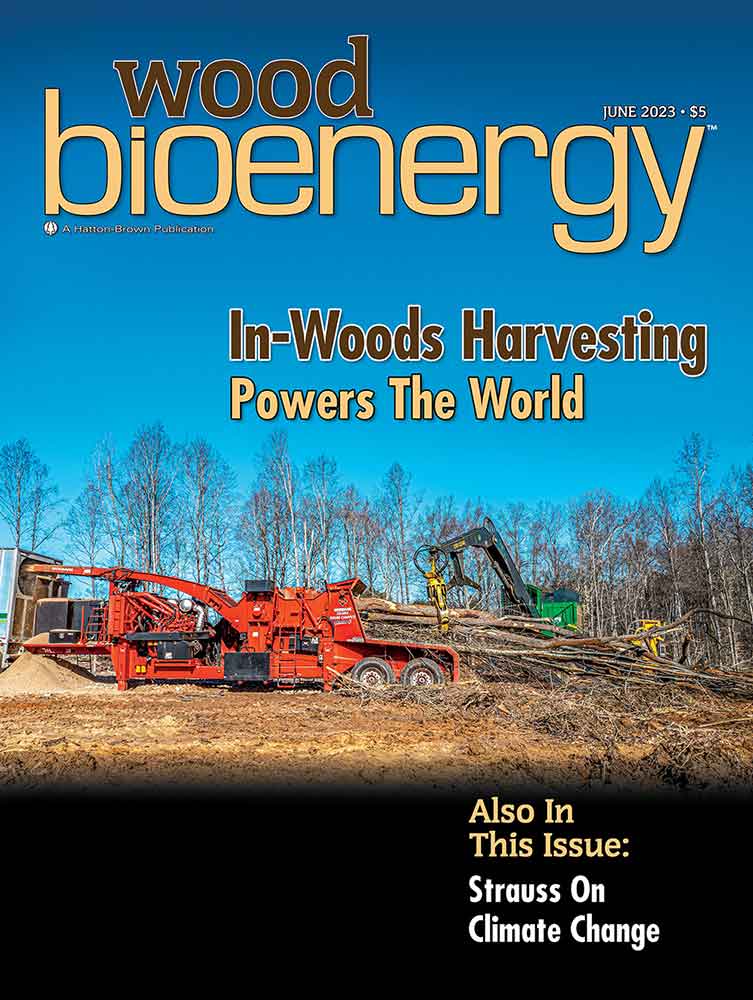 FROM THE EDITORS
COVER STORY
In-Woods Harvesting Powers The World
It's a mad, mad wood-to-energy world out there, but one thing remains true—without some quality in-woods chipping and grinding nothing would happen.
EDITOR'S NOTE: The following companies submitted editorial profiles to complement their advertisements placed elsewhere in Wood Bioenergy June 2023.
Bandit
CW Mill Equipment Co., Inc.
Hallco
Morbark
Peterson
Sennebogen
IN THE NEWS
CM Biomass Adds To Pellets Roster
Europe Pushes Ahead On Renewable Energy
Canada Invests In Cogen Project
Shutdown Shadows ReEnergy Black River
Enviva On Fast Track With Epes Pellet Mill
Enviva Gets Bond Permit
Wood Bio Conference Dates Announced
Coalition Focuses On Bioeconomics
HRC Acquires Compass Land
Mercer Holz Initiates Planting Campaign
Catastrophic Climate Outcomes
Atmospheric concentrations of carbon dioxide (CO2) hit another record high on April 28, 2023, of 425.01 parts per million (ppm). The implications are dire. This white paper makes it clear that urgent meaningful action on carbon emissions policy is needed.
Article by William Strauss
PRODUCT NEWS
Bandit Industries Continues Growing
Airex Energy Completes Funding
Forest Pro Adds DEVELON Lineup
Combilift Contributes To Convoy Of Hope
IEP Atexon Receives FM Global Approval
TerraSource Offers Jeffrey Rader Brand
Is Red Rock Biofuels Another Lazarus?
You know what "they" say: Many times it's the second owner who makes work what the first one couldn't quite do. That's precisely the kind of energy most in Lakeview, Ore., and many others in the woody biomass industry, are hoping Lakeview RNG, a wholly owned subsidiary of NEXT Renewable Fuels, can bring to the once completely dead Red Rock Biofuels development.
The project has bounced around like a ping pong ball, plagued by cash-related issues, process re-engineering drama, bankruptcy of a key supplier and then of course, the big C—COVID-related delays doomed the project. Earlier this year, on everyone's favorite female editor's birthday in fact, was a major payment deadline for nearly $355 million back principal and interest payments on certain Economic Development Revenue Bonds issued by the state of Oregon set via foreclosure notices published in a local paper. When that fated Saturday came and went earlier this year, a property auction was slated to take place just five days later. It was then postponed to early March. It was then postponed a third time. Finally, a savior appeared—in the form of a Texas financier and company, NEXT. The purchase price of the facility remains undisclosed.
The new owner is pivoting completely away from the idea of the plant using biomass from regional forests to produce sustainable aviation fuel (SAF), which was boosted by a $75 million Dept. of Defense grant and fuel commitments from FedEx and Southwest Airlines, plus state and local incentives and infrastructure improvements.
Instead, the newly born Lakeview RNG, taking the estimated 70% of completed construction at the site, has commenced with a redevelopment plan focused on completing construction of certain aspects of the site while replacing or enhancing others. When completed, the Lakeview RNG facility is expected to be capable of converting forest waste into renewable natural gas (RNG) and clean hydrogen.
Christopher Efird, CEO and Chairperson of NEXT, has said NEXT has no interest in making liquid fuels in Lakeview, and will be using an entirely different gasification process, run at much higher temperatures, to convert the wood slash into streams of methane.
Red Rock Biofuels was founded as a sustainable aviation fuel (SAF) operation in 2011, and was being built to produce drop-in fuels from woody biomass and manufacture approximately 20 million (U.S.) gallons (≈ 75.7 million liters) per year of low-carbon intensity renewable biofuels. The facility finally broke ground in summer 2018 but remained incomplete.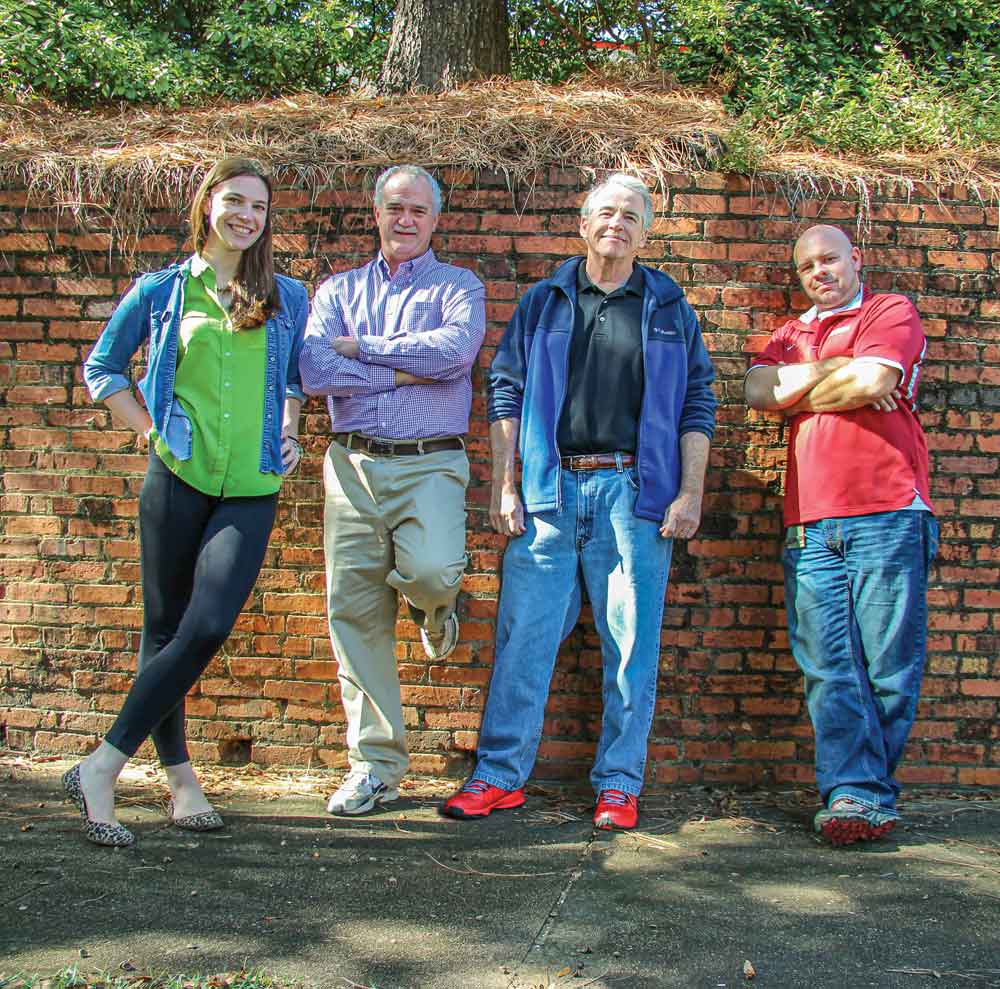 From Left: Jessica Johnson, Managing Editor; Dan Shell, Senior Editor; Rich Donnell, Editor-in-Chief; David Abbott, Senior Associate Editor
"Acquiring the Lake County clean fuels infrastructure is another advancement in our mission to decarbonize the transportation industry and produce low carbon fuels at scale," says Efird. "This acquisition represents a major step toward our clean fuel production capabilities and pathways to meet growing demand for clean fuels along the west coast of the United States while helping to address the critical concern of forest health."
Lakeview RNG will process wood waste and turn it into a low-carbon gaseous fuel. Local Lake County residents and leaders are pleased that the facility has new life, and that the promises of economic development will finally be realized.
"We have been anxiously awaiting this day and are very happy that the facility will be put into operation rather than sold for parts," comments Michele Parry, Lakeview City Manager. "Lakeview's location is strategically important because of our proximity to regenerative feedstock sources and to the pipeline distribution system that can get the clean fuels to market."
Lakeview RNG has evaluated the potential feedstock supply in Oregon and determined that all of its wood waste needs could come from within 150 miles of the facility.
NEXT is also currently permitting and developing a 50,000 barrel-per-day/750 million gallon-per-year renewable diesel (RD)/sustainable aviation fuel (SAF) refinery at Port Westward on the Columbia River outside Clatskanie, Ore. The project is advancing through permitting and expects to begin construction upon completion of an Environmental Impact Statement currently underway with the U.S. Army Corp of Engineers.
We will all just have to wait and see, perhaps, if the Almighty They is right. Lakeview RNG: We're all pulling for you.
Catastrophic Climate Outcomes
Article by William Strauss, President & Founder, FutureMetrics
Atmospheric concentrations of carbon dioxide (CO2) hit another record high on April 28, 2023, of 425.01 parts per million (ppm). The implications are dire. This white paper makes it clear that urgent meaningful action on carbon emissions policy is needed.
Figure 1 below shows CO2 concentrations in the atmosphere over the past 800,000 years. The temperature variations from the long-term average over that span of time are also on the chart (black line). When historical CO2 levels rose rapidly due to natural forces, temperatures spiked until CO2 levels dropped.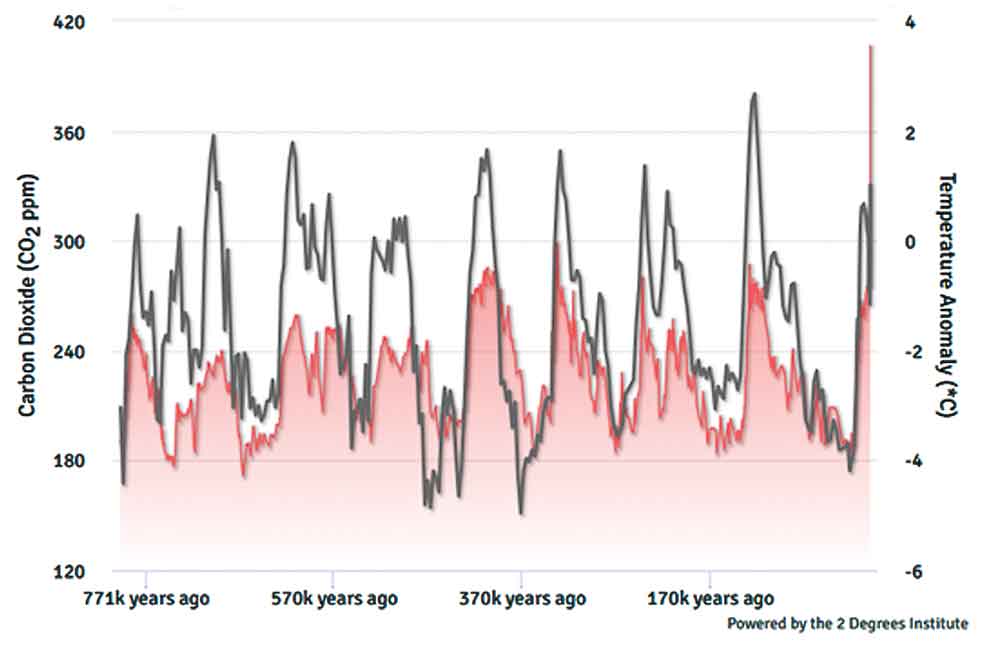 Figure 1: CO2 levels for the past million years and temperature anomalies
The red line at the far right shows an extremely rapid rise in CO2 concentration to unprecedented levels within an unparalleled short span of time. Given historical temperature responses to much lower maximum CO2 levels, it begs the question: Will the resulting rise in temperature be significantly higher this time? The likely answer is yes!
As Figure 2 below shows, CO2 levels for the last 1000 years had plateaued at an average of around 280 ppm. Over the past 150 or so years, CO2 levels have risen at rates and to levels that are nowhere to be seen in the historical record that includes humans and their ancestors.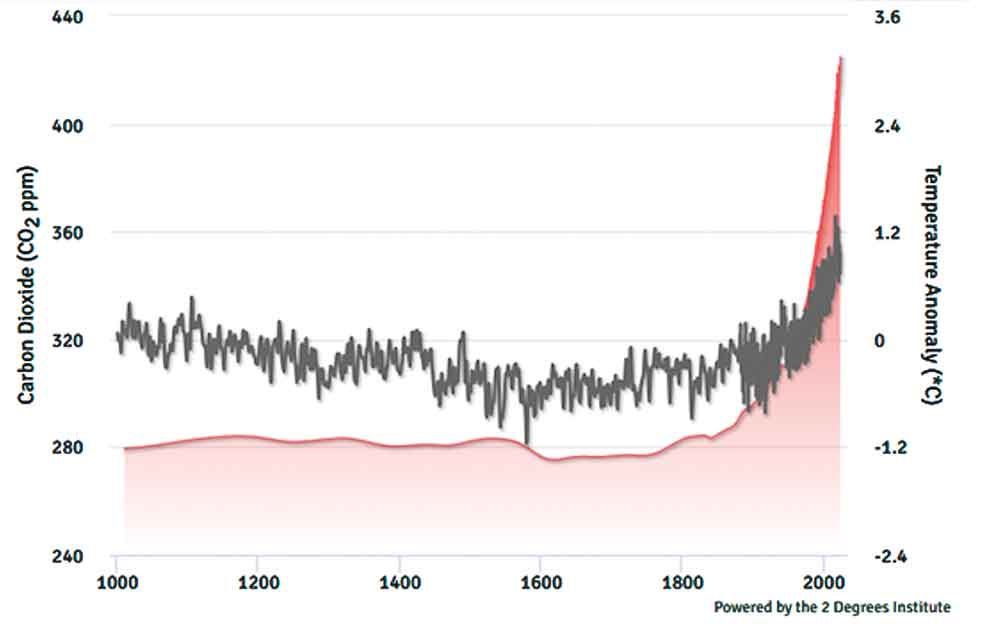 Figure 2: CO2 levels and temperature anomalies for the past 1000 years
CO2 is called a "greenhouse gas" because, just like the glass or plastic roofs in greenhouses, CO2 prevents solar energy in the form of heat from escaping back into space. The relationship between higher atmospheric CO2 levels and less solar energy escaping is a scientific fact.
The impact of the rapid increase in atmospheric CO2 levels is that the atmosphere and the oceans are storing more heat. The rate of increase is extremely rapid.
The complex nonlinear feedback loops that govern ecological equilibrium make it very challenging for most people to understand the dynamics that are causing the climate chaos that is already unfolding. And linear systems do not govern how the earth's systems work.
"Linearity is a trap. The behavior of linear equations is far from typical. But if you decide that only linear equations are worth thinking about, self-censorship sets in. Your textbooks fill with triumphs of linear analysis, its failure buried so deep that the graves go unmarked and the existence of the graves goes unremarked. As the 18th century believed in a clockwork world, so did the 20th in a linear one."—Ian Steward, Does God Play Dice? The Mathematics of Chaos, 1989.
Complex models using massive computer power produce climate forecasts. A precise forecast of the future climate due to the rapid changes in climate forcing inputs is challenging. But there is no lack of consensus: If we keep doing what we are doing, the future will not be what we want it to be.
Wood Bioenergy is published and delivered 6 times per year to subscribers worldwide. Readership includes corporate executives, mill ownership, mill management, logging contractors and equity venture interests. Wood Bioenergy is FREE to qualified readers.
Bruks Siwertell has expanded its product range with the introduction of the Bruks 1006.3 RT industrial mobile wood chipper. The truck-mounted chipper has a flexible design, and offers high-capacity chipping capabilities for a range of applications, like fuel chip production…
The largest investment of the forest industry in Finland—the new Kemi bioproduct mill and paperboard mill expansion—came into operation as planned on Wednesday, September 20, 2023. The operations will start department by department. Pulp deliveries from the new mill to customers will begin in October 2023…
Core Industries plans to invest $8.75 million to construct a processing and storage facility at its port facility in Mobile County to support a contract to handle wood pellets for CM Biomass, according to the Mobile Chamber and the Industrial Development Authority…
Continental has been designing and manufacturing explosion resistant conveyors and metering bins for over 10 years. Conveyor casings, hoppers and bins are designed to resist explosions using advanced…
Established in 1980, Linddana, parent company of North American newcomer TP Chippers, was the first company in the world to launch a mobile, battery chipper into production in 2019 and has become the industry leader with its dedicated focus ever since…
Enviva has named Glenn Nunziata as Executive Vice President and Chief Financial Officer. With deep expertise in finance, strategy, accounting, treasury, and risk management: Nunziata brings more than 20 years of strong leadership experience with a track record for implementing enterprise-wide changes and driving key financial and process improvements in large-scale organizations…
Subscribe to Our Newsletter
Wood Bioenergy News Online hits the inboxes of subscribers in the wood-to-energy sectors.
Wood Bioenergy is published and delivered worldwide 6 times per year. Free to qualified readers in the U.S. Subscribers outside the U.S. are asked to pay a small fee.
Complete the online form so we can direct you to the appropriate Sales Representative.