GFC Director Addresses Michael Aftermath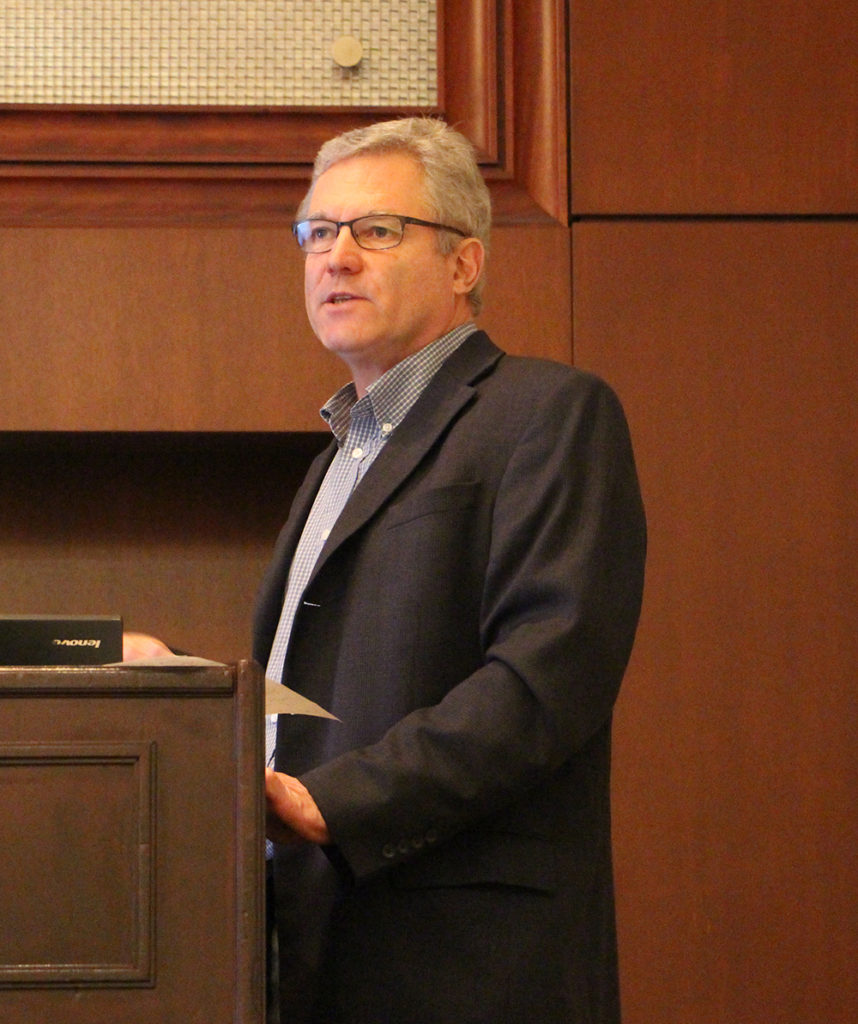 Devon Dartnell, director, market analysis and research, Georgia Forestry Commission, spoke on Hurricane Michael's Impact on the Forest Resource during the Wood Bioenergy Conference & Expo held March 10-11, 2020 at the Omni Hotel in Atlanta, Ga. He noted several things that worked in favor of the post-storm salvage effort, including that GFC organized an immediate meeting with mills, timber producers and the Florida Forest Service. He said wet storage capacity was added at some mills such as Rex Lumber and Canfor; producers focused on high value timber first and pulpwood tracts were postponed; log truck weights were increased to 95,000 lbs. GVW and permits were issued for wet decks; logs were barged to south Alabama for additional sawmill capacity; producers came in from the north and west to add logging capacity; the wet winter made salvage difficult but extended utilization lifespan and it prevented mill quotas; and loggers gave it their all in the most difficult conditions during the salvage effort.
Dartnell said while typical conventional logging costs are $9-$12 per ton, Hurricane Michael logging costs were $15-$25 per ton due to the arrangement of wood and because trucking costs also went up. Harvesting challenges were plentiful: the cut down machines first had to access into the damaged stand; snapped off stems required the skidder to pick up individual trees; sawmills would not accept diagonal cuts at the butt or top end; splits, knots and stresses were worse from Michael than less powerful storms; some mills took only leaning trees because of shake, splits and loose knots.
Dartnell said future challenges are numerous: timber supply is severely depleted in the path of the storm; mills are having to truck logs farther. With 1.35 million acres severely or catastrophically damaged in Florida and 370,000 acres in Georgia, reforestation contractors and seedling nurseries will be sold out for years and require more than a billion seedlings.
RELATED ARTICLES:
ALC Leader Provides Big Picture Of Loggers
Europe's Largest Pellet Producer Comes To Atlanta
Wood Bioenergy Conference Featured 28 Speakers

Common causes of fires in wood bioenergy production are heat, sparks, embers, and hot particles. One of the most efficient measures to prevent fire or dust explosion is the early identification of the ignition source so it can be extinguished quickly…
Bruks Siwertell has expanded its product range with the introduction of the Bruks 1006.3 RT industrial mobile wood chipper. The truck-mounted chipper has a flexible design, and offers high-capacity chipping capabilities for a range of applications, like fuel chip production…
The largest investment of the forest industry in Finland—the new Kemi bioproduct mill and paperboard mill expansion—came into operation as planned on Wednesday, September 20, 2023. The operations will start department by department. Pulp deliveries from the new mill to customers will begin in October 2023…
Subscribe to Our Newsletter
Wood Bioenergy News Online hits the inboxes of subscribers in the wood-to-energy sectors.
Wood Bioenergy is published and delivered worldwide 6 times per year. Free to qualified readers in the U.S. Subscribers outside the U.S. are asked to pay a small fee.
Complete the online form so we can direct you to the appropriate Sales Representative.