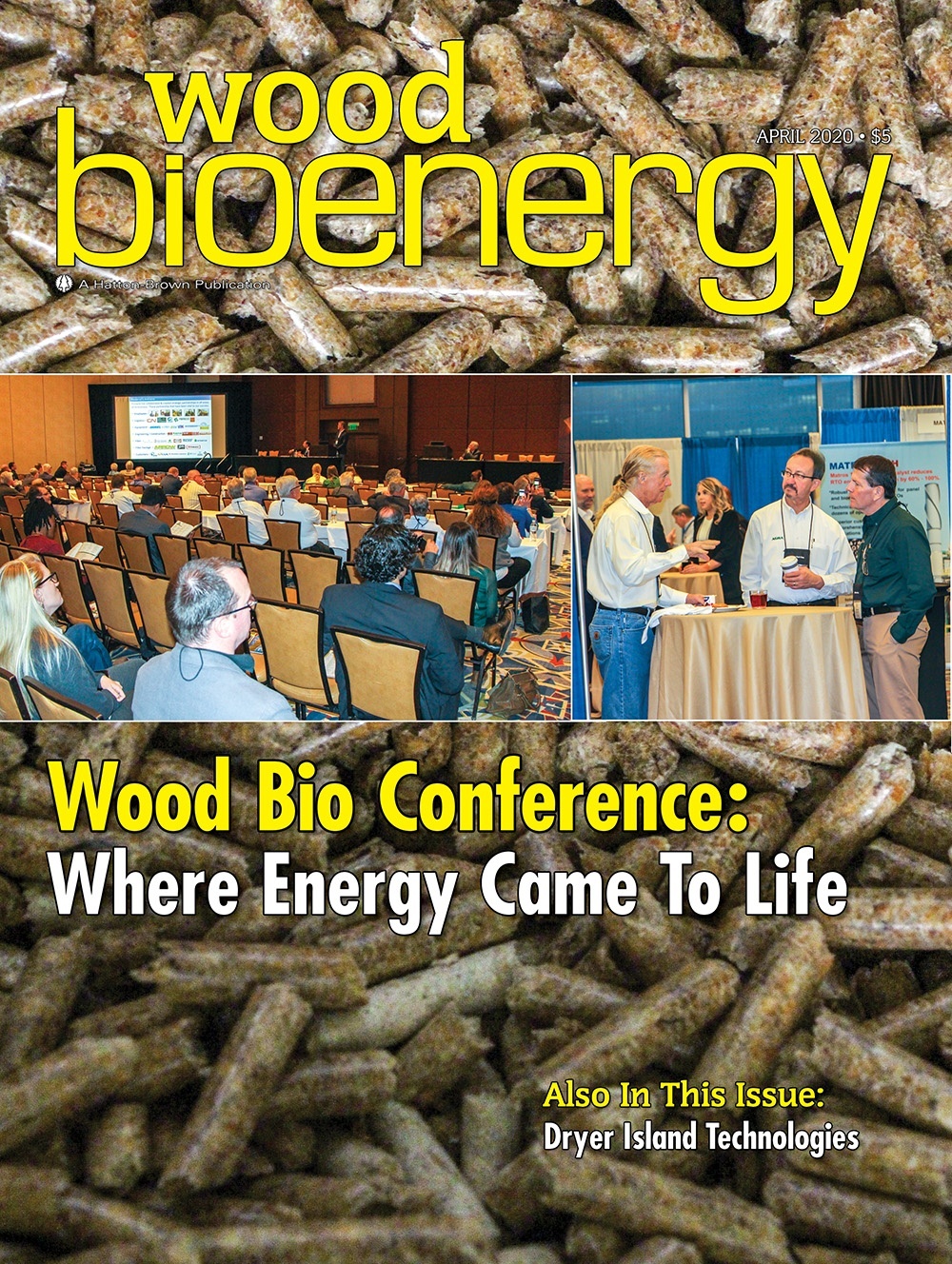 From the Editors
Cover Story
In the News
U.S. Endowment Goes With Pete Madden
Enviva Updates Pellet Plant Developments
Washington Hit With Big Lawsuits
Drax Can See End Of Coal Operations
Weyerhaeuser Sells Montana Timberland
Pinnacle Expansion Is Moving Quickly
Dryer Island
Air Burners
Baker-Rullman
Hurst Boiler
Polytechnik
Stela
Product News
If you skim through this issue you will have a difficult time missing the nine pages of coverage it gives to the Wood Bioenergy Conference & Expo that was held March 10-11 at the Omni Hotel at CNN Center in Atlanta. Despite the uncertainties in the world around us, 28 speakers and 50 exhibitor companies participated in the event, which was held for the sixth time since it began in 2010.
We heard several comments that sitting in and listening to these presentations and taking in the tons of absolutely wonderful information and insight they provided served not only as a refresher course on the current and future state of the wood bioenergy industry, but was an enjoyable escape if only for a few hours from the virus crisis.
Scott Bax, chief operating officer of Pinnacle Renewable Energy, had everybody's attention with his presentation on the guidelines Pinnacle sets as it builds partnerships with other wood products operations toward the construction and operation of industrial wood pellet plants and the procurement of the wood fiber resource for those plants.
If you were looking for the global picture of the wood pellet industry, William Strauss of FutureMetrics and Jose Gonzalez of AFRY each painted their version of it with insightful commentary, loads of statistics and probably very accurate forecasts.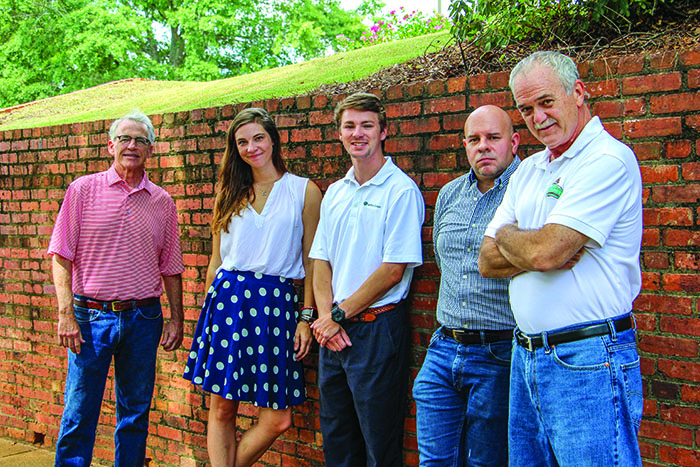 From Left: Rich Donnell, Editor-in-Chief; Jessica Johnson, Senior Associate Editor; Patrick Dunning, Associate Editor; David Abbott, Senior Associate Editor; Dan Shell, Senior Editor
The presentations covered everything from the health of the logging industry to the implications of EPA's Affordable Clean Energy rule, from the fact and fiction of advanced pellet technologies to air emission treatments, from the impact of Hurricane Michael on the biomass resource in Florida and Georgia to the keys to successful project implementation in the engineering and construction stages.
There was so much information handed down that we've decided to separate its coverage into two parts, with half of the presentations summarized in this issue, and likewise planned for the next issue of Wood Bioenergy.
If you weren't able to attend, we think you'll enjoy some of the highlights of what was said, and if you were there, maybe this will help put in order what you think you may have heard during the presentation blitz.
Rich Donnell, Editor-in-Chief, and Dan Shell, Senior Editor, Wood Bioenergy
Twenty-eight speakers, 46 equipment exhibitor companies, and three university exhibitors participated in the sixth Wood Bioenergy Conference & Expo held March 10-11 at the Omni Hotel at CNN Center. Attendance, including speakers, exhibitor personnel, producers, consultants and academia, hit 200.
The event, hosted by Wood Bioenergy magazine and Georgia Research Institute, featured a diverse range of presentations, including talks from Scott Bax, chief operating officer of Pinnacle Renewable Energy; John Keppler, chairman and CEO of Enviva; Jose Gonzalez, senior principal with AFRY; and Bill Strauss, president of FutureMetrics.
Wood Bioenergy is published and delivered 6 times per year tosubscribers worldwide. Readership includes corporate executives, mill ownership, mill management, logging contractors and equity venture interests. Wood Bioenergy is FREE to qualified readers.
Canada-based biomass carbonization technology provider Airex Energy Inc. announced it has concluded a Series B funding round valued at $38 million Canadian, which Airex Energy states will fast-track its growth initiatives, including a Québec biochar project tying in with its partnership with France-based environmental quality developer, Suez, which aims to significantly boost biochar production in…
Astec has announced Bejac Corp., a heavy equipment dealer with 10 locations, will represent the Peterson line of forestry and environmental recycling equipment in California and Arizona. Bejac, founded in 1953 operated as an underground pipeline contracting business until 1985 when the company pivoted to the heavy, specialty equipment sector…
Valmet will be converting Helen Ltd.'s coal-fired district heat boiler to bubbling fluidized bed (BFB) combustion to enable wood pellet firing at the Salmisaari 'A' power plant in Helsinki, Finland. The conversion promotes the company's goal of phasing out coal, while at the same time strengthening the construction of a sustainable energy system…
Subscribe to Our Newsletter
Wood Bioenergy News Online hits the inboxes of subscribers in the wood-to-energy sectors.
Wood Bioenergy is published and delivered worldwide 6 times per year. Free to qualified readers in the U.S. Subscribers outside the U.S. are asked to pay a small fee.
Complete the online form so we can direct you to the appropriate Sales Representative.