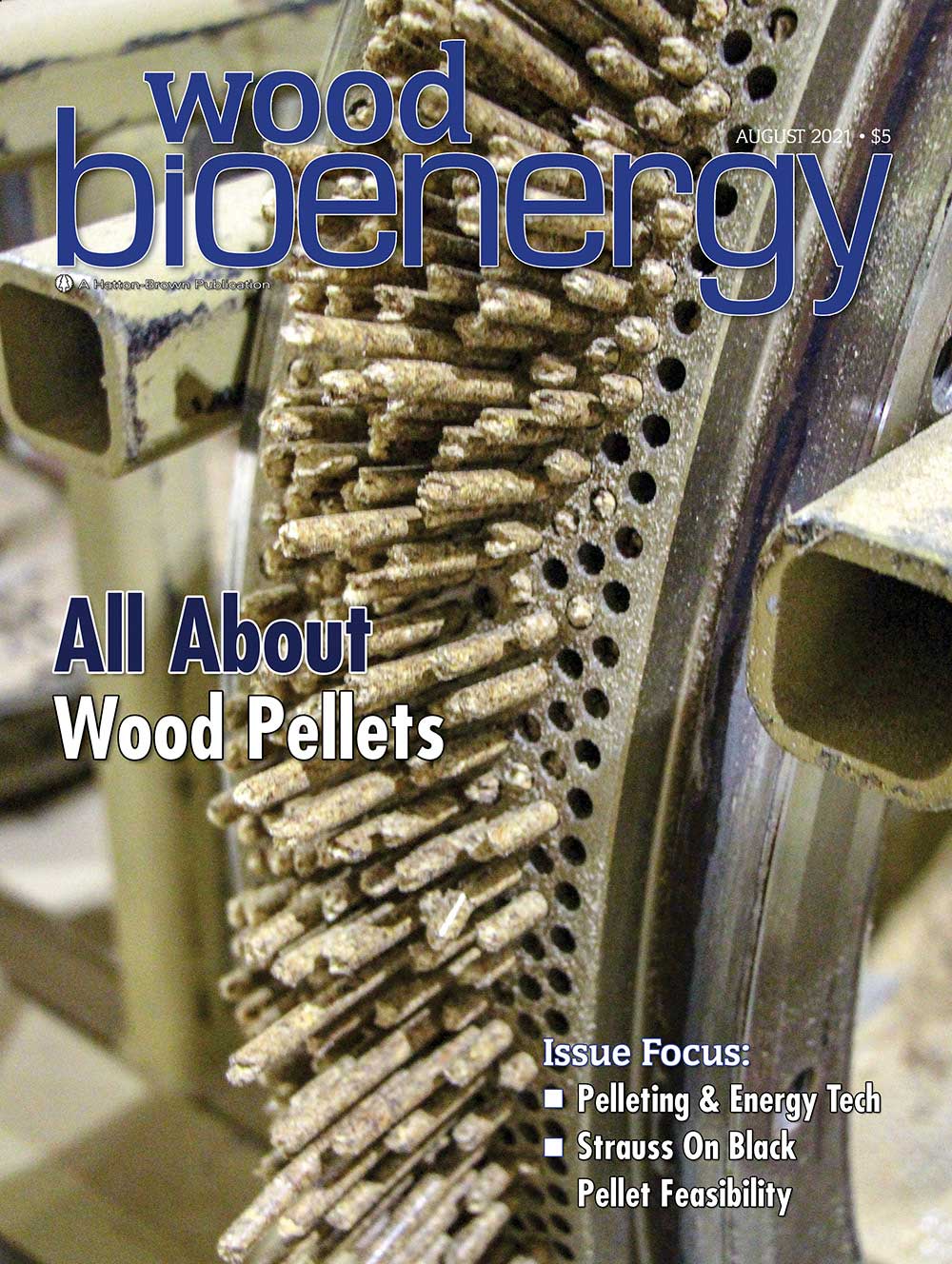 From the Editors
Cover Story
In the News
Bagasse-Based Pellet Facility Is Possible
Senators Urge EPA To Get With Biomass
Community Awards Enviva's Local Impact
Drax Sharpens Focus On Carbon Capture
Joint Venture Gets CoalSwitch Going
New OSB Facility Coming To Minnesota
Forest Service Names Moore As Chief
SFI Grants Focus On Partnerships
GreenWood Names Head Of Timberland
ALC Names Dane As Executive Director
Dry End Pelleting & Energy Production
EDITOR'S NOTE: The following companies submitted editorial profiles and images to complement their advertisements placed in the Wood Bioenergy August 2021 issue.
BIOMASS ENGINEERING & EQUIPMENT
BLISS INDUSTRIES
HURST BOILER
KESCO
PAL
POLYTECHNIK
Product News
HoSt Reveals New Bioenergy Plant
Eco-Friendly Paper Production
BE&E Announces Major Developments
Morbark Gains Sourcewell Contract
Kice Industries Names Regional Sales Manager
Zak Leads Durr's Clean Tech Systems
Enterprises Of Great Pith And Moment
By now you've probably read about the ongoing bankruptcy sale of the industrial "black" pellet plant that was operated by Zilkha Biomass. Through the years we visited the site, east of Selma, on a northern bend of the Alabama River, not once, but twice.
The first time it wasn't known as Zilkha Biomass, but as Dixie Pellets and was owned by Harbert Management in Birmingham. Our story on Dixie Pellets appeared in the very first issue of Wood Bioenergy in summer 2009. Dixie Pellets was one of the first large scale Southeast U.S. industrial "white" pellet operations shipping pellets to power plants overseas.
But it had its problems from the start—fiber processing, product quality, product acceptance, even the depth of the Alabama River.
The ownership filed for bankruptcy in spring 2010 and Houston-based Zilkha family purchased the plant at auction, renaming it Zilkha Biomass. To complement the venture, Zilkha built a demonstration plant in Crockett, Texas.
It took a while, but come spring 2015, Zilkha Biomass was commissioning a 275,000 metric tons per year facility at Selma, producing "black" pellets as a substitute for coal. It was touted as higher energy value and higher bulk density than white pellets, providing transportation capacity advantages, and it was hydrophobic so you could store it outside.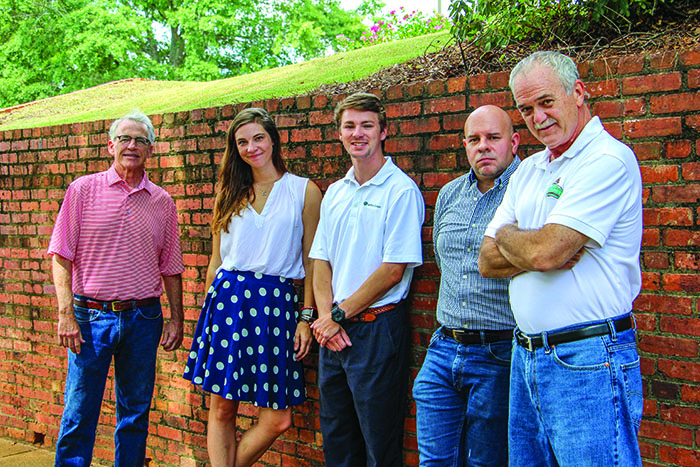 From Left: Rich Donnell, Editor-in-Chief; Jessica Johnson, Senior Associate Editor; Patrick Dunning, Associate Editor; David Abbott, Senior Associate Editor; Dan Shell, Senior Editor
That was when we visited the facility the second time. Zilkha had overhauled much of the former Dixie Pellets plant—new radial chip stacker, new green hammermills, new boilers, new control room and refurbishment of everything else including two rotary dryers and 10 pelletizers.
But what made the Zilkha pellet plant unique was its thermal conditioning technology, in which chips filled six reactors, the capping valve was closed and steam was inserted. After some cooking time, the pressure was reduced a little bit, the blow valve at the bottom was opened and the release of the steam pressure blew the material over into a blow tank cylinder, before the raw material, now with a lignin binder characteristic to it, moved to the dry hammermills and on through the pelletizing process.
We enjoyed our visit that day, mainly because Clyde Stearns, the vice president of engineering, escorted us through the plant. We had known Stearns back when he worked for equipment companies in the plywood industry.
Tragically, Stearns would be dead in less than a year, dying from an undiagnosed heart condition.
We don't know if the life also went out of the Zilkha black pellet plant, but it went downhill from there, another casualty in the journey to make steam explosion and torrefaction pellets profitable. Zilkha shut down its Crockett demo plant and reportedly moved some of those people to Selma to make the operation a combination production and research facility. But that didn't work. There was another venture capital company that came along last year and tried to reboot Selma, but then the next thing we heard was that Zilkha Biomass had filed for Chapter 7 bankruptcy and the auction was on.
We saw the great effort that went into Zilkha Biomass, and Dixie Pellets, too, for that matter. So we hesitate to say they were failures. They just didn't pan out.
Cover Story: Lowering The Barriers: Pellets Version 2.0
Article by William Strauss, President of FutureMetrics, and Laurenz Schmidt, Senior Technologist at FutureMetrics
Version 1.0 of wood pellets, i.e., so-called "white" pellets, has been unchanged for decades. While the manufacturing of pellets has experienced incremental improvements that yield better process reliability, better product consistency, improved plant safety, and lower conversion costs per tonne, the final product is essentially the same today as it was 40 years ago.
This is surprising because white pellets have several inherent challenges that have to be managed for them to be used as a low-carbon fuel in large utility power stations. At the top of the list is their inability to withstand exposure to water. They also create fines when handled at every stage in the supply chain, often producing highly explosive dust.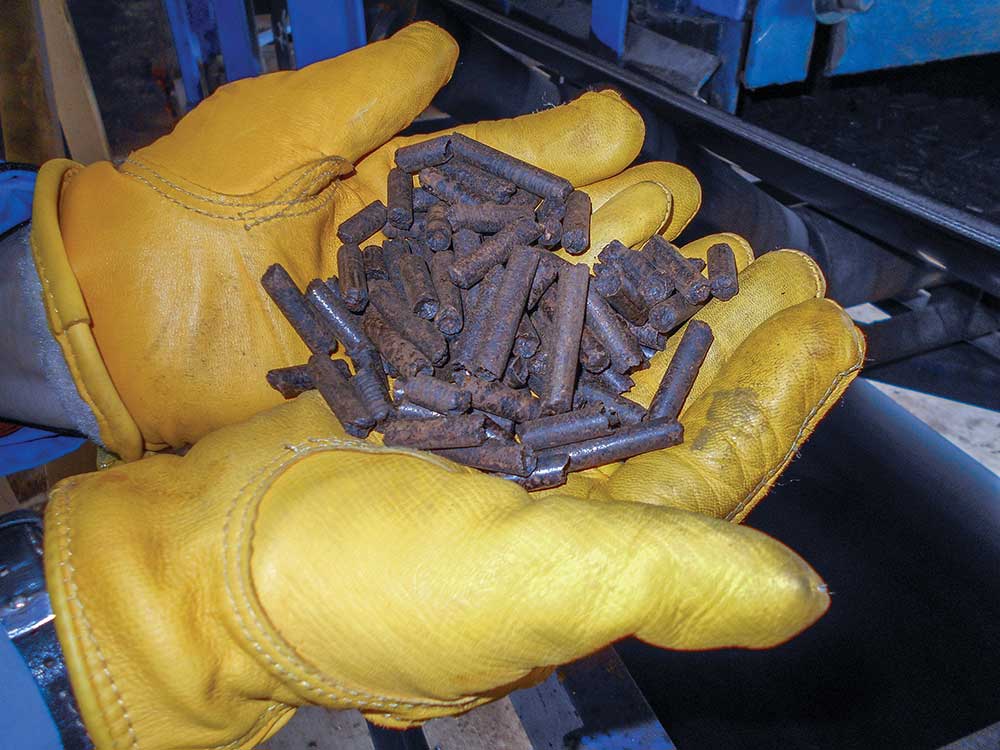 Black pellets promise to eliminate the need for dry storage at both the exporting port and at the power plant, lower logistics costs per delivered unit of energy, and lower the modification costs at the power station.
The 23 million metric tons of industrial white wood pellets that will be transported in 2021 need to be kept dry and require robust dust management (aspiration and filtration) systems when handled.
These challenges are mitigated with significant capital costs along the supply chain. The exporting port has to have covered storage with sufficient volume to store the equivalent of a shipload. The power stations have had to build large fuel storage domes or silos. The costs of this dry storage infrastructure are significant. It contributes to about half of the total cost of the plant modifications needed to switch from coal to pellet fuel at the power station.
The promise of more advanced pellets has been around for at least two decades. So-called "black" pellets that do not lose their integrity when exposed to water have not, to date, gained significant market share. This is despite other added advantages of black pellets.
Wood Bioenergy is published and delivered 6 times per year tosubscribers worldwide. Readership includes corporate executives, mill ownership, mill management, logging contractors and equity venture interests. Wood Bioenergy is FREE to qualified readers.
Morbark has unveiled the all NEW "BVR" line of hand-fed brush chippers at this year's TCI Expo, in St. Louis, Mo. Alongside the BVR lineup, visitors found 6- and 8-in. brush chippers from Timberwolf. Timberwolf, an Alamo Group company, is headquartered in Suffolk, UK, and will be marketed in the U.S. as the Morbark TW series, beginning the first quarter of 2024…
A memorial service was held October 29 in Pleasant Hill, Ore. for forest machinery pioneer and innovator Neil Peterson, the driving force behind Peterson Pacific Corp. that revolutionized in-woods and mobile delimbing, debarking and chipping. Peterson was not just a pioneer in his field but also a generous philanthropist, a guiding force for his team, and a beacon of opportunities for his employees…
Released in September, the "National Report on Sustainable Forests, 2020" from the U.S. Dept. of Agriculture (USDA) and Forest Service (FS) shows both good and challenging trends as the nation's forestland owners seek sustainable ownership and management options. The fourth such effort since 1997, the report is 60 pages…
Subscribe to Our Newsletter
Wood Bioenergy News Online hits the inboxes of subscribers in the wood-to-energy sectors.
Wood Bioenergy is published and delivered worldwide 6 times per year. Free to qualified readers in the U.S. Subscribers outside the U.S. are asked to pay a small fee.
Complete the online form so we can direct you to the appropriate Sales Representative.