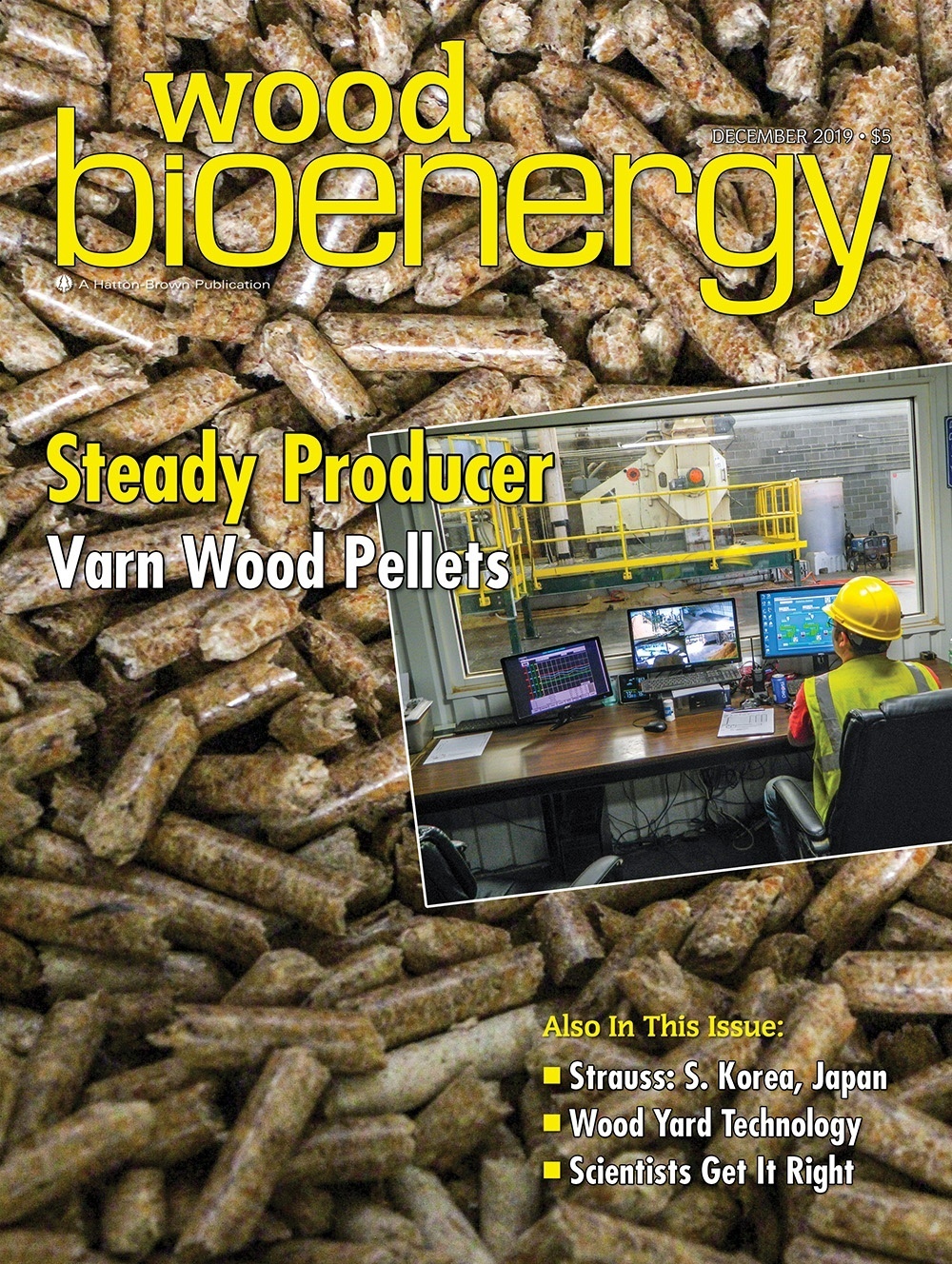 From the Editors
Cover Story
In the News
Scientists Nationwide Endorse Wood Energy
New Hampshire Biomass Is Stuck
Alamo Completes Purchase Of Morbark
South Korea, Japan: Who's Ready To Pay?
As FutureMetrics noted in an important white paper a few years ago, the South Korean REC (Renewable Energy Certificate) market is inherently unpredictable and thus, the ability to pay by S. Korean buyers is also unpredictable.
Article by William Strauss, President of FutureMetrics
Ledro Energia: Cogen And Pellet
In the beautiful area of Ledro Lake in Trentino Alto Adige, Italy, near the more famous Garda Lake, an innovative project has been created, installed and started up from the wood waste of a major sawmill situated in the valley of the lake. The project has been developed in two stages.
Article written and submitted by by Luca Pozzali, sales manager at Nova Pellet.
Wood Yards
Acrowood; Biomass Engineering & Equipment; CEM Machine; CW Mill; MDI; MoistTech; ProcessBarron; Rawlings Manufacturing; TerraSource Global; TRAMCO; West Salem Machinery; Wolf Material Handling Systems
Product News
Polytechnik Addresses Emissions, Sustainability
Tigercat Adds Biochar Machine To Lineup
CBI Debuts Grinder At Factory Forum
Rotochopper Hosts Ninth Demo Day
Morbark Enhances 50/48X Chipper
The Wood Bioenergy Conference & Expo, long known as the venue where the leading executives and supervisors in the industrial wood pellet and biomass power industries come to speak, will soon be upon us. Organizers recently opened registration for the event, which will be held March 10-11, 2020 at the CNN Center at Omni Hotel in Atlanta, Georgia, USA.
One of the things which separates this event from the many other bioenergy events is that it features eight keynote talks over the two-day affair. Speakers are still being solicited, but already on board are Enviva CEO John Keppler and Graanul Invest CEO Raul Kirjanen—the former representing the world's larger producer of industrial wood pellets, and the latter speaking for Europe's largest producer of wood pellets.
Keppler and Kirjanen are not "just" CEOs of their respective companies. They founded them. The stories behind the growth of Enviva and Graanul Invest are truly remarkable, but that's not the whole story. Those companies, with Keppler and Kirjanen at the helm, have led the way for the creation of a new, carbon-neutral (if not carbon-negative), renewable energy industry in the past decade. No small accomplishment.
Also confirmed to be on hand is William Strauss, founder of the bioenergy technology and markets consultant firm, FutureMetrics. Strauss is invited to speak at events worldwide, so when he picks the Wood Bioenergy Conference & Expo as one of his stages, that's no small matter.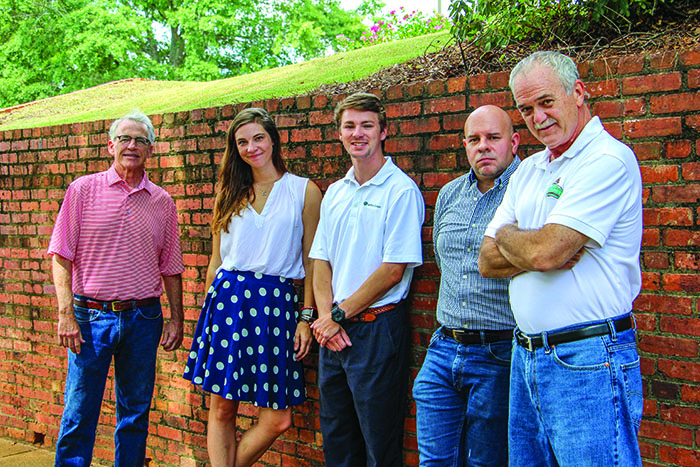 From Left: Rich Donnell, Editor-in-Chief; Jessica Johnson, Senior Associate Editor; Patrick Dunning, Associate Editor; David Abbott, Senior Associate Editor; Dan Shell, Senior Editor
Strauss will address the future of industrial wood pellets, whose market has grown from about 5 million metric tons in 2010 to more than 22 million metric tons in 2019. Strauss will discuss the expected evolution of carbon emissions reduction policies around the world that will support current demand and will support future demand growth.
And because the Wood Bioenergy Conference & Expo always likes two perspectives of a similar topic, Pöyry Senior Principal Jose Gonzales will discuss the dynamics of the global pellet market and the impact to North American supply.
If you're up for a little bit of controversy, Brian Rogers, who leads the new initiative, Future Forests + Jobs, will speak about efforts to combat the misinformation about wood energy irresponsibly tossed around by certain environmental groups, who don't even realize that what they're promoting instead is actually harmful to the environment.
As usual the Wood Bioenergy Conference & Expo will be supported by several dozen equipment and technology exhibitors in the Grand Ballroom North at the Omni Hotel. Atlanta is in the center of the Southeastern U.S. industrial wood pellet production industry. The upcoming Conference & Expo promises to be the center of international attention.
By David Abbott, Senior Associate Editor, Wood Bioenergy
HOBOKEN, Ga. – The Varn family has been making its living from forest products for well over 100 years. From the 1930s through most of the '60s, it was in the naval stores business; then it switched to making chips and lumber. The Varn Wood Products sawmill has been operating for more than 50 years.
Since 2013, the company added a new facet: wood pellet production, under the Varn Wood Preserving Co. subsidiary.
"We did it for the money," George Varn, Jr. says with a laugh. His father and namesake, George Varn, Sr., a Harvard grad and Naval intelligence officer during World War II, worked in the turpentine side for the early decades of his adult life and was instrumental in starting and then running the sawmill. Now 99 years old, he is still active in the company.
Going more in depth into the family's reasoning, George, Jr. expounds, "We were selling chips to the local paper mills and wanted to reduce the disruptions when they went into shutdowns or slowdowns. It was also a chance to add value to our byproducts."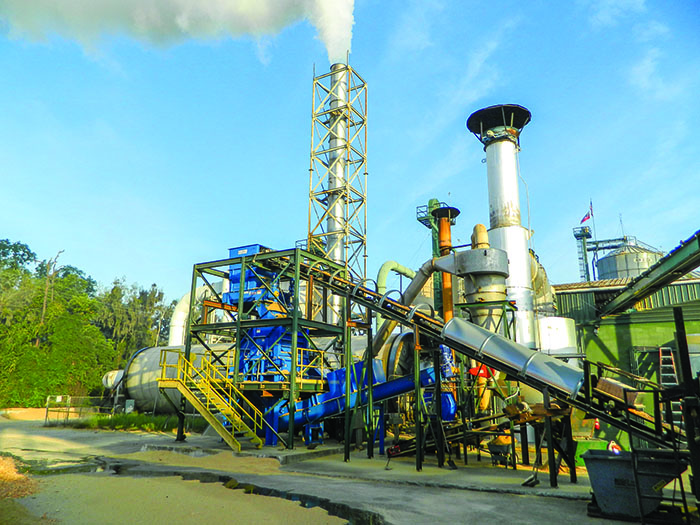 Varn was somewhat early to pellets in the state: Georgia Biomass in Waycross and Appling County Pellets in Baxley (a Fram Renewable Fuels company) were both ahead of them by about a year. "We weren't the first but we were early in line," George says. "People were still learning things when we built this. When we put this in, my dad said most any sawmill worth its salt would want to put one in. As it turns out, in our trade association, SLMA (Southeastern Lumber Manufacturers Assn.), there are only two other mills making pellets."
Really, he believes, the only common thread between sawmills and pellet mills are the dry side conveyors. "Some people have gotten in trouble assuming they knew more than they did because they have a sawmill."
General Manager John Talbert agrees, adding that because of their long experience with the sawmill business, "We all thought, how difficult could it be? We quickly found out that it was a lot more complicated than what we thought. There are a lot of critical things: chip size, moisture content through the grinder, size of the regrind, the temperature inside the die. But the crew has been very successful in learning it."
George adds, "Unlike a sawmill, the pellet plant requires that we juggle all of the variables John just mentioned at once. The challenge is keeping all the balls in the air."
Left to right, George Varn, Sr., John Talbert, George Varn, Jr.
Adjacent sawmill serves raw material to the 7-year-old pellet mill.
Wood Bioenergy is published and delivered 6 times per year tosubscribers worldwide. Readership includes corporate executives, mill ownership, mill management, logging contractors and equity venture interests. Wood Bioenergy is FREE to qualified readers.
Bruks Siwertell has expanded its product range with the introduction of the Bruks 1006.3 RT industrial mobile wood chipper. The truck-mounted chipper has a flexible design, and offers high-capacity chipping capabilities for a range of applications, like fuel chip production…
The largest investment of the forest industry in Finland—the new Kemi bioproduct mill and paperboard mill expansion—came into operation as planned on Wednesday, September 20, 2023. The operations will start department by department. Pulp deliveries from the new mill to customers will begin in October 2023…
Core Industries plans to invest $8.75 million to construct a processing and storage facility at its port facility in Mobile County to support a contract to handle wood pellets for CM Biomass, according to the Mobile Chamber and the Industrial Development Authority…
Subscribe to Our Newsletter
Wood Bioenergy News Online hits the inboxes of subscribers in the wood-to-energy sectors.
Wood Bioenergy is published and delivered worldwide 6 times per year. Free to qualified readers in the U.S. Subscribers outside the U.S. are asked to pay a small fee.
Complete the online form so we can direct you to the appropriate Sales Representative.