Some pellet producers have successfully used a "cookie cutter" approach to building successive plants. But for Canadian producer Pinnacle Renewable Energy, one size doesn't really fit all nine. Following a March 2018 startup, Pinnacle's Entwistle plant is now hitting its stride in the commissioning phase with production records being set regularly according to Plant Manager Marcus Ziesmann. Pinnacle Entwistle is the company's first outpost in the western province of Alberta, targeting production of 400,000 metric tons of industrial pellets annually.
Senior Vice President of Operations Scott Bax says that the key to Pinnacle's success has been right-sizing their plants for the areas in which they operate—taking the fiber basket and logistics into the equation. Almost every one of the nine plants is a different size. Technologies vary in the plants as well. For example, in the 125,000 metric ton Smithers plant, Pinnacle opts to run a bed dryer from Stela. In Entwistle, Pinnacle uses a single large rotary dryer from TSI.
"When we look at where we put our facilities," Bax continues, "we look at everything from how it can be integrated with local communities, the overall footprint of the plant and the size of the site to the proximity of local sawmills, optimizing our selections based on all those variables."
There are a lot of variables, given that just in 2018, in addition to the startup in Entwistle, Pinnacle started up a partnership pellet plant in Smithers, BC and purchased the majority of the Westervelt pellet plant in Aliceville, Alabama. Stated capacity for the nine facilities is 2.2 million metric tons. Entwistle represents Pinnacle's first big leap into monster production numbers.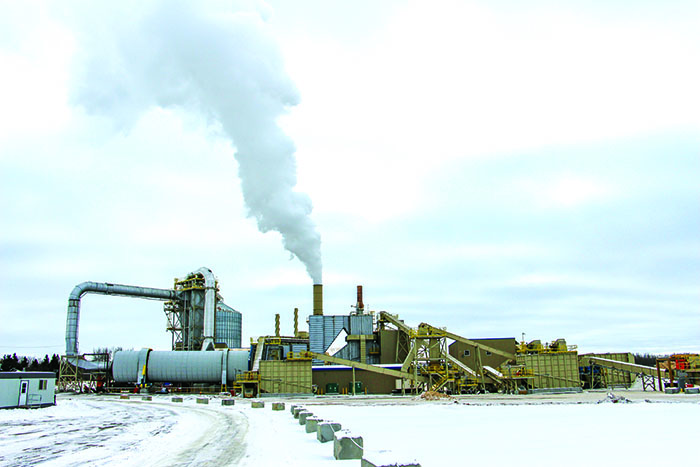 Location certainly sets Entwistle apart, literally—over 1,350 km separate the facility from Pinnacle's Westview terminal at the Port of Prince Rupert, BC and more than 1,000 km separate it from Pinnacle corporate headquarters in Richmond, BC. The hamlet of Entwistle isn't that different from the other locations of Pinnacle plants, Bax admits, saying at the heart and soul of what drew them there was a surplus of sawmill residuals that were left without a market following the slowdown of oil and gas production in the region.
"As our President and COO Leroy Reitsma says, 'when I see a large pile of residuals, I see an opportunity.' We were able to come in and enter into some long-term deals for the residuals. The sawmills had been stockpiling a fair bit," Bax adds.
Like all other Pinnacle pellet plants, Entwistle uses 100% softwood (mainly lodgepole and jack pine) sawmill residuals: sawdust as well as long, thin, fat shavings, which Bax calls "curly qs" and some bark material. The plant does not consume chips because, according to Bax, there's already a natural home for them with the pulp facilities in the surrounding area and it makes little sense for Pinnacle to attempt a disruption there.
Bax says the biggest difference for Entwistle compared to the company's other plants is how the finished pellets get to the Port of Prince Rupert. Company wide product is hauled by rail, but in Alberta, Pinnacle runs a unit train concept.
The facility fills 90 rail cars with 100 metric tons per car, and then a dedicated locomotive takes it straight to Westview where Pinnacle has storage capacity of 50,000 metric tons, waits while the cars are unloaded and then takes the cars back to Entwistle. Bax admits it's a pretty significant advantage in cost for Pinnacle, as this method also keeps timing as efficient as possible. He says the reason the method is working so well is because of the production and distance.
Bax says that during the first six months of the commissioning curve, Entwistle hasn't had many major woes. He credits strong relationships with suppliers to help with debottlenecking, and making sure that automation, sequencing and flow are right. "So far it's gone well," he adds. "One of the biggest things we always learn during commissioning is impact of extremely cold weather. And I can't really stress that enough."
Bax jokes that in Canada there are really only two seasons when it comes to pellet manufacturing: Winter and Getting Ready For Winter. "It's literally like that," he emphasizes. "In March we start talking about what we're going to do for next winter. It's that kind of journey." The extreme weather conditions of -20° and -30 °C also make commissioning critical in the winter months. Entwistle anticipates coming through commissioning this winter at more than three-quarters of its targeted daily production levels, with a lot of lessons learned and the ability to better prepare for next winter.
Hog fuel consumption in its furnace greatly increases in winter, as the plant fights to keep things warm—and moving. It is usually the coldest in January and February, where temperatures in Alberta occasionally see the -40 mark. Bax laughs as he says, "We use water in the process. The challenge is keeping water in its liquid form at those temperatures."