How does one of us end up in a wood yard with an 8° "wintry" mix swirling about? Even now when our editorial staff has a combined 145 years with our collective boots on the ground around the world, there are still some situations that surprise us. Or, in this case quite literally numb us.
When Pinnacle Renewable Energy first appeared on the scene, Wood Bioenergy watched as the company grew in British Columbia and continued to add plant after plant to its growing roster. Since 2013 alone, Pinnacle has brought three plants on-line and taken over daily operations and the majority stake of a fourth. When CEO Rob McCurdy spoke at the Wood Bioenergy Conference in Atlanta last April, the Pinnacle story began to really capture WB's resident industrial pellet specialist Jessica Johnson's attention.
Then, as we began to discuss the plants and profiles that will fill Wood Bioenergy's pages in 2019, Pinnacle's startup in Entwistle, Alberta was first up. Our top dog Rich Donnell promptly asked the staff who wanted to make the trip to northern Alberta in the winter. Everyone immediately looked at Jessica, knowing she would volunteer. And she did, to the peals of laughter from the rest of the staff. In the weeks leading up to the
trip, regular forecast emails circulated, and bits of warm clothing were dropped on her desk.
For Jessica it was a no-brainer and she jumped at the chance to go to northern Alberta in the winter—probably because she wasn't thinking about the fact that it would be "way" below freezing. But that's our Jessica; she doesn't always think about the weather of the places she visits. She visited Drax's newest startup in central Louisiana in mid-July when it was a frosty 105°. A little sweat never hurt anyone.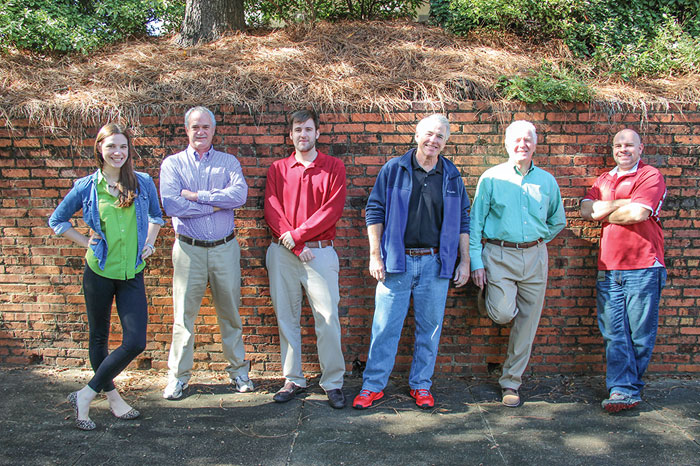 From Left: Jessica Johnson, Associate Editor; Dan Shell, Managing Editor; Jay Donnell, Associate Editor; Rich Donnell, Editor-in-Chief; David (DK) Knight, Co-Publisher/Executive Editor; David Abbott, Senior Associate Editor
Of course, when she made a frantic phone call back to the WB office in Montgomery, Alabama one morning in early December, the rest of the editors did nothing but laugh again. The scene: A car so deeply covered in snow it was not drivable until hit with a shovel. A temperature gauge reading a brisk and blustery 8° Fahrenheit with a forecast showing a high of 10° for the day. The phone call, which was put on speaker, had a bit of a
shriek-like feel to it: "Why did I think this was going to be a good idea. It's way too cold! I am wearing two pairs of pants and I still can't feel my toes." Rich responded, in his usual unsympathetic manner: "Don't get your tongue stuck to the catwalk."
But as the landscape of the 400,000 metric ton facility, bathed in a sheet of wintry mix of snow and ice, came into her camera's focus a few hours later, she proudly knew she had the perfect shot, about the same time her nose had become perfectly numb.
Once again, Wood Bio had gone the distance.