EDITOR'S NOTE: Pinnacle Renewable Energy has been coming on strong in the global industrial wood pellet industry and by the end of the year will have eight plants in operation. The company's production facilities are all located on major rail lines allowing for efficient rail transport to one of two shipping terminals on the BC coast: Pinnacle's wholly owned Westview terminal in Prince Rupert, and the Fibreco Terminal at Port of Vancouver. Pinnacle has entered into long-term take-or-pay contracts with utilities in the UK, Europe and Asia that represent 100% of its production capacity through 2021 and nearly 80% of production capacity through 2026. In early February Pinnacle Renewable Holdings Inc. announced the successful closing of its initial public offering and secondary offering of its common shares.
Rob McCurdy was appointed Chief Executive Officer of Pinnacle Renewable Energy in August 2012. His international career has spanned the chemical, construction materials and mining industries in Canada, the U.S., Asia and Europe in successively senior roles. Before joining Pinnacle, McCurdy spent more than 12 years with a world leading producer of building materials. Most recently he was their managing director for India, overseeing 80 manufacturing plants nationwide in a fast growing market. He was responsible for turning this newly acquired business around financially and setting the course to double its size in five years. Prior to this, McCurdy was based in Paris where he served as the corporate vice president of Quality, Manu­fac­turing and Vertical Integration for this global business. McCurdy earned his B.Sc with Honors from Queens University in 1980 and his EMBA from Carnegie Mellon in 1997.
McCurdy will be one of the opening day keynote speakers at the Wood Bioenergy Conference & Expo to be held April 11-12 at the Omni Hotel at CNN Center in Atlanta. He will speak on "Pinnacle's Pursuit to Own Safety and Drive Results in the Wood Pellet Industry."
WB: Can you expand a little bit on the subject of your talk at the Wood Bioenergy Conference & Expo that's coming up?
McCurdy: Pinnacle's Owning Safety Culture is all about engaging our people. During our journey we have learned firsthand how great safety requires not only top down leadership, it also requires bottom up engagement, focus and persistence. As we have engaged our people on safety and improved safety results we have also seen significantly improved operational results. Great safety pays!
WB: What is the status of the Entwistle, Alberta plant construction and startup? Also the status of the Smithers, BC plant? And with the additions of those two plants, what will Pinnacle's new production capacity be?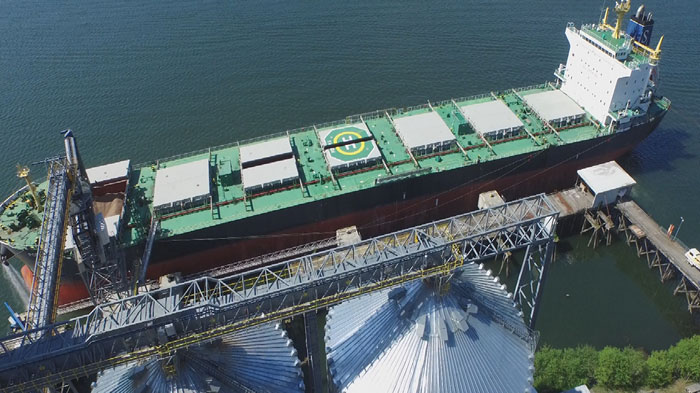 Pinnacle's Westview wood pellet terminal at Port of Vancouver
McCurdy: Pinnacle's 400,000 MT/yr Entwistle plant will begin commissioning in March and April; commissioning will last approximately one year. Pinnacle's Smithers plant will be a joint venture with 30% ownership held by West Fraser Timber Co. Ltd. The plant will begin commissioning production in Q4, 2018. The Smithers plant will have a production capacity of 125,000 MT/yr and is sized to match the readily available fiber in the area. Adding both Entwistle and Smithers production will bring Pinnacle's new production capacity to almost 2 million tonnes.
WB: Looking at the new plants versus the six already in production, what has Pinnacle learned from its existing plant operations that it is trying to implement into its new plants, whether it's technology, safety measures, culture, etc.?
McCurdy: With every new facility we incorporate learnings from past facilities and experiences where possible. Refined designs will support our Owning Safety culture while the early integration of new safety systems as well as production measures are expected to deliver our planned results safely, on time and on budget. We also go back and retrofit our old plants as we make improvements.
WB: After the two plants come into production, roughly what percentage of your pellets will be exported overseas? And of that export, what percentage roughly will go to electric utilities markets?
McCurdy: With Pinnacle's Entwistle and Smithers production fully integrated we expect more than 95% of our production to be exported to electric utilities to help decarbonize the power grid.
WB: In the last three years what would you say would be the biggest change or shift in the overseas markets you're trying to reach? 
McCurdy: Similar to most industries, we see the global pellet market continuing to evolve. We have seen exciting new future demand growth in Asia. That said, pellet consumption in Asia is still very much in its infancy.
WB: You've recently completed a public offering. Why was the timing right to do that? 
McCurdy: The timing of the IPO was designed to facilitate our growth.