Needless to say, much of this issue is devoted to the Wood Bioenergy Conference & Expo, which will be held April 11-12 in Atlanta, Georgia. Hosted by Wood Bioenergy magazine, this is the fifth time the biennial event will be held.
It takes on an added flavor this year because it has been 10 years since the first of the large scale industrial wood pellet plants started up in the U.S. in 2008 (Fram Renewable Fuels). In fact, a portion of the conference will be devoted to "Industrial Wood Pellet Manufacturing: Ten Year Report Card" and how lessons learned are being addressed and implemented today.
Harold Arnold, president of Fram Renewable Fuels, will speak on "Fram: Ten Years Running. What We've Learned Moving Forward." He'll note how his company has made a couple of wide turns in its business plan and markets. "We've learned this is one of the most complicated businesses in the forest products industry," Arnold says. "Not one to be entered into lightly."
Malcolm Swanson, president of Astec, Inc., the modular wood pellet plant supplier, will speak on "Lessons Learned in Two Major Pellet Plant Startups." "It is a difficult business and not for the faint-of-heart," Swanson says. "There is an endless supply of challenges. This make it all the more valuable and wise for those seeking to enter the pellet making business to lean on the experiences of others."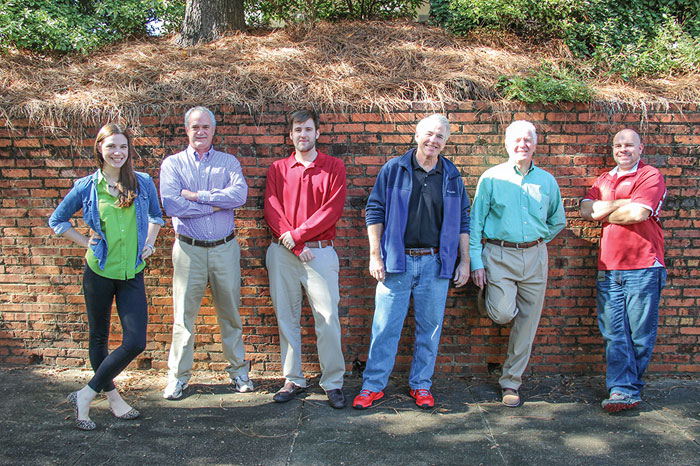 From Left: Jessica Johnson, Associate Editor; Dan Shell, Managing Editor; Jay Donnell, Associate Editor; Rich Donnell, Editor-in-Chief; David (DK) Knight, Co-Publisher/Executive Editor; David Abbott, Senior Associate Editor
Bijan Shams, president of Cogent Industrial Technologies, will talk about the "Greater Emphasis on Safety: New and Existing Plants Are Calling for It." Shams and his team have noticed increasing emphasis from existing and new pellet plants on improving operational safety, and incorporating the latest safety technologies, especially as insurance companies do their risk evaluations.
Eric Estes, project manager, Mid-South Engineering, will speak on "More Consideration for Wood Yards," and address how the lack of consideration for wood yards during design has come back to haunt some mills with operational problems and expensive modifications. Increased automation may be one of the solutions.
Another great session on tap is "Southern U.S. Forests & Sustainability: The Real Impact of the New Industrial Wood Pellet Industry. " Jennifer Jenkins, VP and chief sustainability officer at the world's leading wood pellet producer, Enviva, will speak on "Innovation in Sustainability: The Enviva Story." She'll provide an overview of Enviva's systems and processes for ensuring the sustainable sourcing of wood, and partnerships built with forest stakeholders.
Virginia Dale, a highly respected expert on ecology, ecosystem and sustainability, and a lecturer at the University of Tennessee, will speak on the "Effects of Wood Pellet Production on Forest Condition in the Southeastern United States." She'll address forest conditions and trends since 2009 on two fuel sheds that supply pellets to the ports of Chesapeake, Va. and Savannah, Ga., and she'll cite research conducted by Oak Ridge National Laboratory on the impact of the wood pellet industry on the ecosystem.
Amanda Hamsley Lang, COO and VP of Client Services at Forisk, will speak about "The Industrial Wood Pellet Industry in the U.S. South: Wood Use and Supply Chain Implications." The presentation will address how wood pellet producers function within the larger forest products industry, including implications of changes in the softwood lumber sector and supply chain dynamics.
These are very powerful sessions. Since Fram's startup in 2008, the U.S. industry has increased to nearly 20 large scale industrial wood pellet plants in the Southern U.S. Still, this is an industry that is not yet a teenager.