Seth Ginther, executive director of the U.S. Industrial Pellet Assn., deserves praise for rallying quickly following President Trump's decision to withdraw the U.S. from the Paris Agreement (which deals with climate and greenhouse gas emissions). Ginther wrote a 900 word paper that immediately set the record straight: that "U.S. pellet producers will still be able to participate in mitigating the negative impacts of climate change by continuing to supply sustainable wood pellets to European power generators, thereby helping EU member-states meet their renewable energy targets under the Paris Agreement."
Ginther noted that The European Commission has aggressively recognized the importance of proving sustainability in its draft of the RED (Renewable Energy Directive) II, which within a year will be the controlling legal document on how EU member-states meet their targets under the Paris Agreement. The RED II introduces "sustainability criteria" or "sustainability provisions" for solid biomass. 
The draft RED II does indeed require that biomass fuels come from nations that sign off on the Paris Agreement, Ginther notes, but it also creates an exemption to that requirement for supplier nations that haven't signed off on it. Ginther quotes the exemption language: "When the evidence referred to in the first subparagraph is not available [that the supplying country is a signatory to the Paris Agreement], the…biomass fuels produced from forest biomass shall be taken into account…if management systems are in place at forest level to ensure that carbon stocks and sinks levels in the forest are maintained." Ginther says U.S. producers can still play ball by providing evidence of following a risk-based approach such as a certificate from the Sustainable Biomass Partnership, and Ginther notes that all U.S. producers are either currently certified by SBP or in the process of becoming certified.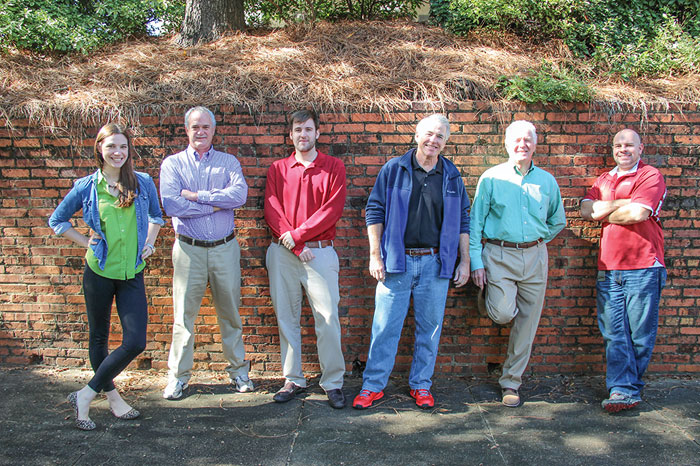 From Left: Jessica Johnson, Associate Editor; Dan Shell, Managing Editor; Jay Donnell, Associate Editor; Rich Donnell, Editor-in-Chief; David (DK) Knight, Co-Publisher/Executive Editor; David Abbott, Senior Associate Editor
"Interpreting the RED II to not allow the U.S. to supply pellets to EU member states simply because the U.S. has withdrawn from the Paris Agreement would in essence cut off security of supply of that renewable fuel and undermine that public policy objective (not to mention likely be a violation of numerous international trade laws under the WTO)," Ginther writes. "The U.S. wasn't a signatory to the Kyoto Protocols either, but that didn't stop U.S. pellet producers from playing our part helping EU member-states meet their targets under that agreement. The U.S. withdrawing from the Paris Agreement doesn't make U.S. pellets, U.S. solar panels, or U.S. wind turbines any less renewable." 
Another fact that many people in our industry aren't aware of is that notice of withdrawal from the Paris Agreement can only be given by a country three years from the date it entered the agreement and then withdrawal becomes effective one year later. Ginther notes that the U.S. formally entered the Paris Agreement on November 4, 2016, meaning formal withdrawal will not be effective until November 4, 2020, the day after the next presidential election.
Ginther adds: "When I reflect on the journey of our industry over the past several years, one of the things we should all be most proud of is how a very diverse group of stakeholders from multiple countries and backgrounds have pulled together to create some of the most sophisticated global supply chains in the world to de-strand a renewable natural resource and continuously deliver our product on spec and on time to our customers—we have gone from zero to commodity in a short period."