In April this year, the first train load of product from Highland Pellets, LLC left the facility in Pine Bluff, Ark., bound for the port of Baton Rouge, La., there delivered to a Drax Biomass loading facility and shipped to the United Kingdom. With two of its four lines currently completed and in production, Highland principals predict the plant will be fully operational by the fourth quarter this year, well under budget and ahead of schedule. That's always a plus.
Highland started as an idea to enter the wood pellet market in 2011, when investor and entrepreneur Tom Reilley teamed with fellow company founders Rob McKenzie and Alex Adome. Reilley and McKenzie had both worked for years in the UK, including in developing energy companies, and McKenzie and Adome had worked together at Cargill, Inc., a global corporation based in Minnesota. They got together with representatives from Wagner Construction, Inc., another Minnesota-based company that specializes in underground utilities and heavy civil construction. These included company founder Dennis Wagner, President Kalan Wagner, and chief financial officer Marty Goulet. The group brought Highland into existence as a legal entity in 2012.
Reilley serves as chairman of the board, McKenzie as Managing Director and Adome as Director of Finance. From Wagner, Goulet also sits on the Highland Board/management team, and Dennis Wagner is on the Highland Board of Advisors.
According to Jody Doak, Plant Manager, "They spent quite a bit of time and did their due diligence on identifying the proper path to pursue." With Pine Bluff selected as the location for what is intended to be only the first of several operations, the company broke ground here in November 2015.
Wagner Construction has served as the civil contractor for the still-ongoing project. Doak says that the second pellet line started operating in early May and that all four lines will be fully operational by November.
"When we built this plant our initial thought was that we were going to ship by barge down the nearby Arkansas River to port," Doak explains. Instead, they ultimately negotiated an agreement with Union Pacific railroad to transport all of Highland's production by rail, though the river barge alternative is still a backup plan.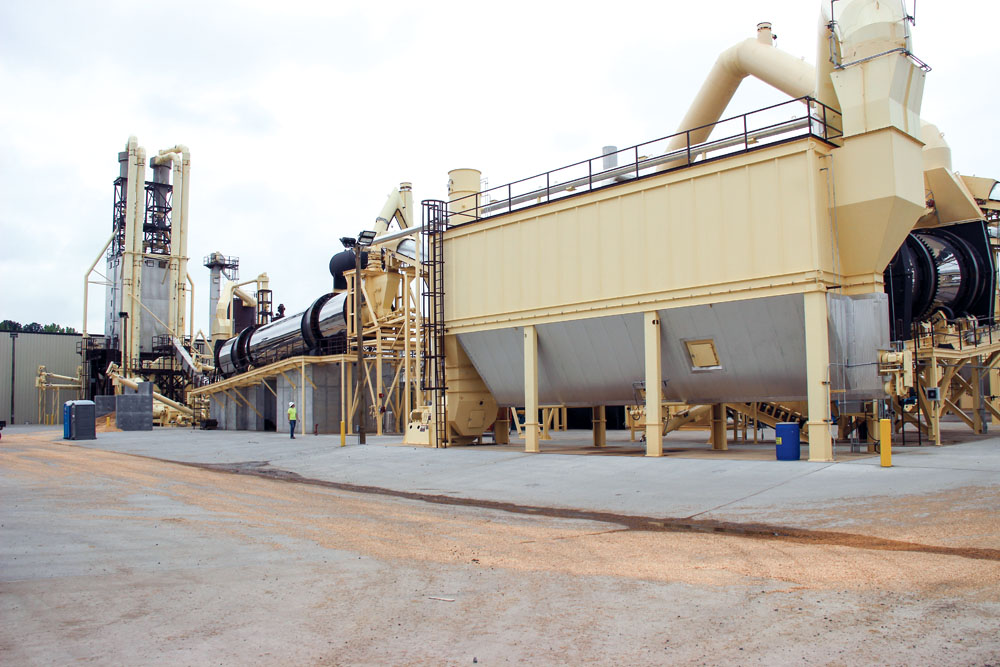 Highland's customer is Drax Biomass, which takes ownership of the product at Port Allen in Baton Rouge, where they have a loading station. The end product will end up in Great Britain. Drax has agreed to a long-term deal with Highland Pellets to supply 600,000 metric tons a year to the Drax power plant several hours north of London.
With that agreement in place, Highland was also able to secure long-term contracts for railroad access, power and wood supply. Having all that in place helped secure financing. Along with investment from the Arkansas Teacher Retirement System, Highland obtained financing from a well known credit fund to finance the project. That was in place by late March 2016, barely a year ago. In what Highland says is a record for the industry, all of the equipment for the plant was manufactured by the end of the year.
Astec Industries, Inc., a Chattanooga, Tenn.-based engineering firm that has focused on infrastructure equipment and asphalt plants in the past, manufactured the lion's share of the equipment at Highland, as well as serving as the EPC (Engineering, Procurement and Construction) contractor for the project. Astec, which had been expanding into the renewable fuel industry for some time, had already built a prototype facility at its factory in Tennessee to test its designs. Taking lessons learned there, Astec built its first pellet plant for Fram Renewable Fuels in Hazlehurst, Ga., last year (see article in February 2017 Wood Bioenergy). Dubbed Hazlehurst Wood Pellets LLC, that plant is built to produce 400,000 metric tons on three lines. Highland principals wanted a 600,000 metric ton plant, so Astec built four lines here. Andritz and Progress Industries have provided the pellet mill and wood yard equipment.
Highland held a ribbon cutting ceremony last November, and the first test pellets from Line 1 were produced on December 31, 2016. "We came into service in December 2016, and then started back up at the end of January," Doak says. By April, the business was operational, only 13 months after financing was officially secured.
Once fully operational, the facility will provide 68 full-time jobs to the local community (at a reported average salary of $60,000, including the value of benefits), not to mention 450+ indirect jobs in transportation and in the harvesting supply chain. Highland estimates the direct annual economic benefit to the Pine Bluff area at $77 million annually.
Looking beyond the completion of the Pine Bluff facility later this year, company owners are already planning to build three more similar plants. Areas currently under consideration include another location in Arkansas, one in Enterprise, Miss. and one in Maine. Doak adds that the two biggest factors that determine the choice of location are the fiber supply and the logistics of getting the product to port. Secondary considerations include things like the availability of a skilled labor work force in the area and existing infrastructure to support manufacturing.