The article on the Highland Pellets plant in Pine Bluff, Ark., which starts on page 18, is in some ways a sequel to the article we presented on Georgia's Hazlehurst Wood Pellets in our February issue. Highland Pellets, which only just started production this spring, has many things in common with the Hazlehurst plant.
First of all, the plants share a basic concept: a modular design as opposed to a linear or single-line production model. Hazlehurst's parent company, Fram Renewable Fuels, already had two other pellet mills in Georgia, Appling County Pellets and Telfair Forest Products. It was at the Appling facility that Fram learned of a possible flaw with the linear model. Any
breakdown or even scheduled maintenance on the single line forces the entire operation to cease production. The modular design circumvents this problem simply by having multiple lines. That's the theory anyway.
While Hazlehurst opted for three lines, Highland went for four. Each line at Highland will be expected to produce 150,000 metric tons of pellets a year—an impressive 600,000 metric tons of annual production.
Secondly, both plants largely consist of equipment designed and fabricated by Astec Industries, Inc., the Tennessee-based company that bought chipper/grinder maker Peterson Inc. in 2007. Don Brock, Astec's late CEO, visited Fram's Appling County mill shortly after the Peterson acquisition a decade ago. It was during this visit that Brock, who was interested in expanding his company's biomass footprint, realized that he could build a modular wood pellet plant similar to the ones Astec had already been making for asphalt plants. After much collaboration and testing, this resulted in Astec's first project in Hazlehurst, followed by the Highland plant in Arkansas.
Besides the modular, multi-line design, both plants also make good use of Astec's Hot Oil Tube Dryer system, which is said to reduce VOC emissions and negate the need for ESPs and RTOs.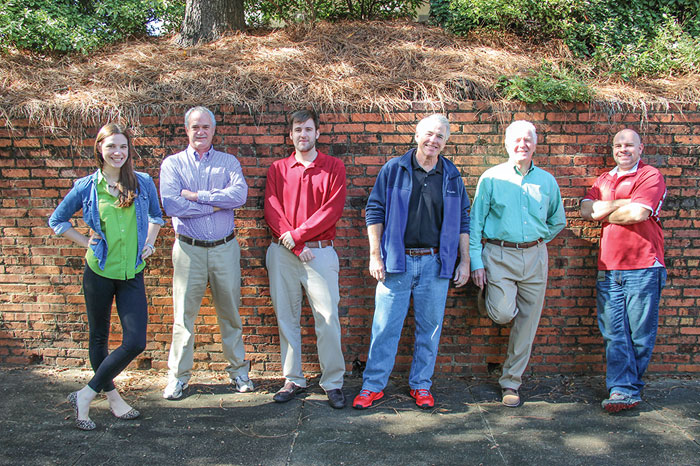 From Left: Jessica Johnson, Associate Editor; Dan Shell, Managing Editor; Jay Donnell, Associate Editor; Rich Donnell, Editor-in-Chief; David (DK) Knight, Co-Publisher/Executive Editor; David Abbott, Senior Associate Editor
Highland won't have all four of its lines in full production until this fall, so its degree of success (as a manufacturing plant and as a successful business operation) remains to be seen, but so far the indicators seem positive.
Several of the principals and investors in Highland are from Minnesota, where several industries, including paper and iron, are struggling. Congressman Rick Nolan, who has represented Minnesota's 8th congressional district since 2013, has publicly expressed interest in the Arkansas plant, seeing it as a model of potential job-creating growth that northeastern Minnesota could replicate. The problem they have to solve there is how to cost-effectively transport the pellets to port, since the major pellet markets require exporting abroad, or, alternatively, developing a similarly robust domestic demand.
Meanwhile, Highland is considering additional production capacity sites elsewhere in the Southern U.S.