Often, the biggest players in our industry keep their heads down, not wanting to call attention to what they're doing. As Drax Biomass' Morehouse BioEnergy Plant Manager Richard Lamb jokes, "Shh, it's a wood chip, don't tell anyone."
Drax takes a difference stance. One of the most important things a plant can do is recognize its identity, and work toward finding its place in the marketplace—both for the future and for the present, Drax Biomass Director of Communications and Policy, David Malkin, emphasizes.
"When we think about who we want to be in the market, we want to be the most reliable, dependable supplier of high quality pellets. Plain and simple," he says. Both Drax Biomass pellet production facilities in Mississippi and Louisiana are structured to meet this goal.
But it's not just the operational structure that pushes the company. Drax Biomass is heavily involved in furthering a pro-biomass message both at home in the U.S. and abroad with its parent company, Drax Group, in the U.K.
Moving dependence away from traditional fossil fuel-based power generation and toward biomass is a tremendous challenge. Drax Biomass stands behind a position of resource diversification (and its importance to grid reliability).

"We understand why utilities are going all in on natural gas, it makes sense from an economic perspective," Malkin says. "But it's a commodity just like anything else and those prices will fluctuate. There's no substitute for energy security."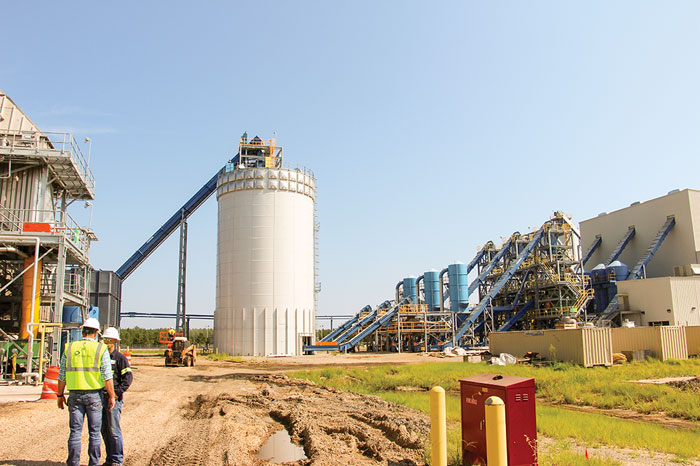 Morehouse has a rated capacity of 450,000 metric tons.
Waiting out that fluctuation will be instrumental in making biomass a viable option to the U.S. and elsewhere as alternative energy sources are once again discussed. Greg Martin, SVP of Operations for Drax Biomass, says it's pretty simple. When natural gas jumps back up to $7 MMBTU, biomass will be a favorable choice. In the meantime, Drax Biomass will continue to promote biomass as a reliable, low-carbon alternative to fossil fuel, and a natural complement to other intermittent renewable energy sources like wind and solar.
Drax Group is a fully vertically integrated biomass energy company. The pellet production plants in the U.S. exclusively feed the power station in the U.K. and the wheel keeps on spinning. Malkin points out that yes, Drax Biomass will always send a large portion of its production to Drax Power Station, but the company is looking to expand its market. Sure, being backed by a parent company means a guaranteed market, but it also gives the pellet facilities flexibility.
Drax Biomass can set itself apart because it's an industrial pellet producer that has first-hand experience in coal to biomass conversions—something other industrial pellet producers cannot say.
Malkin believes this knowledge, and the ability to share what has worked in the U.K., and what hasn't, will help encourage U.S. utilities to trust that pellet fired boilers can make reliable energy. Granted, that won't wipe away all the skepticism, but being able to show which feedstocks have performed best in the pelletizing process that then burned the best in converted boilers, gives Drax an advantage when approaching possible customers.
Pointing to existing marginal coal facilities, particularly the ones lacking environmental controls, with MACT compliance and other air regulations, Martin sees the biggest opportunity for biomass conversion from U.S. utilities.
Malkin sees certifications as another way to bridge the gap between regulators and biomass power. Drax Biomass holds a range of industry certifications, including its recently awarded Sustainable Biomass Partnership (SBP) certificates. "Our hope is that other governments will recognize SBP as a common framework for demonstrating that biomass is both legally and sustainably sourced. Many countries have their own niche requirements, and this poses a challenge to industry," he explains.