It's amazing how difficult it is at times to find out pieces of information. Our editor Dan Shell went through this experience as he tried to update the German Pellets "situation." (See page 8 for the news item he dutifully generated.)
Dan's challenge was compounded by the "simple" fact that German Pellets went bankrupt earlier this year, and a recent visit to their web site revealed a massive list of court proceedings and orders, most of it written in German (who would have guessed?). We call that a dead end in journalism.
Being from the old school, Dan got on the phone and called the bankrupt pellet plant in Woodville, Texas (formerly Texas Pellets LLC) and the bankrupt pellet plant in Urania, La. (formerly Louisiana Pellets LLC); he called local city offices; he called Invesco, the largest holder of debt on those plants.
You can imagine that those sources were pretty tight-lipped. Most of them responded as if Dan was reporting on Watergate. (You younger people will need to Google that.) Based on a couple of conversations, it does appear the two mills are in some phase of operation. And apparently the owner (whoever that is—the debt holder, the court, nobody?) is still trying to sell them.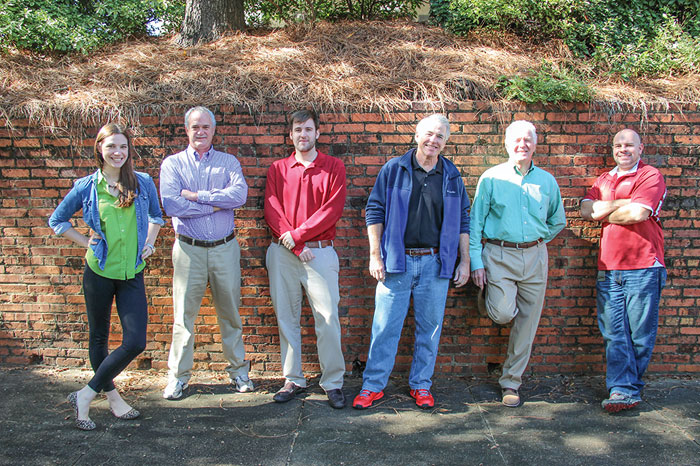 From Left: Jessica Johnson, Associate Editor; Dan Shell, Managing Editor; Jay Donnell, Associate Editor; Rich Donnell, Editor-in-Chief; David (DK) Knight, Co-Publisher/Executive Editor; David Abbott, Senior Associate Editor
German Pellets seemed to be doing so well, operating several facilities in Europe as well as the two in the Southeastern U.S. Early on we kept trying to contact their president about this magazine visiting one of the plants and writing an article. Never did get a response. Now we know why. Big debt!
Unfortunately, German Pellets has become the cautionary tale told by wood-to-energy doomsayers. In reality, there's a lot going on—Colombo Energy and Highland Pellets are about to become the newest members of the wood pellet production club. Wood pellet (and torrefied biomass) is coming up more and more in conversation about coal plant conversions, especially in Canada but also in the U.S. While wood pellet consumption growth in "traditional" markets in Europe and England may be plateauing, here comes Japan with possibly 10-15 million metric tons of demand by 2030. Demand in Korea could hike to 8 million metric tons in the next decade. Then there's always the question of whether China will turn to wood pellets. Meanwhile in the UK the Brexit thing has some people speculating, but the Drax Power Station there isn't going away.
Our friend and consultant William Strauss says, in a perfect world so to speak, industrial wood pellet demand for Europe, the UK, Korea, Japan, Canada and the U.S. in 2025 could top 50 million metric tons, more than tripling current demand, and representing an annualized average growth rate—using 2010 as a starting point—of more than three million metric tons per year to 2025.
It's okay to be skeptical, but it could happen.