If you read through this issue and still don't have a handle on wood-to-energy and the renewable energy movement, then "forget about it."
Because it's all in here.
We give over lots of space to Drax Biomass and its UK parent Drax Group for two reasons: one is that this was our first opportunity to tour the new Drax pellet handling and shipping facility at the Port of Baton Rouge, followed by our first visit to the new Drax pellet plant at Gloster Miss., known as Amite BioEnergy. It was all very in-depth thanks to the participation of a dozen or so personnel at the port and at the mill, who didn't hold back in their explanations as to how it all works.
 If you make it through the article that begins on page 16, you'll have a better understanding of the ebb and flow as the world's renewable energy industry continues to solidify itself. And that's the second reason we've devoted so many pages to Drax: It, as much as or more so than any other company, is at the center of the wood biomass energy universe, given the magnitude of its upstream-to-downstream portfolio, from its log scales at Gloster to its generator transformer at its power station in Selby, England. We're not saying Drax carries all of the weight of renewable energy on its back, but it's toting considerable poundage. That's why the article also delves somewhat into the shifting regulatory and policy challenges the company constantly faces as it maintains its commitment to biomass power.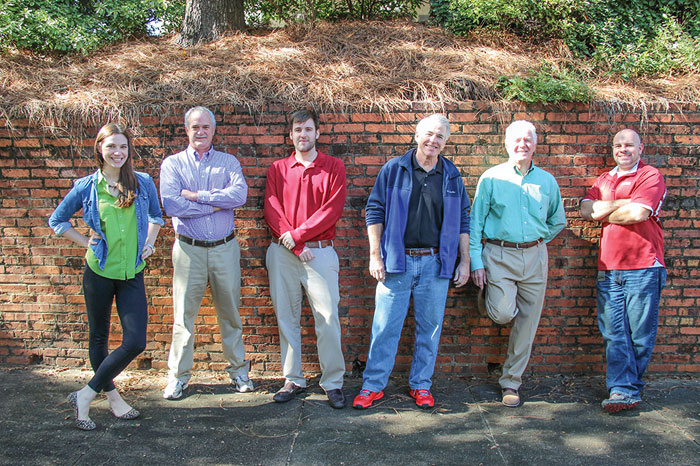 From Left: Jessica Johnson, Associate Editor; Dan Shell, Managing Editor; Jay Donnell, Associate Editor; Rich Donnell, Editor-in-Chief; David (DK) Knight, Co-Publisher/Executive Editor; David Abbott, Senior Associate Editor;
Our second feature article in this issue is about Dominion's conversion of three former coal-fired power stations in Virginia to 100% biomass fuel, with a specific look at its Hopewell, Va. facility. The conversions, originally announced in 2011, are in response to the state's voluntary Renewable Portfolio Standard, which called for 15% of the company's generation to be from renewable resources by 2025.
Also in this issue, beginning on page 38, is some preview material for the Wood Bioenergy Conference & Expo to be held April 5-6 at the Omni Hotel in Atlanta, as hosted by Wood Bioenergy magazine. You'll notice some of the conversation during the event will be about conversion to biomass from coal and even co-firing with coal. The event comes at a time when the U.S. government, in its EPA Clean Power Plan, has made at least a modest effort to include biomass in the equation toward carbon dioxide reduction. Events such as the Wood Bioenergy Conference & Expo serve to bring further understanding to the technologies, issues and participants involved in this still evolving industry.
But let us emphasize that there's much more to this conference than discussion of policy and regulation. This is a very nuts and bolts event—from new knife configuration in in-woods chippers to new auto lubrication systems on pellet mill rolls. See you in Atlanta.