Prior to coming on-line as a biomass conversion facility, there were periods when Dominion Power only operated its Hopewell station approximately 20% of the time. Originally designed to use coal, conversion to biomass was completed in 2013 and now the 51 MW facility is scheduled to run over 80% of the time.
The ability to generate more reliable, renewable power for its retail customers was a big driving force behind the $165 million conversion project that began in 2011, Dominion media spokesman Dan Genest explains. The project took three identical coal facilities located around Virginia—Hopewell, Altavista and Southampton, called "The Triplets"—and converted them to firing biomass. The conversions are helping Dominion meet Virginia's voluntary Renewable Portfolio Standard, which calls for 15% of generation to be from renewable resources by 2025.
The Triplets were all built around the same time period, and in July 1992 Hopewell began commercial operations as a coal-fired plant. Dominion purchased the plant in 2003, and finished the conversion process 10 years later. Originally, all three facilities were built to be cogeneration plants, providing steam for various industries and selling Dominion the electricity. As time went on, each facility lost the steam host and industry it was affiliated with. Add in the fact that each design was not very efficient, and Dominion made the choice not to run them very often after completing the purchase. Hopewell was put into cold storage for five years.
Genest explains that even after Hopewell was restarted, it still wasn't running more than 50% of the time. Largely due to EPA regulations on coal-firing facilities, Dominion started looking down the road at the carbon rules that were coming, and it just made sense to convert the facilities. Hopewell went from being minimally used for decades to operating at full capacity in a matter of three years.
Genest says, "We're getting more generation out of them and that helps our customers. It plays a very important role in our company, even though they are relatively small units. Dominion believes strongly that we can serve our customers more efficiently and reliably by having a good fuel mix, by not putting all our eggs in one basket."
Dominion Manager Operations and Maintenance, Norm Johnson, echoes Genest, saying, "If the wind is blowing, you're generating, if the sun is shining, you're generating. Those things you can't control. But you can control how much solid fuel you put in a unit. You know how much material you have in the pile, so you know how much generation capability you have at any given moment, so from a control perspective and a reliability perspective, biomass is far ahead of the others."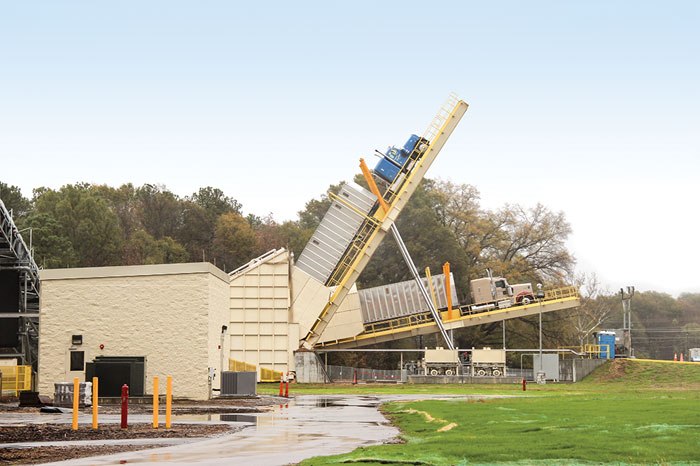 The facility brings in 80 truckloads daily.
Conversion Challenges

Following the conversion finalization, there have been some growing pains, sure, but Johnson says that overall the facility is working fairly well. He adds that the biggest challenges have been on the combustion side of generation.
"Initially we had a lot of problems with fuel quality and fuel quantity; the first winter was pretty weak. We ended up taking material that had been stockpiled and exposed to the elements, with debris in it and that gave us a lot of trouble," he explains. Winter operations are tough, as Hopewell is in a part of Virginia that gets some snow, but not too large of an amount, so properly controlling the wood yard was a learning curve.
During the first year and a half of operation, Hopewell struggled with the in-woods infrastructure in place to supply the facility. Johnson says that now most kinks have been worked out, and it is better than it has been, but it did take a lot of work on both sides.
Currently, Dominion does not have any contract loggers, nor does it purchase high amounts of gatewood. Instead, the facility has a contract with a "fuel aggregator" who secures the needed wood using its own network. For The Triplets, Enviva Biomass acts as fuel aggregator.
Under the contract with Envivia, Dominion has the ability to self-supply the plant with up to 10% of the needed material. "We did that for a couple of reasons," Johnson says, "To not have our eggs all in one basket and to keep a hand in the business." It came in handy the first winter of operation, when Dominion had to use its 10% to bring the wood yard volume to levels where it was comfortable for operation.
Another point on the learning curve for Dominion at startup was inventory reconciliation on the materials side. On average the wood yard keeps only 10 days worth of material. Due to a smaller parcel of land, the wood yard is tight and must run very efficiently. During start-up, as machinery was being installed and worked on, the facility could not run a full load of fuel, though it told producers it needed that much—and all of a sudden the facility would be flooded with chips.
Operations Manager Doug Henshaw says it was quite a balance. "The fuel yard would be full and we'd be off-line with some kind of problem. We'd get the problem fixed, run full blow and they couldn't keep up."
Now that the start up is complete, most of the operational issues have tapered down, and communication between the producers, fuel aggregators and facility has greatly improved. Johnson says, "We're getting better all the time. In 2016, I anticipate the 80-85% capacity range."
He does have one point of the process that is still unresolved, handling ash byproduct. The initial strategy was to supply it to local farmers as a lime substitute, and Johnson says there is still strong interest in it, but Hopewell has not developed that infrastructure yet. For now, ash is taken to the local landfill.