The small town of Collinwood, Tenn. is like many in the forest products sector. Its livelihood is extremely dependent on the timber business. And for Collinwood, that means it is closely tied to Hassell & Hughes Lumber Co., Inc. The company has been around for 85 years, starting out in the business owning close to 100,000 acres. Over the years, the company has seen this acreage diminish due to generational changes and a split in ownership. However, the company and its shareholders still own approximately 16,000 acres in Wayne and surrounding counties. For the last 15 years the company's main focus has been the manufacturing of hardwood flooring—that is until seven years ago.
That's when Hassell & Hughes saw an opportunity to diversify. GreenWay Pellets, a division of Hassell & Hughes Lumber, was born. Since raw materials were initially supplied 100% by residuals from the lumber surfacing operation and flooring plant, GreenWay Pellets has proven to be a good business move.
Company President Jerry Hollis says, "It's proven to be a good fit for us, since our raw materials are essentially free." The pellet business is extremely cyclical, with only a few major customers, and that concerns Hollis to an extent, though fortunately the last two winters have proven to be very long and cold, thus ensuring a good market for their product. He says that the length of last winter, with it going so far and deep into this year, will mean another good year for pellets consumption and production.

The steady stream of business has not only been good for Hassell & Hughes' bottom line, but also for Hollis who came into the business sort of left-handedly last summer. He explains that his wife's grandfather, Ralph Hughes, Sr., owned and ran the company for years, before passing away toward the end of 2012.
Hollis' father-in-law, Bob Haggard, took over at that time. Unfortunately, soon after taking the helm, Mr. Haggard suffered from an inoperable brain tumor and passed away in June 2013. "All of the success we've had over the last two years is a result of what these two gentlemen have put in place," Hollis says with conviction. "We've done a pretty good job of staying out of our own way. We've taken advantage of the good markets and expanded when given the opportunity."
Hollis adds that a large part of the company's success during the transition of leadership has been due to the employees. The business employs 135 across all divisions. Hollis believes that from their foresters to their sales associates, the key people are in place.
Dust Procurement
Senior Forester Johnny Heard, a longtime employee of Hassell & Hughes, procures logs and purchases tracts to keep the sawmill supplied with logs. He is also responsible for the management of company lands. Hollis says, "We try to manage our own properties well, not overcut. Manage it so it will be around for years to come." Purchased tracts are usually within a 100-mile radius of Collinwood, and the company uses three contract logging crews.
Logs and purchased timber, composed mainly of red oak, white oak and poplar, are fed to the main wood yard, which services the saw­mill, flooring mill and pellet mill. Since Hassell & Hughes uses its residuals to make pellets, keeping a stocked wood yard and flowing sawmill is crucial.
Pellet Operations
Rees-Memphis provided a dust collection system for Hassell & Hughes, which collects and gathers dust from both the lumber surfacing operation and the flooring mill. Rees-Memphis also provided the pneumatic conveying and wood grinding systems to feed the pellet mill.
The dust collection system conveys sawdust to a 7000 cubic ft. Laidig bin with a reclaim auger system. All of the wood waste and finished product are pneumatically and mechanically conveyed using low pressure blower systems, screw conveyors and feeders, supplied by Rees-Memphis. The fugitive dust is filtered and recycled back into the process, maximizing waste utilization. The Rees-Memphis dust collection system consists of six material handling fans, three cyclones, and two reverse-air filters handling a total of 150,000 CFM.
From the storage silo, the wood waste is meter-fed into a Precision vibrating conveyor and is then resized through a Bliss Industries hammermill before passing through the pelletizer.
Italian pellet mill maker LaMeccanica provided the 15 KW pelletizer, which includes two rollers and has a die speed of 960 rpm.
Finished pellets are then cooled, batch weighed and bagged for distribution with a Hamer 2080 FFS automated bagging system.
All conveying systems are protected with a Flamex spark detection system and the warehouse is equipped with a sprinkler system.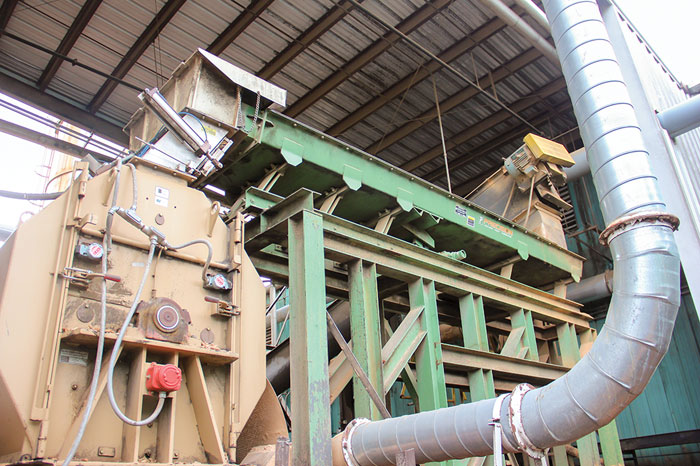 Hassell & Hughes has the capacity to process approximately 140 tons of pellets a day. Hollis says that wouldn't be possible without the help of Billy Reed and Darwin Rich. Reed acts as the company's head maintenance man who oversees a very competent and well equipped maintenance crew. Hollis simply says, "I don't know what we would do without him." Rich is the company's pellet mill manager, who oversees all pellet production, including the possible expansion of a third pellet mill in the near future.
At the start of 2014, in order to keep up with demand, Hassell & Hughes started running a second shift in the pellet mill. (Currently the flooring operation and sawmill at Hassell & Hughes only run day shifts.) Hollis is happy with the addition of a second shift, saying that it has helped to overcome some of the increased demand. "It got to a point where everyone was out of pellets. Everything was sold and it was still winter and people still needed them," he adds.
Adding a second shift proved a little challenging in terms of raw material availability so Hassell & Hughes had to start buying some dry dust from the outside. Now firmly nestled in a second shift, Hollis reports production is up to 110 tons per day.
Hassell & Hughes commercially packages its pellets under the brand name GreenWay Pellets. GreenWay Pellets are sold in 40 lb. bags, 50 to a pallet, by the ton. Though Hollis says the bread and butter of sales is by the ton, they do sell some bulk pellets and are looking at additional opportunities for growth and expansion in this area.
Pellets are marketed and sold all over the country. Hollis explains that the fairly different nature of pellet sales took some getting used to. "When I first came on, I wasn't accustomed to a business model that had 85% of our sales going to only a handful of customers." However, Hollis quickly realized that's how the world of pellets operates. "If you want to be in this business, those are the realities of how this industry operates," he says.
Local Impact
The company is acutely aware of its dependence on the local community and does everything it can to participate and assist the community whenever possible. "For where we are located and what we do, our support of the local community is one of the most important things to us," Hollis says. "Being the largest private employer in the county, we feel that it is our responsibility to support local community efforts."
The company tries very hard not to turn anything down in regards to community events and fundraisers. Hassell & Hughes owns quite a bit of land in Wayne County and generously donates its use to various organizations. For example, company land recently saw a truck and tractor pull fundraiser and the local police department regularly uses it for a gun range. The company also donated property to assist in both the restoration of the old train depot and its conversion into a public library, as well as the building of a new fire hall for the city of Collinwood.