From the Editors
Cover Story
In the News
Ørsted Continues Coal Phase-Out
Georgia Power Seeks Biomass Plant Bids
Tokyo Gas Enhances Biomass Portfolio
Alabama Timber Owners Receive Virus Relief
Drax Extends Contract With GB Railfreight
Pinnacle Projects Moving Forward
Remaking The Forest After Michael
YOUNGSTOWN, Florida – Aerial reconnaissance right after the storm confirmed the extent of the catastrophe, and it took the better part of a month's hard work by American Forest Management (FIA's on-site field service provider) and the Florida Forest Service to reopen the primary woods roads and allow up close inspection. The closer all involved got to the disaster, the bigger the challenge grew.
Article by Dan Shell, Senior Editor, Wood Bioenergy
Safety Technologies
Biomass Engineering & Equipment
Clarke's Sheet Metal
Con-Vey
Evergreen Engineering
Flamex
Product News
Bandit Reveals New Stump Grinder
Pre-Crusher Takes Out Bottleneck
Highland Pellets Tries To 'Right' The Ship
Mulching Head Offers Diversity
MDI View-Link Remote Interface
Rotochopper Receives State Recognition
The industrial wood pellet production industry in the U.S. is not a large family, but each of its members sitting at the dinner table continues to be extremely hungry. Here are some recent developments:
One of the many interesting stories concerns Highland Pellets. This plant started up in Pine Bluff, Ark. in 2017 and was featured on the cover of our magazine. Its chairman and co-founder, Thomas Reilley, spoke at our Wood Bioenergy Conference & Expo in Atlanta in 2018.
But as the company has reported, issues with the original drying equipment and technology were never overcome enough to reach production expectations. For a while there, at least from the outside, it seemed like Highland might throw in the towel. However, in early 2020 CEO Jeff Vanderpool announced they were investing in new drying technology and hammermills to get the plant up to where it was supposed to be. Elsewhere in this issue is the announcement of Highland placing an order for the new dryers. It's great to see Highland coming back strong.
Hazlehurst Wood Pellets, a subsidiary of Fram Renewable Fuels, reportedly had a similar experience as Highland with the drying technology for its new facility in Georgia. Actually, Hazlehurst took action some time ago on its dryer replacement program and the new technology is about ready to start up.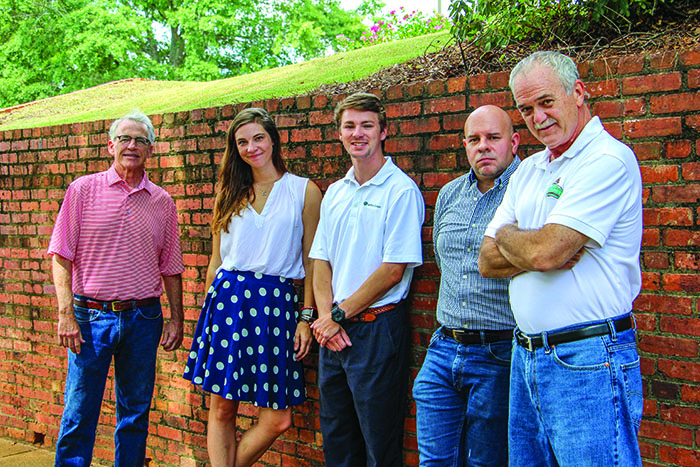 From Left: Rich Donnell, Editor-in-Chief; Jessica Johnson, Senior Associate Editor; Patrick Dunning, Associate Editor; David Abbott, Senior Associate Editor; Dan Shell, Senior Editor
Meanwhile, the pandemic may have set back some companies, and then there's Enviva. What better time to purchase the world's largest wood pellet mill, which
Enviva did this summer when it acquired the Georgia Biomass facility in Waycross, Ga. Meanwhile, Enviva has put into motion the construction of a new pellet facility in Lucedale, Miss., is pretty much done with recent projects to increase production at its Northampton, NC pellet mill, and is beginning such projects to increase output at its Greenwood, SC plant.
We keep referring to the U.S. wood pellet industry here, but in reality the likes of Pinnacle Renewable Energy and Drax, with their respective headquarters in Canada and England, but who have made major pellet production inroads into the Southern U.S., truly makes this a global affair.
Pinnacle continues to do a lot of work at the Westervelt pellet mill in Aliceville, Ala. that Pinnacle is now a majority owner of, and it is currently constructing a new pellet mill in Demopolis, Ala., again as majority owner (with Westervelt and Two Rivers Lumber).
Not everybody getting into the industrial wood pellet export action is a large company. Longtime southern yellow pine lumber producer Charles Ingram Lumber plans to build a small wood pellet operation in South Carolina and call it Effingham Pellets. You'll recall our article last year on Varn Wood Products in Hoboken, Ga., another established SYP lumber producer that built a wood pellet facility nearby.
These projects, and others not mentioned, will add to the nearly 7 million metric tons of pellets that U.S. operators are already exporting annually, in what is now a billion dollar export business for the U.S.
Cover Story: Pandemic Doesn't Slow Suppliers
Article by Patrick Dunning, Associate Editor, Wood Bioenergy
Separated physically, connected digitally. That's the synopsis for 2020. Traditional business practices have been challenged by the COVID-19 crisis and companies have been forced to find new ways to service their customers. Though it may not be pocket aces, equipment and technology suppliers in the wood energy industry haven't checked or folded, rather played the cards they've been dealt.
Photo Courtesy of Pinnacle
When forest industry products and services were deemed essential in early spring, suppliers promptly began reorganizing their in-house activities while enhancing their virtual platforms to sidestep the novel coronavirus.
One of the industry's leading moisture measurement and control technology producers, MoistTech Corp., continued working at the office and manufacturing facility throughout the pandemic with social distancing in place, but expanded their online customer service interface. "We have implemented more virtual customer service support when it comes to our moisture equipment to ensure all customers continue creating top quality products without downtime," Marketing Manager Sarah Hammond says. "Any troubleshooting and calibration questions have all been done virtually."
Wood Bioenergy is published and delivered 6 times per year to subscribers worldwide. Readership includes corporate executives, mill ownership, mill management, logging contractors and equity venture interests. Wood Bioenergy is FREE to qualified readers.
A group of researchers at UC Santa Barbara has shown that anaerobic processes similar to those in herd animal digestive tracts can be effective in breaking down lignin structures in biomass. A key to unlocking biomass' potential is the cost-effective breakdown of lignin that unlocks cellulose and…
Seeking to add value to residuals from two processing facilities, Aspen Wood Products is opening a new fuel pellet and animal bedding pellet mill at its headquarters in Mancos, Colo., where the company operates an aspen excelsior plant and also produces firewood, shavings and bark…
Search North America (SNA), a leading wood products-based search, recruiting, and placement firm, is proud to announce and welcome Dave Rupp as a new Senior Recruiter, mainly focusing on the Western U.S. and Canada. He joins the SNA team with over 40 years of experience in the wood…
Subscribe to Our Newsletter
Wood Bioenergy News Online hits the inboxes of subscribers in the wood-to-energy sectors.
Wood Bioenergy is published and delivered worldwide 6 times per year. Free to qualified readers in the U.S. Subscribers outside the U.S. are asked to pay a small fee.
Complete the online form so we can direct you to the appropriate Sales Representative.