Spectrum Moves Ahead At Adel
Spectrum Energy Georgia LLC plans to begin construction this summer of an industrial wood pellet facility in Adel, Ga. and expects to commission the plant 12 months later, or summer of 2024. The plant will operate at the site of an idled particleboard facility.
"One of the principle reasons we chose Adel was for the considerable infrastructure that was on site," comments President Michael Ainsworth, referring to the truck dumps, Clarke's buildings for green and dry material storage and handling. Many of the conveyors in the wood room will be put back into service. They will also use the existing energy system, dryers, and wet electrostatic precipitators (WESPs).
For Phase I of the project, they will treat all dryer, hammermill, pellet mill, and pellet cooler emissions through an existing biofilter. In Phase II, they will treat the dryer emissions through a WESP/RTO combination and all other emissions will be handled by the biofilter.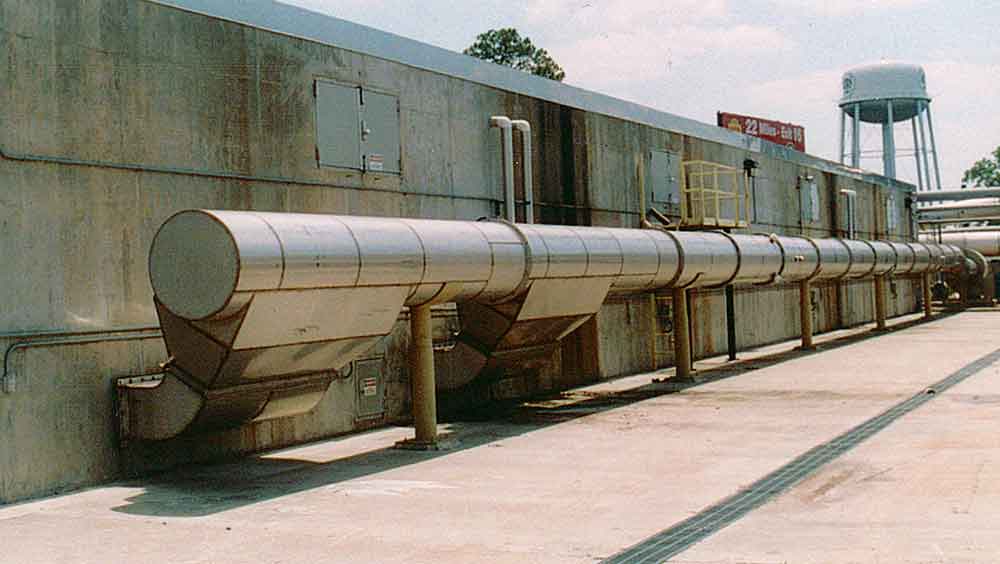 Weyerhaeuser installed this biofilter at its particleboard facility in Adel in 1996.
The plant will have the ability to receive and process all forms of biomass, including sawmill residues (chips, sawdust and shavings), pulpwood, top wood, and in-woods chips.
Weyerhaeuser built the particleboard mill in 1968 and operated it until Weyerhaeuser sold the plant to SierraPine in 1999, before it shut down in 2014 upon SierraPine's sale to Flakeboard.
Phase I of the project will build a 600,000 tons annual production capacity plant that will be increased during a Phase II construction to 1.32 million tons annually, which would make the site perhaps the largest pellet production facility in the world.
Much of the Spectrum leadership team is no stranger the wood industry, including members of the Ainsworth family and former Georgia and Florida logger and timberman Scot Corbett.
British Columbia-based Ainsworth Lumber became a major producer of oriented strandboard. Ainsworth serves as CEO & President of Spectrum and Douglas Ainsworth is VP Operations, while Corbett is VP Fiber Procurement
The Spectrum web site states: "The Ainsworths built a reputation on the quality of their products. Quality, waste reduction and cost control were central in all aspects of manufacturing, but innovation was always a cornerstone of the business. This led the company's improvement of plant processes and the development of specialty forestry products. Within two decades, the enterprise had grown into the world's third largest producer of OSB. The production of wood pellets is a logical extension of this philosophy and continues our quest to leave behind no waste."
Recently, Spectrum Energy Georgia and Concerned Citizens of Cook County (4C) signed a settlement and cooperation agreement, following 4C's concerns about the air permit issued last July by Georgia Dept. of Natural Resources Environmental Protection Div. to Spectrum for the two-phase construction of the wood pellet facility in Adel. Southern Environmental Law Center represented 4C in the matter.
The agreement basically allows Spectrum to increase transparency to the community in a number of ways, including regular reporting of construction activity, air emission and dust control enhancements and reporting thereof, noise abatement and public listening sessions.
"We listened to 4C's concerns and we realized that addressing those concerns is fully consistent with our desire to construct and operate a facility that will be the gold standard in the pellet industry," Ainsworth says
"Our future profitability and liquidity are expected to be negatively impacted by the following matters which have resulted in substantial doubt about the company's ability to continue as a growing concern," states Enviva in its 10-Q filing with the Securities and Exchange Commission upon releasing its third quarter earnings report, which noted that Enviva incurred net losses of $258 million for the nine…
read more
Subscribe to Our Newsletter
Wood Bioenergy News Online hits the inboxes of subscribers in the wood-to-energy sectors.
Wood Bioenergy is published and delivered worldwide 6 times per year. Free to qualified readers in the U.S. Subscribers outside the U.S. are asked to pay a small fee.
Complete the online form so we can direct you to the appropriate Sales Representative.