Hybrid Solar-Biomass Plant Is Running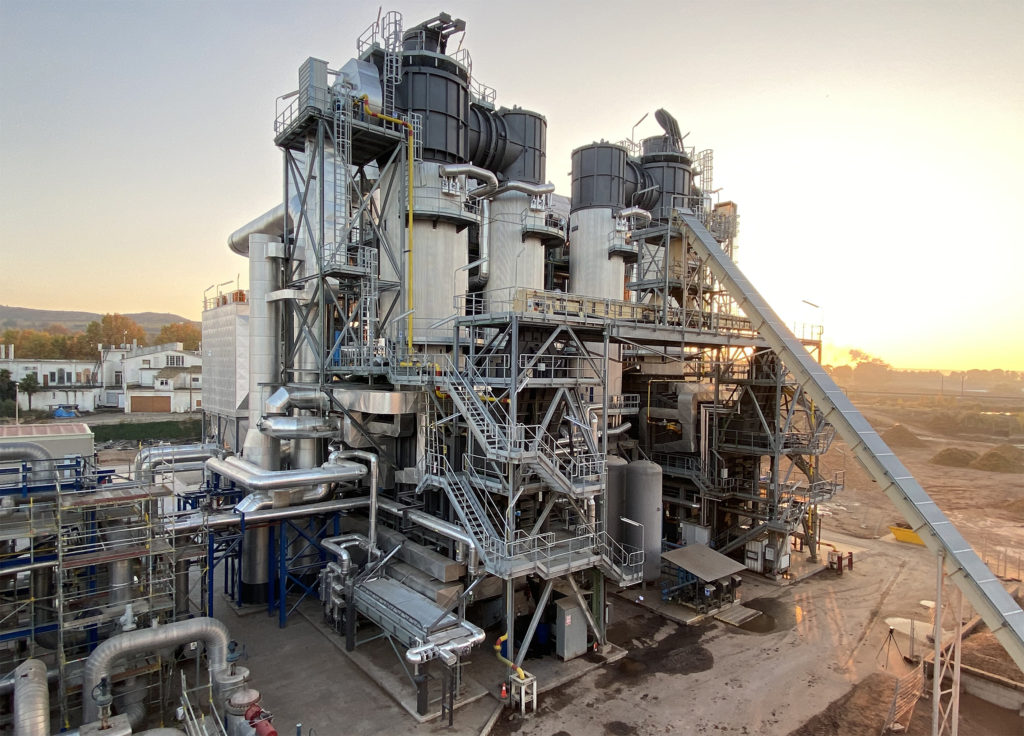 Two 20.5 MW heaters manufactured by Sugimat for Termosolar Borges, the world's first solar thermal-biomass hybrid plant, are operating at full capacity after successful performance tests. The plant, unique in the world due to its process conditions, is the first to combine biomass and thermosolar energy through a field of parabolic trough mirrors. Thanks to this hybridization, the plant, located in Les Borges Blanques (Lleida, Spain), provides energy 24 hours a day. In addition to the heaters, Sugimat developed the remainder of the plant's elements in turnkey mode.
Having successfully passed the performance tests, both heaters, fed with woody biomass and with a power of 20.5 MW, are now working in hybrid mode with a field of parabolic trough solar receivers up to 390ºC.
In addition to the boilers, Sugimat developed the heat recovery systems, integral control system and emission treatment.
Hybridization of thermal solar energy with biomass increases the plant's operating time to 150%. In this way, an unmanageable energy asset such as a solar concentration plant is transformed into a manageable one, given that the plant can continue to produce electricity at night or on days without sun. Manageable plants with renewable energy are those required to carry out the decarbonization process, complementing the strong input of photovoltaic and wind power, thus guaranteeing the stability of the system and the balance between generation and consumption.
Active Energy (AEG), an international biomass based renewable energy business, has announced Player Design, Inc. (PDI) has received the relevant permitting for the construction and operation of a CoalSwitch manufacturing facility at PDI's site in Ashland, Maine…
Canada-based biomass carbonization technology provider Airex Energy Inc. announced it has concluded a Series B funding round valued at $38 million Canadian, which Airex Energy states will fast-track its growth initiatives, including a Québec biochar project tying in with its partnership with France-based environmental quality developer, Suez, which aims to significantly boost biochar production in…
Astec has announced Bejac Corp., a heavy equipment dealer with 10 locations, will represent the Peterson line of forestry and environmental recycling equipment in California and Arizona. Bejac, founded in 1953 operated as an underground pipeline contracting business until 1985 when the company pivoted to the heavy, specialty equipment sector…
Subscribe to Our Newsletter
Wood Bioenergy News Online hits the inboxes of subscribers in the wood-to-energy sectors.
Wood Bioenergy is published and delivered worldwide 6 times per year. Free to qualified readers in the U.S. Subscribers outside the U.S. are asked to pay a small fee.
Complete the online form so we can direct you to the appropriate Sales Representative.