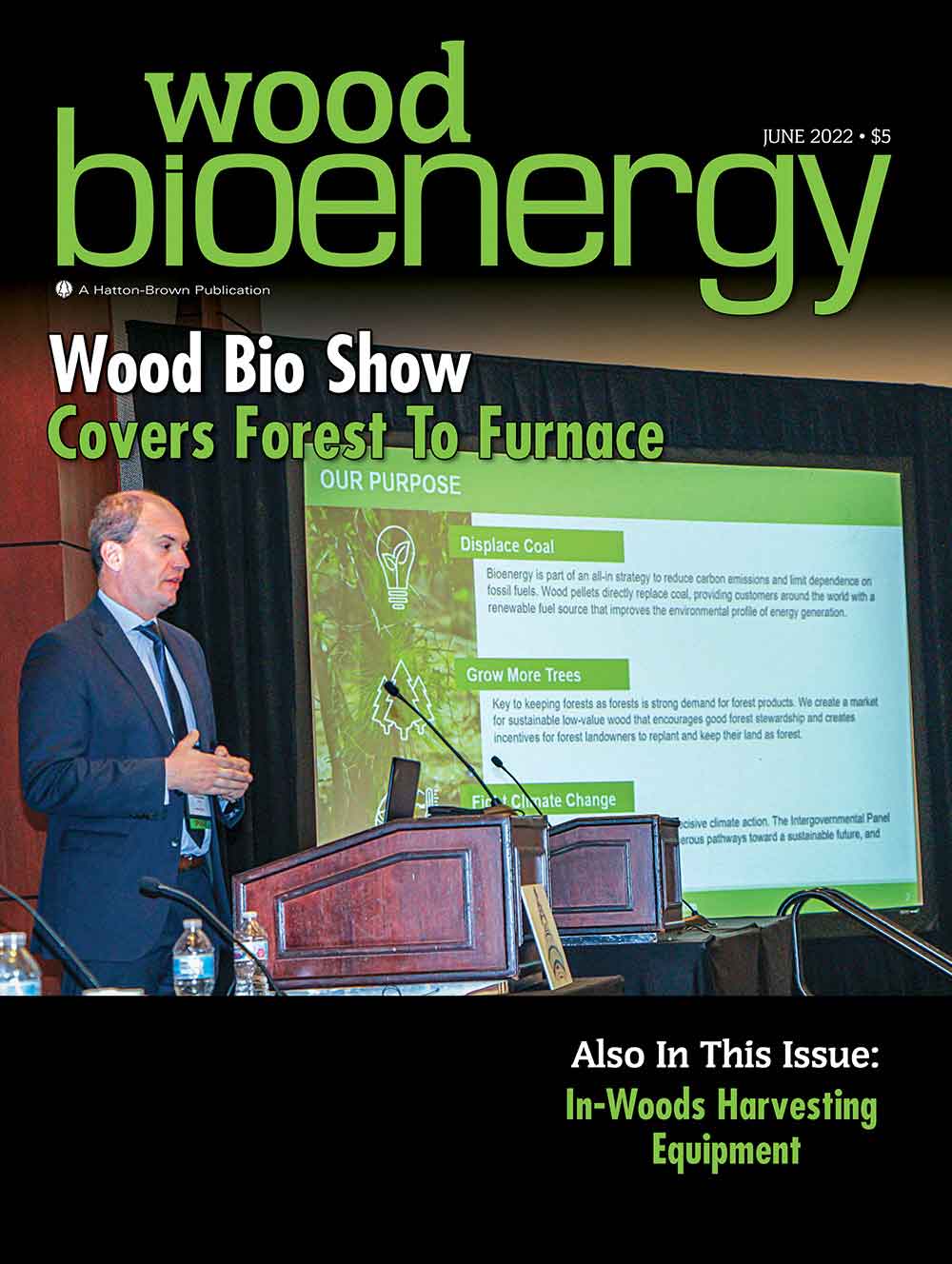 From the Editors
Cover Story
In the News
Forest Service Strikes Up 4FRI Once Again
Enviva Will Build Pellet Mill In Bond
Strategic Biofuels Taps Koch For Turnkey Job
Weyerhaeuser Partners In CCS Project
B&W Enters Kiewit, Fidelis Biomass Project
Greencoat Buys Margam Facility
Microsoft Is Counting On Freres Biochar
In-Woods Harvesting
EDITOR'S NOTE: The following companies submitted editorial profiles and images to complement their advertisements placed in the Wood Bioenergy June 2022 issue.
BANDIT
CW MILL
PRECISION HUSKY
VERMEER
WESTTECH
Biotreatment Of VOCs And Contaminants In Exhaust Gases And Wastewater
Volatile organic compounds (VOCs) are present in almost all exhaust gases exiting industrial processes, especially in the wood and bioenergy sectors. These VOCs include methanol, formaldehyde, terpenes, esters, aldehydes, and hydrocarbons. Technologies used to treat these contaminants in exhaust gases include adsorption, thermal oxidation, catalytic oxidation, rotor concentrator, regenerative thermal oxidation (RTOs), and biological technologies.
Article by Dr. Rakesh Govind, president of PRD Tech, Inc.
Product News
Partnership Enhances Data Intelligence
John Deere Expands Self-Repair Resources
Pewag Purchases Wallingford's Inc.
It Was Literally All There
Granted, Wood Bioenergy magazine served as an integral part of the Wood Bioenergy Conference & Expo, held in Atlanta, Ga. March 29-30, 2022, but if we do say so ourselves it was a helluva event.
It was everything you wanted to know, but were afraid to ask.
There were handshakes, fist bumps, and even a few hugs—and big smiles. But that's to be expected when many are gathering in-person for the first time in two years. Most importantly, there was information sharing. From the minute the opening keynote session began until lucky Dustin Stratton with BID Group was called to collect his $500 cash winnings at the end of day two, people were talking shop. Producers came out in full force not just to speak, but also to engage with others, asking insightful questions in the keynotes and technical sessions alike.
Gone are a lot of the "gee whiz it's pellets!" notes. The industry has matured. It's been a new generation, and now we've reached maturity. Pellet projects run the gambit from massive industrial complexes to co-located pellet box mills.
Also gone is a lot of the speculation as to if plants will scale and which government will be next to offer this incentive or that one. Instead, Dr. Bill Strauss has somewhat replaced those questions with new ones, like is their cause for hope that President Biden might see the benefit in woody biomass? Co-firing with coal has come and gone in some states, but straight up replacement like the Drax Power Station in the UK? Strauss is less certain, and like everyone else instead focuses on areas of the world where the incentives are already in place, with the possibility of major growth—like the Far East.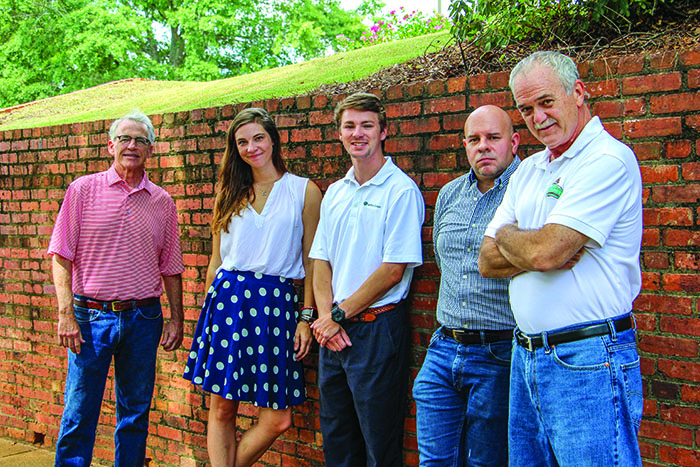 From Left: Rich Donnell, Editor-in-Chief; Jessica Johnson, Senior Associate Editor; Patrick Dunning, Associate Editor; David Abbott, Senior Associate Editor; Dan Shell, Senior Editor
Of course, there was a lot of "gee whiz, they are doing what in Louisiana?" among attendees, which Stan Parton, VP of Forestry, Strategic Biofuels addressed thoroughly in the mid-morning keynote session on the Louisiana Green Fuels (LGF) project. The long and short is Strategic Biofuels put together all of the pieces needed, including the funding, to fast track a converting forestry waste into renewable diesel. It is an equally stunning and smart project that has already drilled a test well, and according to Parton, has reached some sort of agreement with a major truck stop for product offtake.
And of course, no conference about woody biomass is complete without lots, and lots, and lots of talk about carbon capture and sequestration. AFRY Management's Pedro Camphilo covered it; Drax's Matt White covered it. Even Parton addresses how LGF achieves a negative carbon footprint.
At the end of two days, it was clear, conference goers are now among the most informed people on the planet as to the entire picture of this industry we call wood bioenergy—because our speakers had it all covered from the woods to the mill gates and beyond.
Feeling like you should have gone to Atlanta? We can't turn back time, but starting in this issue we will break down many of the things we learned from our presenters. And just go ahead and mark your calendars now for March 2024 because the Wood Bio Conference will be back. And if this year was any indication—you won't want to miss it.
Wood Bio Show Covers Forest To Furnace
Article by Rich Donnell, Editor-in-Chief, Wood Bioenergy
ATLANTA, Georgia – Going into the seventh Wood Bioenergy Conference & Expo, organizers said the lineup of keynote speakers, on paper, was the best in the history of the event. The real thing was even better. Speakers from their wide-ranging perspectives provided a crystal clear picture of how the wood-based energy industry shapes up today and what to expect moving forward.
The avalanche of insightful information prompted one attendee to comment, "You never get to hear so many important people from the leading companies talk at one event, but we heard them here."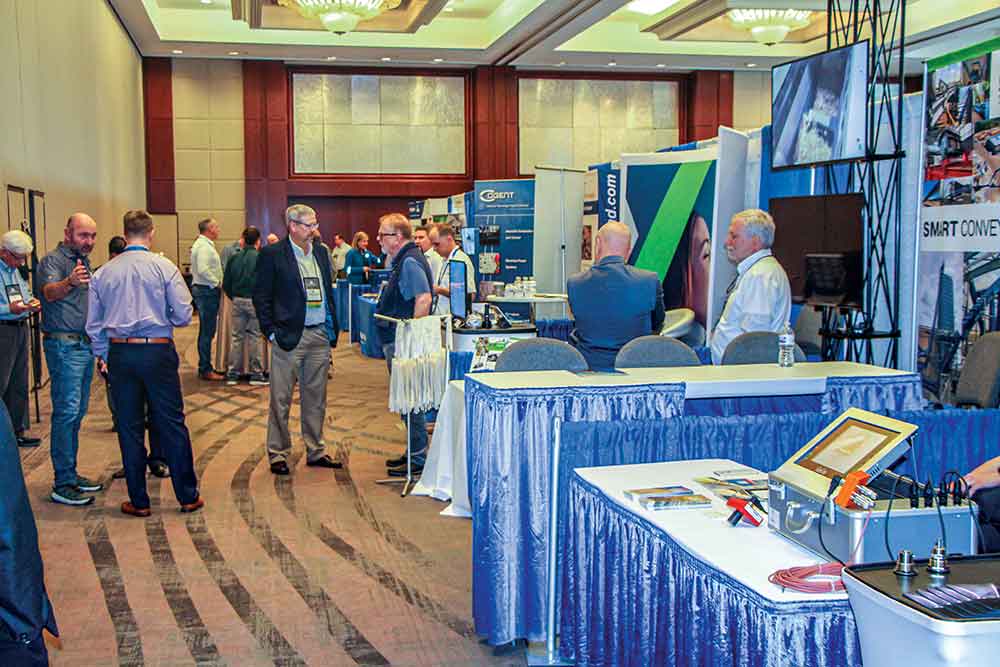 When not enjoying the presentations, attendees were able to comb the exhibit area, where 50 leading equipment and technology companies set up shop.
"Here" was the Omni Hotel at CNN Center, Grand Ballroom North, which is where the event has been held since its inception, and this time during March 29-30. Several "big picture" keynote talks were interspersed between two-dozen technical presentations on subjects such as Fire Prevention, Raw Materials, Process Optimization and Developing Technologies.
And when not enjoying the presentations, the attendees were able to comb the exhibit area, where 50 leading equipment and technology companies set up shop.
"The mood was fantastic," comments Jessica Johnson, managing editor of Wood Bioenergy magazine, which hosted the event. "I think it was a combination of people so looking forward to getting out in-person and the tremendous momentum of the wood-based energy industry."
As evidenced in the keynote talks, momentum is not only the result of a growing number of production-related projects, but also due to the increasing awareness of the environmental benefits that wood-based energy brings to discussions on carbon emissions, carbon capture, climate change and forestland management.
Wood Bioenergy is published and delivered 6 times per year tosubscribers worldwide. Readership includes corporate executives, mill ownership, mill management, logging contractors and equity venture interests. Wood Bioenergy is FREE to qualified readers.
Morbark has unveiled the all NEW "BVR" line of hand-fed brush chippers at this year's TCI Expo, in St. Louis, Mo. Alongside the BVR lineup, visitors found 6- and 8-in. brush chippers from Timberwolf. Timberwolf, an Alamo Group company, is headquartered in Suffolk, UK, and will be marketed in the U.S. as the Morbark TW series, beginning the first quarter of 2024…
A memorial service was held October 29 in Pleasant Hill, Ore. for forest machinery pioneer and innovator Neil Peterson, the driving force behind Peterson Pacific Corp. that revolutionized in-woods and mobile delimbing, debarking and chipping. Peterson was not just a pioneer in his field but also a generous philanthropist, a guiding force for his team, and a beacon of opportunities for his employees…
Released in September, the "National Report on Sustainable Forests, 2020" from the U.S. Dept. of Agriculture (USDA) and Forest Service (FS) shows both good and challenging trends as the nation's forestland owners seek sustainable ownership and management options. The fourth such effort since 1997, the report is 60 pages…
Subscribe to Our Newsletter
Wood Bioenergy News Online hits the inboxes of subscribers in the wood-to-energy sectors.
Wood Bioenergy is published and delivered worldwide 6 times per year. Free to qualified readers in the U.S. Subscribers outside the U.S. are asked to pay a small fee.
Complete the online form so we can direct you to the appropriate Sales Representative.