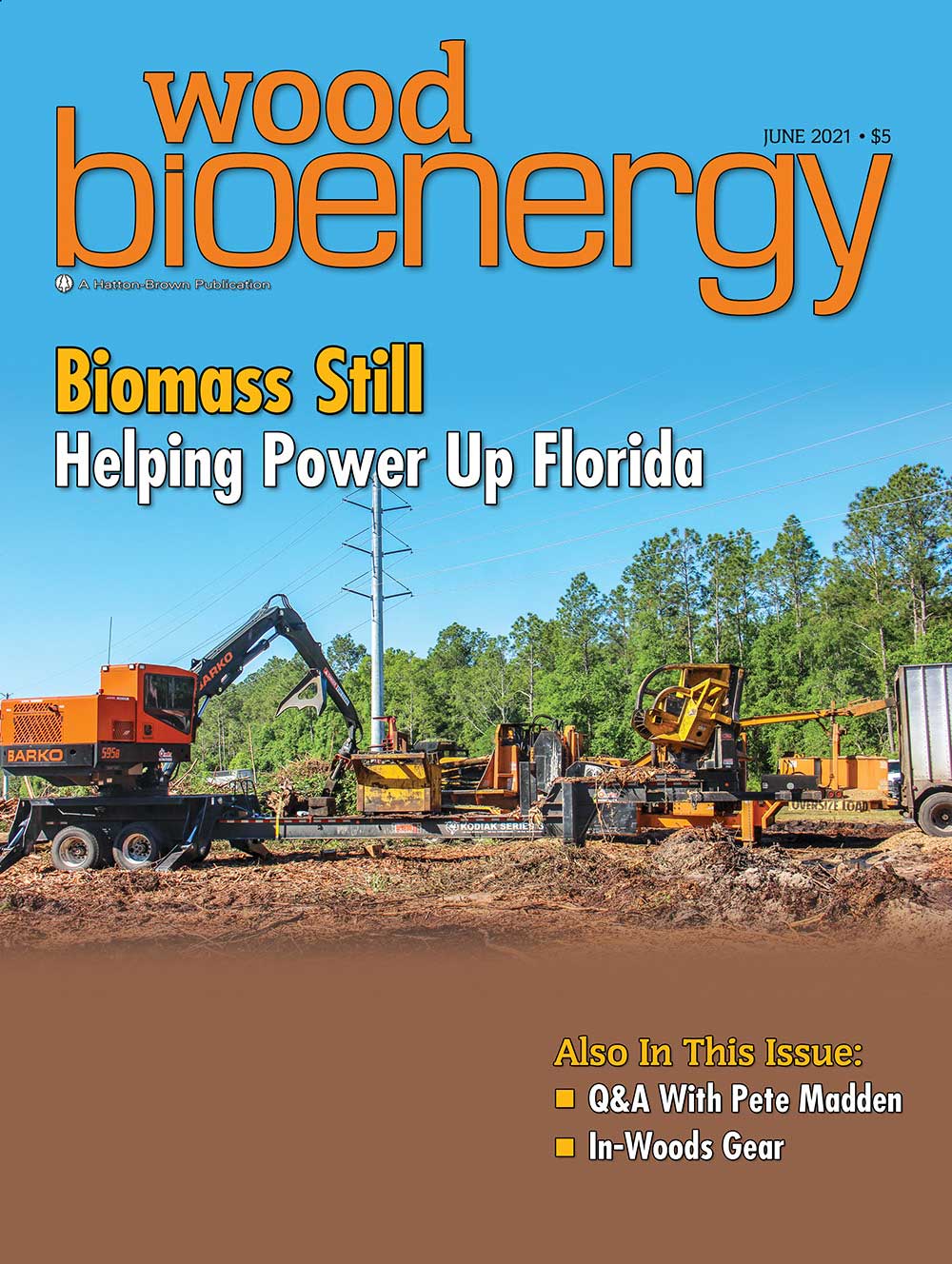 From the Editors
In the News
Enviva Move Forward On New Plants
Pinnacle Is Officially Part Of Drax
Strategic Biofuels Gains Ground
Enviva, Drax Sign Letter To Biden
Air Permit Issued For Proposed Plant
Hyuga Biomass Plans 50 MW Plant
Lignetics Expands Pellet Offerings
Enviva Joins Sea Cargo Charter
Japan Power Plant Construction Starts
Trillion Trees Act Grows Support
Stored Solar Buys Biomass Power Plants
IP Helping Fund Research Programs
SC Road Entrance Permit Now In Effect
Project Learning Tree Releases Curriculum
SFI Launches Urban Forest Initiative
Northern Spotted Owl Is Back In Court
Good Earth Names Management Team
Rural Schools Gain USDA Funding
Book Teaches Kids About Logging
Oregon Mill Has New Life
The Future Is Bright
Editor's Note: Pete Madden took over as President of the U.S. Endowment for Forestry and Communities in mid-2000. Madden joined the Endowment with more than 30 years of experience in the forest sector – and is a registered forester. He has held roles in land management, procurement, supply chain and logistics and renewable energy within well-known and respected players including Westvaco, Georgia-Pacific and Plum Creek. Most recently, Madden led Drax Biomass as president and CEO. He holds a Bachelor of Arts degree from Marlboro College in Vermont and both a Master of Science in Forestry and an M.B.A. from the University of New Hampshire. The Endowment, headquartered in Greenville, South Carolina, was established in September 2006 at the request of the governments of the U.S. and Canada in accordance with the terms of the 2006 Softwood Lumber Agreement. Madden agreed to answer several questions posed by the editors of Wood Bioenergy.
Chippers & Grinders
Editor's Note: The following companies submitted editorial profiles and images to complement their advertisements placed in the Wood Bioenergy June 2021 issue.
Bandit
Bruks Siwertell
CW Mill
Europe Forestry BV
Morbark
Precision-Husky
US Blades
Vermeer
Product News
KPA Unicon Has New Majority Owner
Doosan Enhances Wheel Loaders
Fulghum Develops New Knife Clamp
NAF Invests In Test Center
Doppstadt Built Recycling Leader
John Deere Unveils Precision Forestry
Doosan Announces Top 2020 Dealers
Cat Reveals Next Generation
Level Switch Detects Wood Chips
Keen Safety Boot Fits Workplace
Walking through ZeaChem's cellulosic ethanol refinery demo plant in Boardman, Ore. back in 2012, we were standing on a catwalk two stories off the floor, looking at a jungle of pipes, valves and tanks. Former ZeaChem CEO Jim Imbler looked around and said that to successfully scale up the company's innovative and efficient acid-based conversion process to a true commercial wood-based cellulosic ethanol operation, among other things, every component we were looking at needed to be 10 to 100 times larger in size or capacity while still operating under the same tolerances and inputs and outputs that made the concept "provable" in the lab or demo plant.
While the demo plant is still in Boardman, the story is a familiar one in the alternative energy industry: The financing required to take the concept commercial never materialized—and circumstances changed. The price of oil and natural gas have stayed remarkably low, leading to less incentive to finance many different alternative energy projects. Meanwhile the 30,000 acre tree farm nearby that was to furnish most of the ZeaChem refinery's raw material was sold and converted to a huge dairy operation.
ZeaChem went on to reinvent itself as Zea2 Bioworks, which now provides scale-up and custom manufacturing solutions for the production of nutraceuticals, supplements, food ingredients, and API for the agriculture and biotechnology industries. The facility isn't lighting the bioenergy world afire, but it's also a viable operation that's survived, although in a different form. Then again, most of these type ideas and concepts don't even get out of the lab, much less survive in the real world in any form.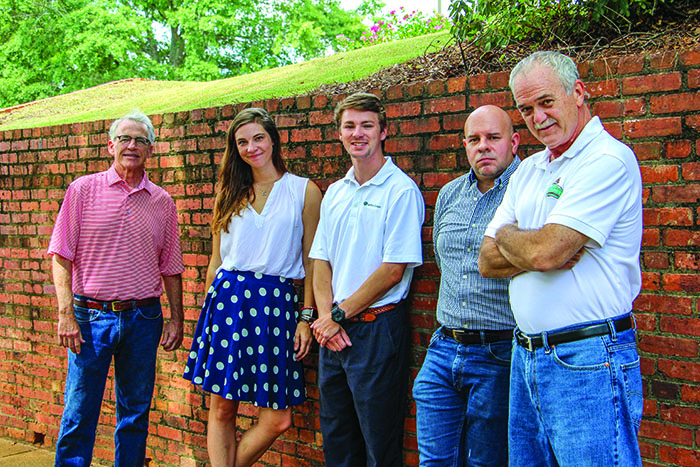 From Left: Rich Donnell, Editor-in-Chief; Jessica Johnson, Senior Associate Editor; Patrick Dunning, Associate Editor; David Abbott, Senior Associate Editor; Dan Shell, Senior Editor
So it was with much interest that we recently read of the joint effort between researchers at Lawrence Berkeley and Sandia National Laboratories that has developed a more efficient process to manufacture cellulosic ethanol using commercially available enzymes and a specially engineered yeast to break down lignin and release wood sugars and convert to ethanol.
The new "one-pot" single container process uses less water and energy as well, researchers say, and is a game-changer that makes wood-based cellulosic ethanol fully cost competitive with the corn-based ethanol that dominates the market today.
The research effort is targeting the need to develop woody biomass markets in California, which is embarking on a major wildland wildfire prevention and woodland thinning program that will generate mountains of biomass. Cupertino-based Aemetis is the company that's working to commercialize and scale up the technology. The company has a solid record, operating a California ethanol plant and biochemical plant in India with more than 110 million gallons capacity combined. We wish them all the luck and look forward to one day touring an Aemetis woody biomass cellulosic ethanol plant and writing about it.
But even the best ideas can get derailed by technical issues that may or may not be controllable or by market and financial issues that are definitely not. A process has to scale up efficiently to have a chance, but finances and markets must be favorable as well.
Cover Story: Florida Logger Finds Success Supplying Power Plant
Article by Patrick Dunning, Associate Editor, Wood Bioenergy
Williston, Florida – What began as a swamp and hill operation in 1971 hand-felling pulpwood in Williston, Florida, has diversified into a substantial chipping-for-biomass operation in recent years for William "Bill" Harrison, 69, and his company Harrison Logging Co. What brought the change? A variety of factors, but the biggest being the opening of a new market near Harrison's home in Florida, a municipal electric utility burning wood chips for power, now operating under the name Deerhaven Renewable Generating Station. First brought online in late 2013 as Gainesville Renewable Energy Center (GREC), the 102.5 MW facility burns biomass chips sourced from the region Harrison cuts, so it was a natural fit.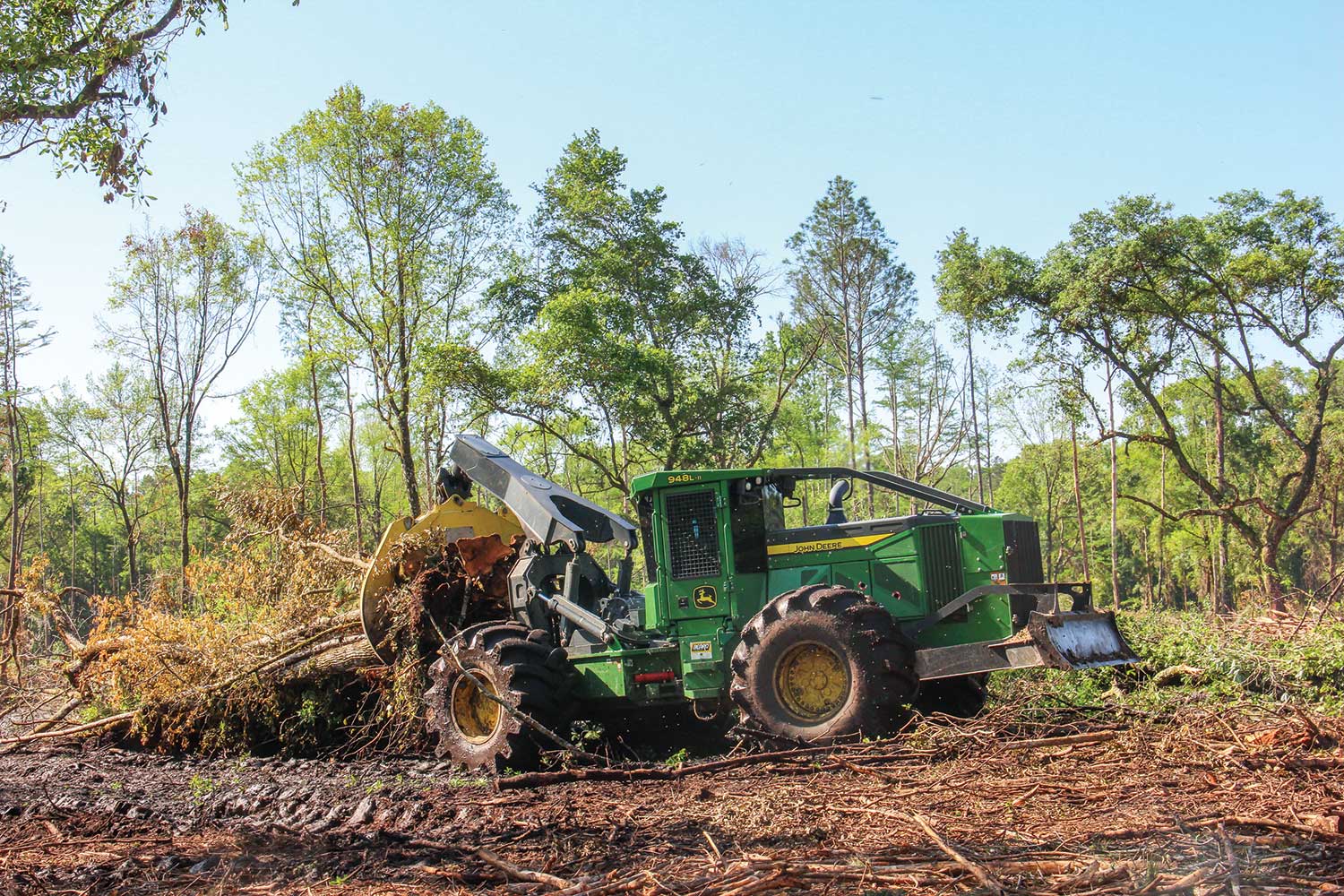 A mix of logging iron keeps Harrison's three chippers steadily supplied with material.
Harrison has crews that contract cut for Columbia Timber Co., and have since the 1980s. Columbia had the first contract to provide wood for the Gainesville plant, and through that contract, Harrison was introduced to chipping-for-biomass.
In the beginning, the logging crew used the Columbia purchased Bandit 2590, but it quickly became evident that the market demanded a heavier-duty machine, and an increase in production. Now, Harrison operates three Bandit chippers, one 3590XL for M.A. Rigoni and two 3590s for Columbia Timber Co. producing a total of 250 loads of chips a week.
Wood Bioenergy is published and delivered 6 times per year tosubscribers worldwide. Readership includes corporate executives, mill ownership, mill management, logging contractors and equity venture interests. Wood Bioenergy is FREE to qualified readers.
Canada-based biomass carbonization technology provider Airex Energy Inc. announced it has concluded a Series B funding round valued at $38 million Canadian, which Airex Energy states will fast-track its growth initiatives, including a Québec biochar project tying in with its partnership with France-based environmental quality developer, Suez, which aims to significantly boost biochar production in…
Astec has announced Bejac Corp., a heavy equipment dealer with 10 locations, will represent the Peterson line of forestry and environmental recycling equipment in California and Arizona. Bejac, founded in 1953 operated as an underground pipeline contracting business until 1985 when the company pivoted to the heavy, specialty equipment sector…
Valmet will be converting Helen Ltd.'s coal-fired district heat boiler to bubbling fluidized bed (BFB) combustion to enable wood pellet firing at the Salmisaari 'A' power plant in Helsinki, Finland. The conversion promotes the company's goal of phasing out coal, while at the same time strengthening the construction of a sustainable energy system…
Subscribe to Our Newsletter
Wood Bioenergy News Online hits the inboxes of subscribers in the wood-to-energy sectors.
Wood Bioenergy is published and delivered worldwide 6 times per year. Free to qualified readers in the U.S. Subscribers outside the U.S. are asked to pay a small fee.
Complete the online form so we can direct you to the appropriate Sales Representative.