FutureMetrics Releases Updated Interactive Map With 2022 Wood Pellet Trade Data
Now updated with 2022 trade data, the very popular interactive map of the global wood pellet trade from leading consultancy firm FutureMetrics is now available for free online.
Simply click on any country on the list on the left of the map to see where that country's pellet exports went or where their imports came from. The width of the arrows are proportional to the total tonnage exported or imported.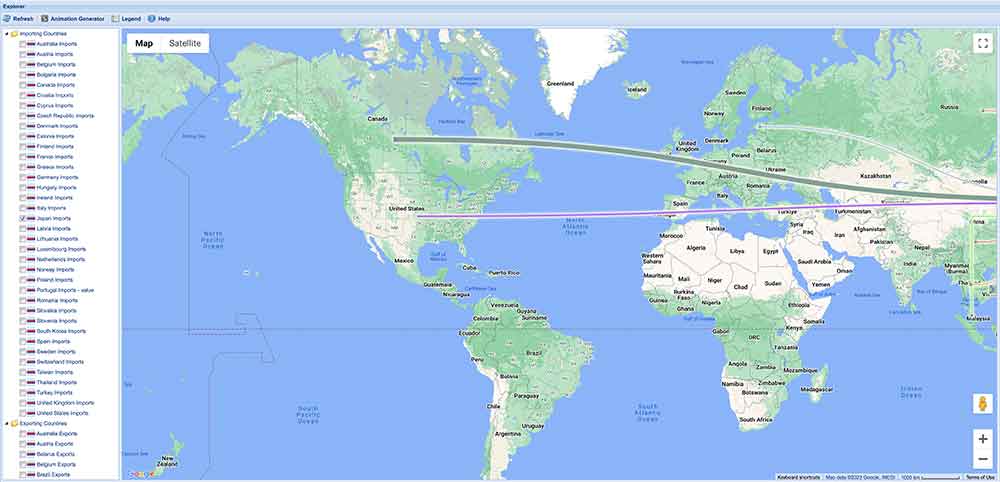 Hover over the main source or endpoint arrow to see a list of each country that the source country exported to, or the countries that the importing country sourced from. Hovering over the main arrow also shows the tonnages for each country, and the total tonnes shipped in 2022.
FutureMetrics is the leading full service consultancy firm in the pellet fuel sector.
Active Energy (AEG), an international biomass based renewable energy business, has announced Player Design, Inc. (PDI) has received the relevant permitting for the construction and operation of a CoalSwitch manufacturing facility at PDI's site in Ashland, Maine…
read more
Canada-based biomass carbonization technology provider Airex Energy Inc. announced it has concluded a Series B funding round valued at $38 million Canadian, which Airex Energy states will fast-track its growth initiatives, including a Québec biochar project tying in with its partnership with France-based environmental quality developer, Suez, which aims to significantly boost biochar production in…
read more
Subscribe to Our Newsletter
Wood Bioenergy News Online hits the inboxes of subscribers in the wood-to-energy sectors.
Wood Bioenergy is published and delivered worldwide 6 times per year. Free to qualified readers in the U.S. Subscribers outside the U.S. are asked to pay a small fee.
Complete the online form so we can direct you to the appropriate Sales Representative.