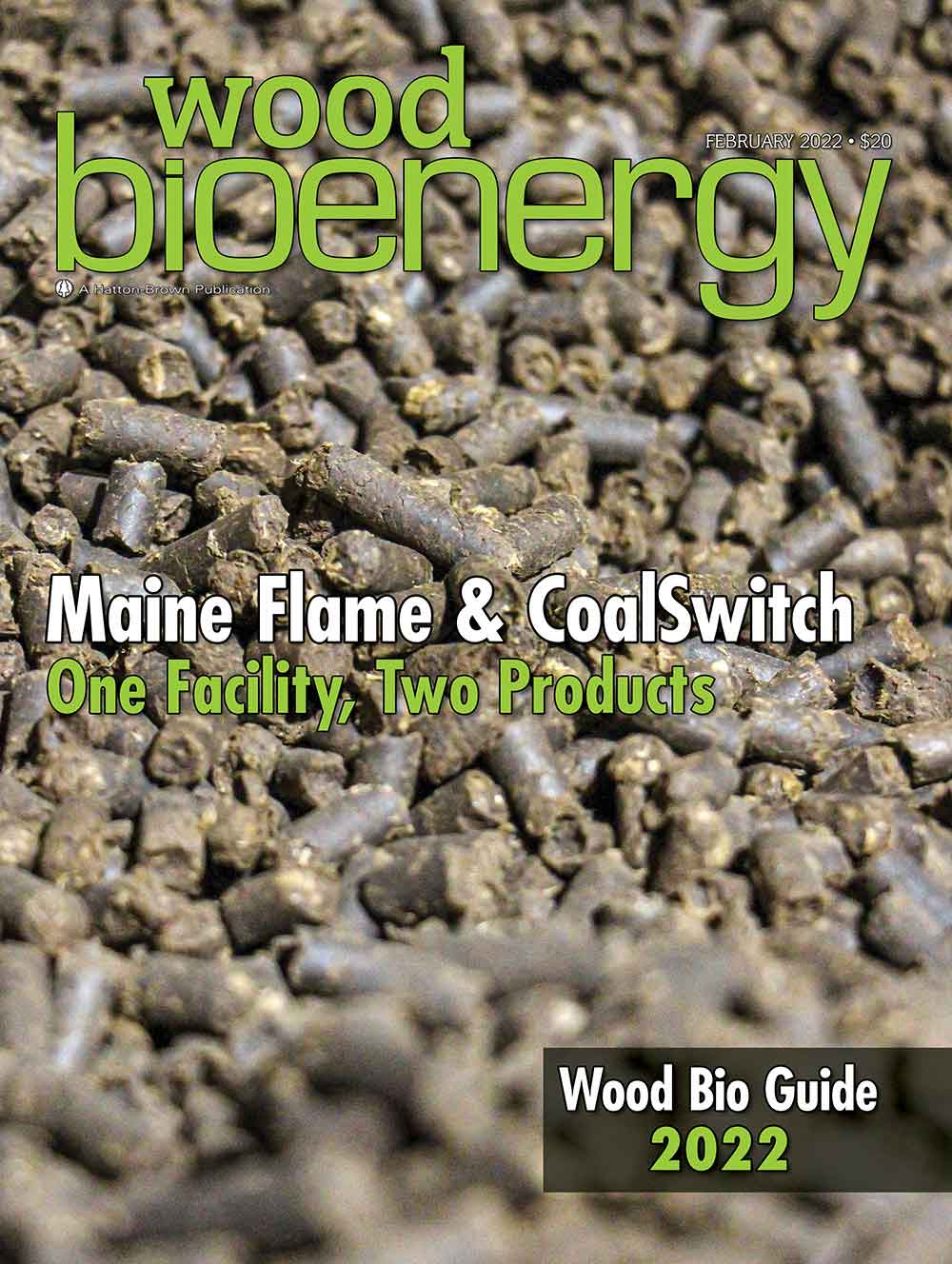 FROM THE EDITORS
IN THE NEWS
Enviva Continues Pellet Growth
Drax Announces More Expansion
Alliance Focuses On XanoGrass
Forest Service Weighs In Again On Arizona 4FRI
ALC Seeks Additional PATHH Funding
THE STAGE IS SET
Wood Bioenergy magazine-sponsored, Wood Bioenergy Conference & Expo to be held at the Omni Hotel at CNN Center, March 29-30, 2022. Register now and view keynoters at bioenergyshow.com.
2022 WOOD BIO GUIDE
Products, Services, Supplies; Machinery Manufacturers, Suppliers – Everything All In One Place
DRYER ISLAND
EDITOR'S NOTE: The following companies submitted editorial profiles and images to complement their advertisements placed in the Wood Bioenergy February 2022 issue.
BAKER-RULLMAN
HURST
AGUS GRECON
NESTEC
TSI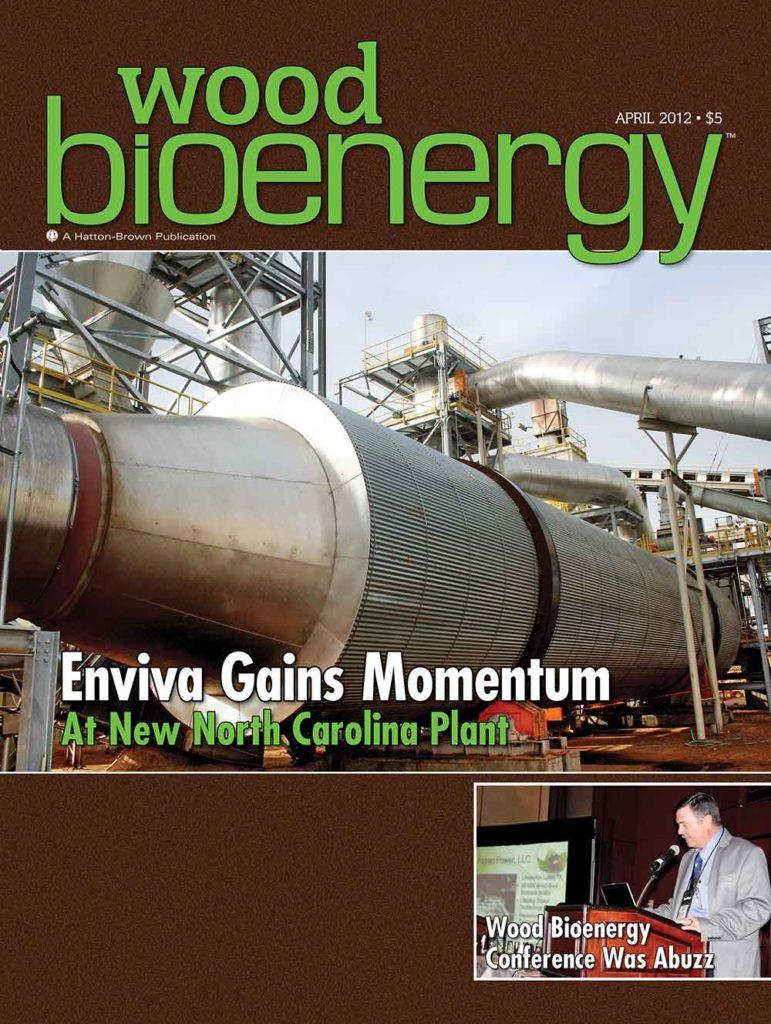 In this space you'll see the cover of the April 2012 issue of Wood Bioenergy, and the story that was featured: Enviva's new industrial wood pellet plant in Ahoskie, NC. We were prompted to go back into our files and retrieve this issue when this past November Enviva celebrated the 10th anniversary of the beginning of production at the Ahoskie facility.
Our first reaction: Has it really been 10 years? Our second reaction: Enviva has come a long way.
Enviva was an infant. In 2010 it had purchased two small privately owned wood pellet plants in Mississippi. It had greater intentions for the Ahoskie site, bought in late 2010 from Georgia-Pacific, which had shut down a sawmill there. Following an aggressive engineering, construction and startup schedule for the 350,000 metric tons facility, Ahoskie produced its first pellets in November 2011 and shipped its first 28,000 metric tons at the end of 2011 from its new deep water port terminal in Chesapeake, Va. to one of its European utility customers. A second shipment of 31,000 metric tons went out in March 2012. By the time we visited the plant in early 2012, Enviva had already broken ground for a plant in Northampton County, NC and was in the permitting stage for another plant in Southampton County, Va., with both of those plants touting larger production capacities than Ahoskie.
Enviva would soon be looking at nearly 1.5 million metric tons of production capacity.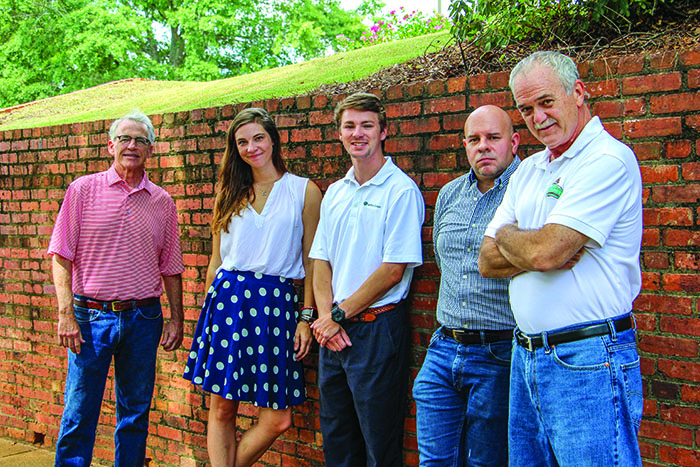 From Left: Rich Donnell, Editor-in-Chief; Jessica Johnson, Senior Associate Editor; Patrick Dunning, Associate Editor; David Abbott, Senior Associate Editor; Dan Shell, Senior Editor
Fast forward to today: When Enviva begins production at its nearly completed plant in Lucedale, Miss., and given various production expansions at some other plants, its combined production capacity from 10 plants (some of which Enviva built and others it purchased and expanded) will be in the neighborhood of 6.2 million metric tons per year. But don't blink, because additional new plants at Epes, Ala. and Bond, Miss. may not be far behind. And the one at Epes could be the largest facility in the world at 1 million metric tons annually.
In addition to the story on the Ahoskie plant, that April 2012 issue included an interview with Enviva cofounder and CEO John Keppler. Enviva and Keppler have come so far that we tend to forget where they came from. Keppler and his colleagues had founded Intrinergy as a biomass renewable energy company based in Richmond, Va. In 2010, the private equity firm Riverstone Holdings invested in Intrinergy and thereafter the company purchased its first U.S. wood pellet plant in Amory, Miss. Intrinergy then formally changed its name to Enviva, an expression of life and exuberance.
Keppler told us back then, "For a long time people have seen there is a tremendous opportunity to displace traditional fossil fuel fired generation with a fuel source that is better for the environment. Biomass has played that role for a long time but without an industrialized supply base. What we saw, and we weren't alone, is that there has to be a consistent, stable, reliable supplier of biomass fuel the same way as there has been for coal. That's what Enviva seeks to be."
At the beginning of this year, Enviva Partners, LP, with Keppler still at the helm, became Enviva Inc. and marked its first full trading day as a corporation on the New York Stock Exchange. One of the reasons behind incorporating a business is to gain a state or structure of perpetual existence, or as Aristotle kind of said, "The whole is greater than the sum of its parts."
Maine Flame & CoalSwitch: One Facility, Two Products
Article by Jessica Johnson, Managing Editor, Wood Bioenergy
ASHLAND, Maine – For mechanical engineer Tyler Player, a native of Aroostook County, Maine, converting biomass from forest to useable energy wasn't his life's work. It was on his radar, as he wound a path through forest products in his career – but not his life's goal. The engineer quickly developed a knack for wood dryers and soon would leave his job with a corporation plant to start his own firm, Player Design, which among other products and services builds drying systems. PDI dryers are popular with North American domestic pellet plants for a variety of reasons, with capacities ranging from 1 ton to 20 tons.
Knowing how to build a dryer and building a pellet mill (or in the case of Maine Flame, a briquette plant) is a lot different than building a plant and then running it after commissioning. But that's the exact challenge Player and his team took head on with the Maine Flame project. 20 miles due west from Player Design's office in Presque Isle, sits the Maine Flame briquette plant, which also houses the only operating steam extruded pellet process that makes the patented CoalSwitch product.
Wood Bioenergy is published and delivered 6 times per year tosubscribers worldwide. Readership includes corporate executives, mill ownership, mill management, logging contractors and equity venture interests. Wood Bioenergy is FREE to qualified readers.
Canada-based biomass carbonization technology provider Airex Energy Inc. announced it has concluded a Series B funding round valued at $38 million Canadian, which Airex Energy states will fast-track its growth initiatives, including a Québec biochar project tying in with its partnership with France-based environmental quality developer, Suez, which aims to significantly boost biochar production in…
Astec has announced Bejac Corp., a heavy equipment dealer with 10 locations, will represent the Peterson line of forestry and environmental recycling equipment in California and Arizona. Bejac, founded in 1953 operated as an underground pipeline contracting business until 1985 when the company pivoted to the heavy, specialty equipment sector…
Valmet will be converting Helen Ltd.'s coal-fired district heat boiler to bubbling fluidized bed (BFB) combustion to enable wood pellet firing at the Salmisaari 'A' power plant in Helsinki, Finland. The conversion promotes the company's goal of phasing out coal, while at the same time strengthening the construction of a sustainable energy system…
Subscribe to Our Newsletter
Wood Bioenergy News Online hits the inboxes of subscribers in the wood-to-energy sectors.
Wood Bioenergy is published and delivered worldwide 6 times per year. Free to qualified readers in the U.S. Subscribers outside the U.S. are asked to pay a small fee.
Complete the online form so we can direct you to the appropriate Sales Representative.