Dr. Michael Clutter, Leading Forestlands Expert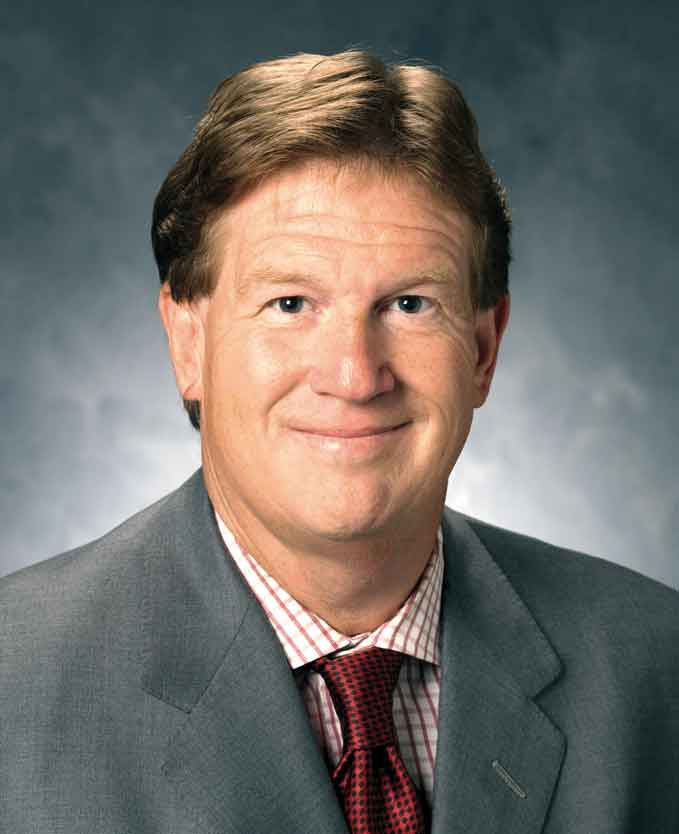 Dr. Michael Lee Clutter, who served as Dean of the University of Georgia Warnell School of Forestry and Natural Resources from 2007-2015, and was a noted expert in his field, died on December 24. He was 63.
Born in Durham, NC, Clutter grew up in Athens and attended Clarke Central High School, where he graduated with honors in 1977, was captain of the soccer team, and lead trumpeter for the school's band. He pursued his undergraduate education at Ohio University, playing collegiate soccer, and later at Mississippi State University, where he earned a bachelor's degree in forestry resources in 1981. Returning to his hometown, Clutter received a master's degree in 1982 and a doctoral degree in 1991, both from Warnell.
Clutter was considered an authority on the economics of the forestry industry, including finance, budgeting, timberland management and timber supply and sizing trends. Early in his career he held various management positions with two leading forest products companies, Georgia-Pacific Corp. and Union Camp Corp. in Savannah. Joining Warnell's faculty in 2001, he was later named the Hargreaves Distinguished Professor of Forest Finance and received the Warnell School's Faculty Award for Outstanding Teaching.
Assuming the role of Dean on August 15, 2007, Clutter was determined to keep students at the forefront of his scholarship and research, continuing to teach forestry courses until his departure in January 2015. Along with his Warnell classes, he also was an adjunct professor at the Terry College of Business, where he taught corporate finance. One of his proudest accomplishments was his lifetime affiliation with Warnell as a dean, professor, student, and the son of a professor at the school.
Desiring to return to the private sector, Clutter became a top executive with Forest Investment Associates Timber Partners, a timber and timberland investment fund. He worked there until 2021, when he was named Chief Analytics Officer at F & W Forestry, a position he held until his death.
Along with his academic and professional accomplishments, Clutter was the co-editor of a book on timberland investment, author of numerous articles and other publications, a recipient of several research grants, an editorial board member of the professional journal Forest Science, a member and past chair of the American Forest and Paper Assn.'s forest inventory committee, and a member of the U.S. Forest Service's forest inventory and analysis review committee. He was an inductee of the Georgia Foresters Hall of Fame.
He is survived by his wife of 38 years, Catherine (Cathy) Nemetz, and their three children, Matthew, Emily, and Maggie. Clutter was predeceased by his father, Dr. Jerome Clutter, also a leading professor at Warnell for 20 years.
Visitation was held January 6 in Watkinsville, and a funeral mass was January 7 at The Catholic Center at the University of Georgia. Interment was at Oconee Hill Cemetery.
In lieu of flowers, the family kindly requests that donations be made to: The Dr. Michael L. Clutter Fellowship, University of Georgia Warnell School of Forestry and Natural Resources, attention: Bridget Harden (bharden@uga.edu). In addition, donations may be made to Trout Unlimited, at gifts.tu.org.
Active Energy (AEG), an international biomass based renewable energy business, has announced Player Design, Inc. (PDI) has received the relevant permitting for the construction and operation of a CoalSwitch manufacturing facility at PDI's site in Ashland, Maine…
read more
Subscribe to Our Newsletter
Wood Bioenergy News Online hits the inboxes of subscribers in the wood-to-energy sectors.
Wood Bioenergy is published and delivered worldwide 6 times per year. Free to qualified readers in the U.S. Subscribers outside the U.S. are asked to pay a small fee.
Complete the online form so we can direct you to the appropriate Sales Representative.