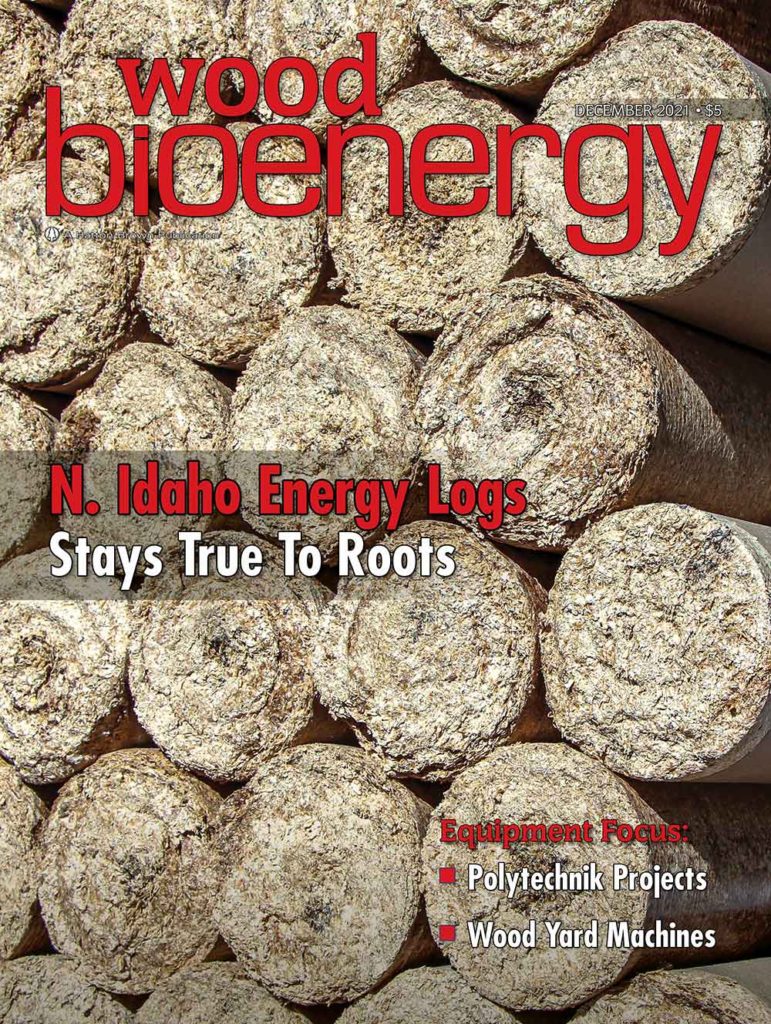 From the Editors
Cover Story
In the News
Enviva Collaboration To Benefit Emissions
Canfor Goes Forward With Arbios Biotech
Westervelt Expands Timberland Holdings
AFRY Appoints NA Head Of Energy
Roseburg Continues Growth In The South
GP Sells OSB Mill To West Fraser Timber
Wood Yard
EDITOR'S NOTE: The following companies submitted editorial profiles and images to complement their advertisements placed in the Wood Bioenergy December 2021 issue.
BM&M
BRUKS SIWERTELL
BRUNETTE MACHINERY
CEM MACHINE INC.
EVERGREEN ENGINEERING
FULGHUM INDUSTRIES
MID-SOUTH ENGINEERING
PRECISION HUSKY CORP.
RAWLINGS WOOD HOGS
WOLF MATERIAL HANDLING
Lots Of Energy: Austrian Firm Has It
For more than 55 years, the Lower Austria-based company Polytechnik has been specializing in power generation from biomass. With more than 3,300 installations worldwide, the company has evolved into a global player and leading supplier of customized solutions for any application, whether it's warm water, thermal oil or steam, from cogeneration plants to process heat generators and municipal heating networks.
Article submitted by Polytechnik.
Product News
NESTEC Appoints Deemer as President
Valmet Introduces BioTrac Pilot Facility
Keitele Plans Boiler Upgrade At Sawmill
New Rep For Morbark
Toyo, Nippon Gain Plant Contract
Wood Bio Conference Coming To Life
The 2020 Wood Bioenergy Conference & Expo was held March 10-11 in Atlanta. Do those dates mean anything to you? We sure remember them. Something called the coronavirus had just introduced itself to the United States. Atlanta reported its "first" case. This happened as we were in the middle of conducting the Wood Bio conference. Our event squeezed through, with no cases reported, but we all know the rest of the coronavirus story with its human carnage. Meanwhile, the trade show industry came to an immediate halt. Ultimately, some of those shows attempted virtual renditions, but they fell far short.
Now we are breathing easier, thanks to the marvels of modern medicine, and in-person events are coming back. By next spring, it appears we will be wide open, and most people will have the confidence to venture out.
So it would appear that the next Wood Bioenergy Conference & Expo, scheduled for March 29-30, 2022 again at the Omni Hotel at CNN Center in Atlanta, will have good health and timing on its side. As host of the event, Wood Bioenergy magazine and its personnel view this upcoming event as not only another great presentation of the developments in the wood to energy industry, but also as a celebration, a coming out party if you will, and also a remembrance of two years earlier, when the world entered the fight of its life.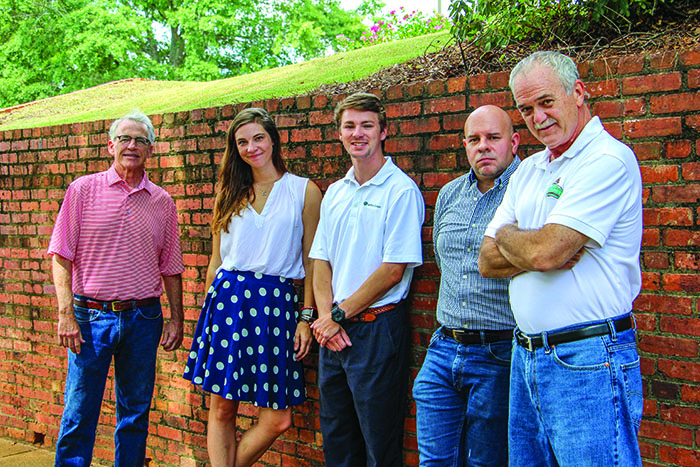 From Left: Rich Donnell, Editor-in-Chief; Jessica Johnson, Senior Associate Editor; Patrick Dunning, Associate Editor; David Abbott, Senior Associate Editor; Dan Shell, Senior Editor
We've been busy putting together our lineup of keynoters, and we're very pleased to report commitments from a half dozen of the leading players in this industry. Frankly they don't get any better than:
● Matt White, Executive Vice President, North America Operations, Drax
● Thomas Meth, Executive Vice President, Co- Founder, Enviva
● Harold Arnold, President, Fram Renewable Fuels
● William Strauss, President and Founder, Future- Metrics
● Pete Madden, President & CEO, U.S. Endowment for Forestry and Communities
● Amanda Hamsley Lang, COO & Vice President, FORISK Consulting
They'll provide a mix of perspectives ranging from the status and future supply of timberlands, to the latest in global industrial wood pellet production and trade, to the developing policies behind it all. And more keynoters will be announced soon.
Meanwhile the conference will have numerous technical presentations on raw materials, quality control, fire prevention, air emissions treatment, project development and advanced wood energy products. And approximately 70 equipment and technology exhibitors will be stationed in the Grand Ballroom.
As the slogan for this seventh Wood Bioenergy Conference & Expo proclaims, "The Future Is Bright!"
North Idaho Energy Logs Stays True To Roots
Article by David Abbott, Senior Associate Editor, Wood Bioenergy
MOYIE SPRINGS, Idaho – Located in Boundary County, about 30 miles south of the Canadian border, the headquarters of North Idaho Energy Logs sports both the U.S. and Canadian flags. "That's a common thing in the community," says Clark Fairchild, co-owner of the company and general manager at this facility. "We do pull quite a bit of shavings and sawdust out of Canada."
Fairchild has two partners, Rob Pluid and Tom Oxford, both of whom are also in other businesses. Pluid runs a logging operation while Oxford's Oxford Inc. does municipal road work and dust control for several counties and some logging roads. Fairchild and plant manager Bob Warrell oversee the Moyie Springs plant day to day.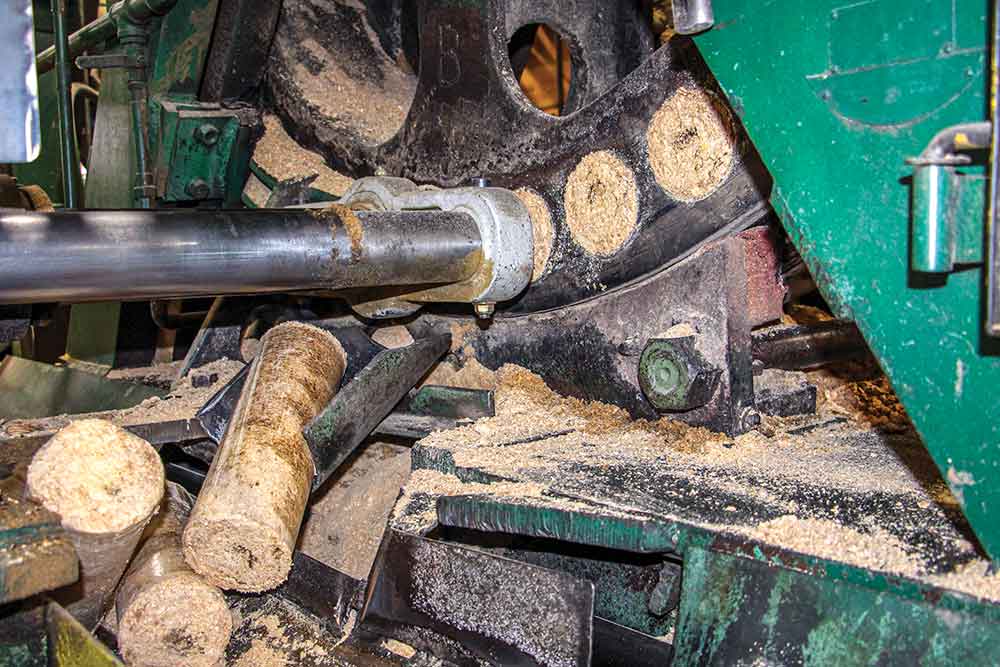 The company started in 1986; Fairchild's and Pluid's fathers were part of the original ownership team, along with two other partners. Their original focus was on energy logs, an 8lb. product made of sawmill residuals.
In 1992 they added one pellet mill. Since the current generation bought the business in 2007, they have expanded both sides of the operation. Now they have nine log machines and three pellet mills.
Wood Bioenergy is published and delivered 6 times per year tosubscribers worldwide. Readership includes corporate executives, mill ownership, mill management, logging contractors and equity venture interests. Wood Bioenergy is FREE to qualified readers.
Morbark has unveiled the all NEW "BVR" line of hand-fed brush chippers at this year's TCI Expo, in St. Louis, Mo. Alongside the BVR lineup, visitors found 6- and 8-in. brush chippers from Timberwolf. Timberwolf, an Alamo Group company, is headquartered in Suffolk, UK, and will be marketed in the U.S. as the Morbark TW series, beginning the first quarter of 2024…
A memorial service was held October 29 in Pleasant Hill, Ore. for forest machinery pioneer and innovator Neil Peterson, the driving force behind Peterson Pacific Corp. that revolutionized in-woods and mobile delimbing, debarking and chipping. Peterson was not just a pioneer in his field but also a generous philanthropist, a guiding force for his team, and a beacon of opportunities for his employees…
Released in September, the "National Report on Sustainable Forests, 2020" from the U.S. Dept. of Agriculture (USDA) and Forest Service (FS) shows both good and challenging trends as the nation's forestland owners seek sustainable ownership and management options. The fourth such effort since 1997, the report is 60 pages…
Subscribe to Our Newsletter
Wood Bioenergy News Online hits the inboxes of subscribers in the wood-to-energy sectors.
Wood Bioenergy is published and delivered worldwide 6 times per year. Free to qualified readers in the U.S. Subscribers outside the U.S. are asked to pay a small fee.
Complete the online form so we can direct you to the appropriate Sales Representative.