Biomass Machines Debut At Oregon Logging Conference
Suppliers and vendors of biomass processing equipment were well represented at this year's Oregon Logging Conference in Eugene, Oregon in late February. The logging industry's biggest equipment show featured a wide variety of logging systems and harvesting and processing equipment.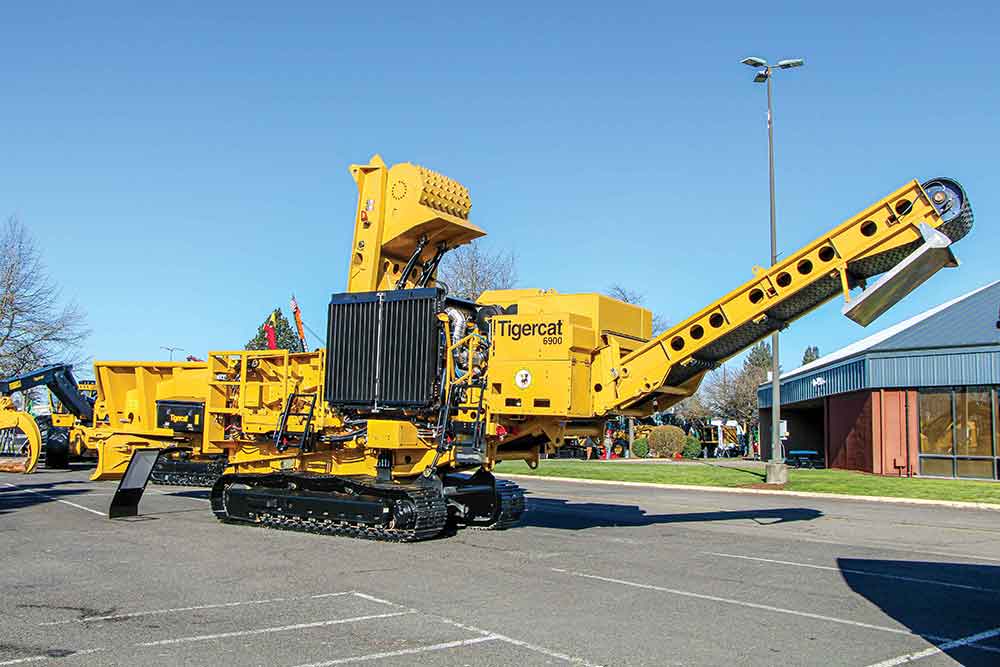 Tigercat 6900
Among several Tigercat machines at the Triad Machinery dealership booth, the 6900 is the first production grinder designed and built by Tigercat. With Tigercat's legendary build quality, the 6900 is designed for extreme duty and long life, utilizing only the highest quality components. The upswing rotor and large infeed opening with outward wing walls maximize processing capacity in a machine made for high throughput material reduction and mulch production.
The grinder's upper frame pivots on the undercarriage, allowing the operator to adjust the infeed angle or discharge height for different material lengths. The adjustable angle eliminates the need for outriggers. The pivoting upper frame allows transport on a lowboy trailer without the need to fold the discharge conveyor.
The machine has remote control functions for simple operation and mobility on site, along with an easy-to-use 25 cm (10 in) display screen for machine monitoring and function adjustment.
Maintenance is made easy: Anvil and screens are hydraulically retractable. The single discharge conveyor is open on the bottom for clean operation and easy servicing. A tool storage area is mounted on the side of the machine that hydraulically raises and lowers for added convenience. An optional large diameter magnetic head pulley is available to effectively remove metal from the end product. The machine is also prepared to accept over-band magnet systems.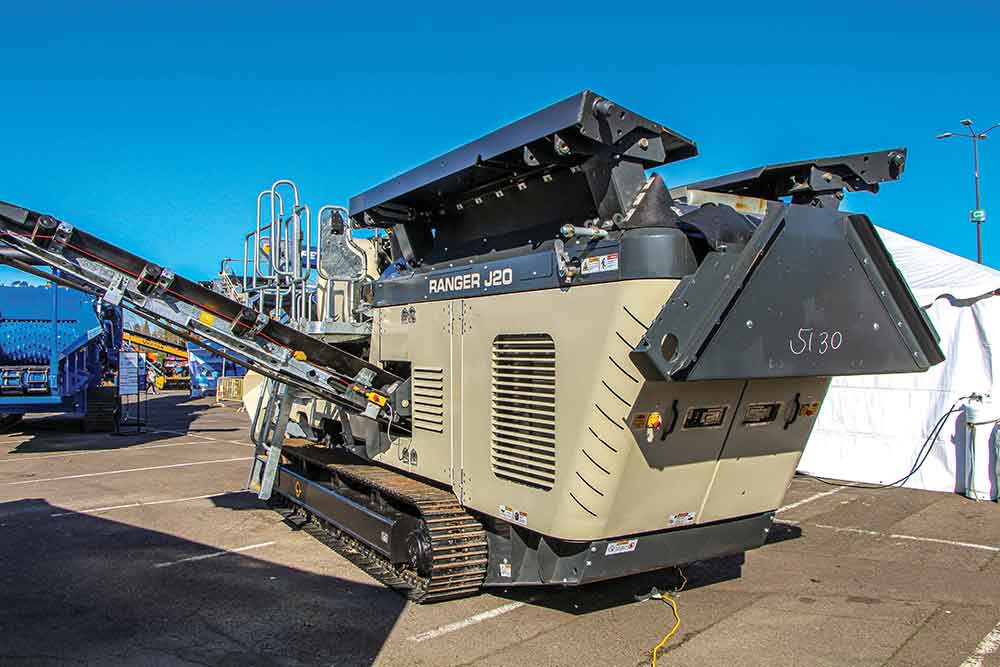 Astec Ranger J20
The Modern Machinery dealer booth featured the Astec Ranger J20, a compact, track-mounted unit and part of a mobile product line that includes jaw crushers, cone crushers, impact crushers, incline screens and trommels to serve a variety of markets. Machines in the Ranger line feature ease-of-use, ease-of-transport, versatility and flexibility that make them ideal for smaller operations requiring powerful equipment with a limited footprint.
The Ranger J20 can be folded to a transport length of
less than 32 ft. and features a larger feed hopper and low feeding height, and is compact enough to be easily transported via shipping container.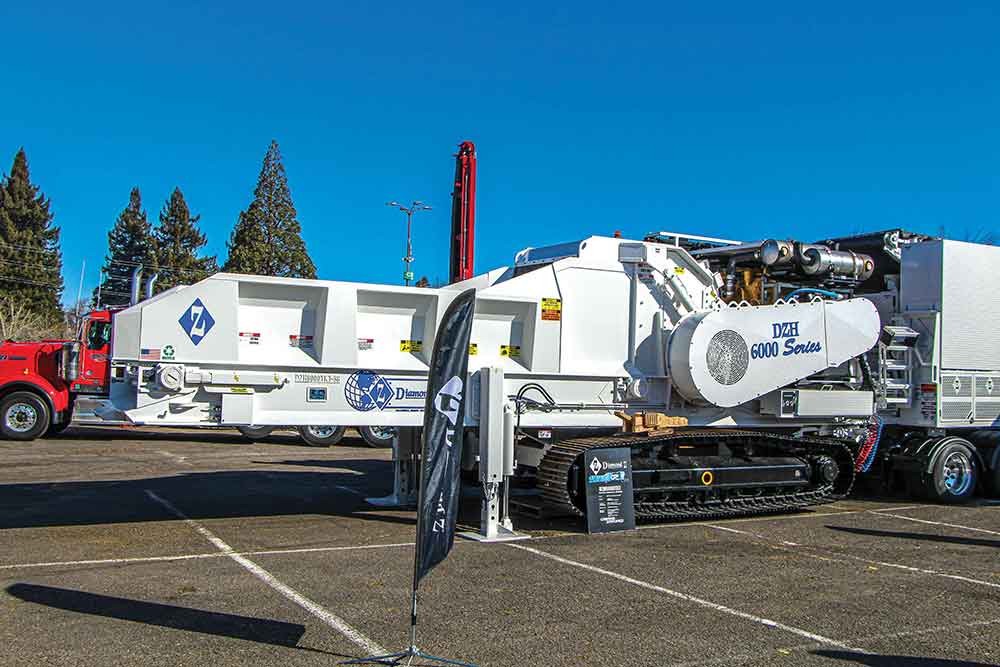 Diamond Z DZH6000TKT
The high-capacity, low-maintenance DZH6000 Series is ideal for virtually for any grinding application. The DZH6000TKT Series track-mounted horizontal grinder has all the features and capabilities of the DZH6000 with the added accessibility that comes with a track-mounted machine, allowing operation just about anywhere. The DZH6000TKT comes with complete transport pin or axle system that easily and safely secures to the grinder so it is ready to be transported, avoiding expensive permitting fees.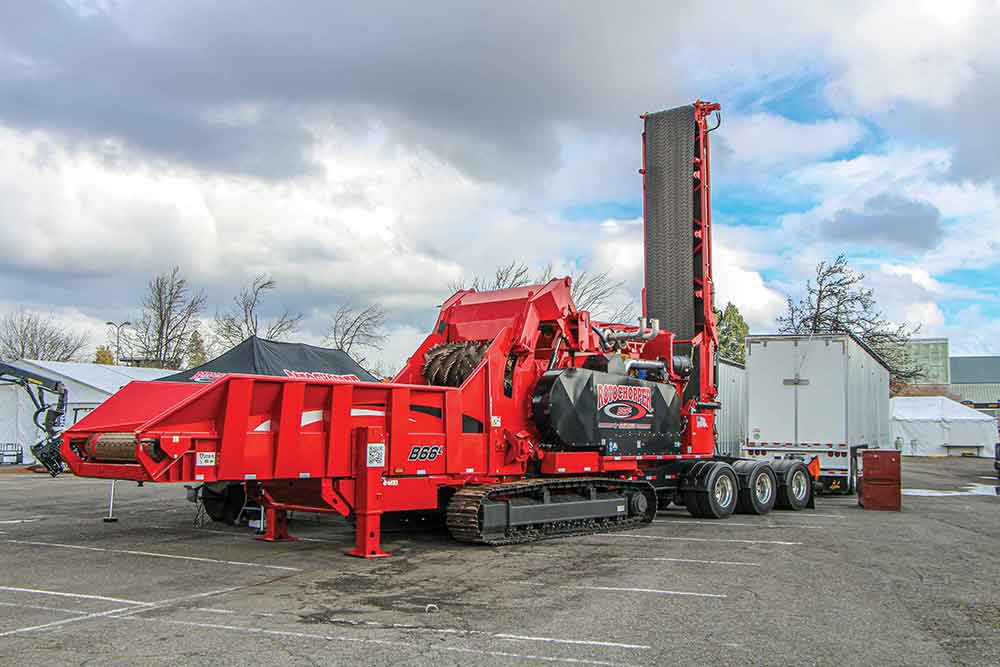 Rotochopper B-66L
The B-66 L-Series horizontal grinder is designed to process larger, more abrasive feedstock materials and engineered to increase overall production rates with unmatched efficiency. The B-66L has been engineered to increase input capabilities while maintaining grinding simplicity, increasing overall production rates with unmatched efficiency. The B-66L has additional wear liners, a bolt-in anvil, 24 tooth 2″ rotor drum, and reinforced case to tolerate substantial wear and tear, all as standard features.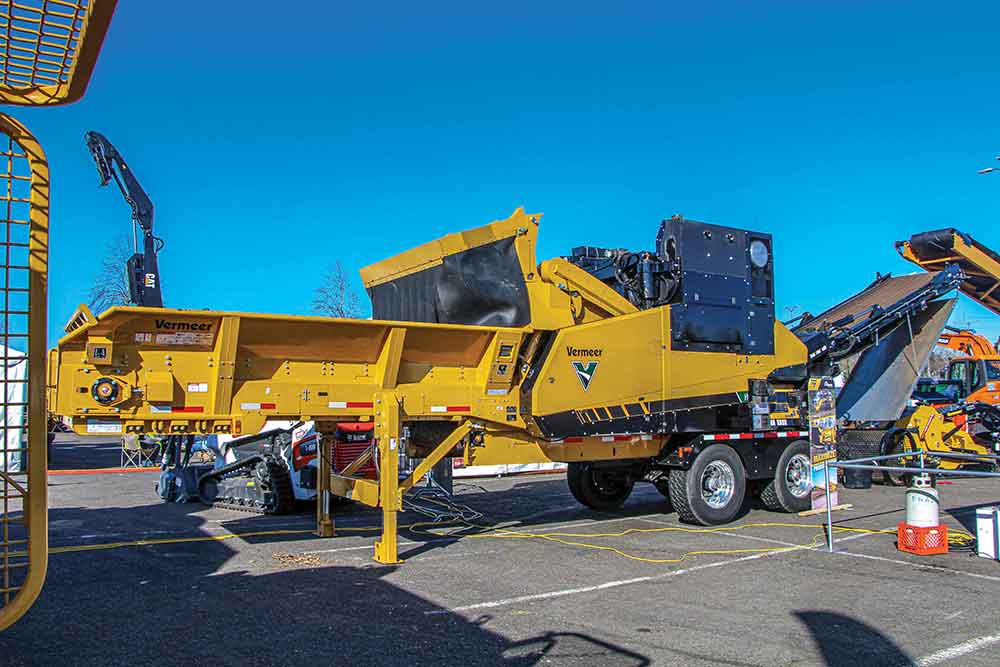 Vermeer HG 4000
Released in fall 2022, the new Vermeer HG 4000 is built for aggressive performance and high capacity in a compact footprint, mid-sized grinder. The HG4000 is equipped with innovative technology and aggressive performance in a next-generation package.
A full-function, wireless remote control lets operators adjust machine settings as conditions change, including infeed settings, engine droop, conveyor height and more. A 7 in. onboard color touch screen display makes the system easy to view and use.
The Vermeer HG 4000 features a 42×60 in. feed opening and robust infeed sidewalls. The feed roller is equipped with aggressive teeth, coupled with down pressure, that provide pull-in power and maintain control of the material being fed. The intelligent feed system self-monitors the machine's engine speed, makes predictive adjustments and holds the engine at an optimal level. This allows you to spend more time feeding and less time adjusting settings. A maintenance-friendly design features large access shields, ladders, dropdown platform engine access, mill access at the front or the top, remote grease zerks and drive belt tensioning. Powered by a 536 HP Caterpillar C13B engine.
Active Energy (AEG), an international biomass based renewable energy business, has announced Player Design, Inc. (PDI) has received the relevant permitting for the construction and operation of a CoalSwitch manufacturing facility at PDI's site in Ashland, Maine…
read more
Subscribe to Our Newsletter
Wood Bioenergy News Online hits the inboxes of subscribers in the wood-to-energy sectors.
Wood Bioenergy is published and delivered worldwide 6 times per year. Free to qualified readers in the U.S. Subscribers outside the U.S. are asked to pay a small fee.
Complete the online form so we can direct you to the appropriate Sales Representative.