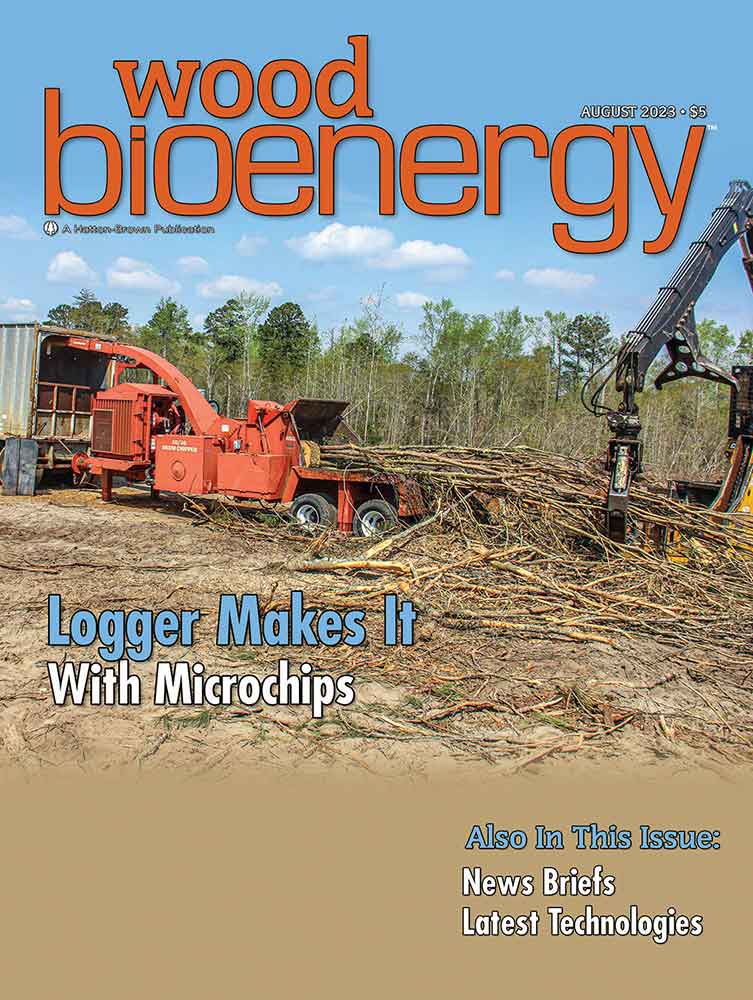 FROM THE EDITORS
COVER STORY
Logger Makes It With Microchips
MCBEE, SC – Just a few months ago, lifelong logger Daniel Rhoad, 44, decided to add a new facet to his operation: Chipping for the wood pellet market in his region. His company, Rhoad Timber Co., LLC, started testing out a borrowed 2014 Morbark 30/36 chipper. "The machine is not new, but I am new to the chipping game," Rhoad says.
Article by David Abbott, Senior Editor, Wood Bioenergy
IN THE NEWS
Enviva Makes It Official At Epes

Delta Biofuel Plans Bagasse-Pellet Mill

Arizona Project Could Move Forward 'Slowly'

Lucky Branch Tract Finds Some Luck

Partnership Program Assists Firefighters

Paper Mill Markets Undergoing Changes

Drax Taps Houston For BECCS Office

Active Energy Names Hewetson As CTO

Sierra Pacific Foundation Grants 169 Scholarships

Egger Touts New Recycling Center

Wood Turbines Will Use LVL
Pellet & Energy Production
EDITOR'S NOTE: The following companies submitted editorial profiles to complement their advertisements placed in the Wood Bioenergy August 2023 issue.
Biomass Engineering & Equipment (BE&E)

Brunette

Mid-South Engineering

MoistTech

Nordson Measurement & Control Solutions
PRODUCT NEWS
Truck Dumpers From B.I.D.

BID Group Plans Major Investment

Air Burner Reveals Mobile CharBoss

Envimat Receives Sennebogen Honor

Caribou Purchases StumpGeek Software
Sugar, Sugar You Are My Candy Girl
Once an industrial wood pellet producing company's CEO said, "Money grows on trees." And for the wood-to-energy sector, he was right. Now, Delta Biofuel, supported by technology supplied by Player Design, is going to try to do what hasn't been done on an industrial scale—yet—dry and press sugarcane waste into pellets for energy consumption. We've watched a lot of projects over the years come and go; always asking the question, "But will it scale?"
This project, the first of its kind in North America, represents a $100 million investment in south Louisiana: Using bagasse (the dry pulpy fibrous material that remains after crushing sugarcane or sorghum stalks to extract their juice), Delta Biofuel plans to manufacture biomass fuel pellets on a commercial scale, with an estimated annual capacity of 340,000 metric tons. Construction of the facility is underway, and Delta has secured long-term feedstock purchase agreements. The company even reports multiple long-term contracts with power utility companies located primarily in Europe for the sale of more than 1.8 million tons of pellets over the next several years.
Delta's capacity is right in line with most industrial wood pellet manufacturers dotting the U.S. South, a few of which are within an easy five hours drive. Though it has been in development for some time, Delta has remained somewhat tight lipped about the suppliers and contractors involved in the project. One that has been announced is Player Design, selected to provide two PDI 17 ft. x 70 ft. dryers (each with a 100 million BTU/hour furnace); and to serve as the complete engineering, procurement and construction (EPC) provider for the facility. This represents an interesting move by Delta, leaning on a dryer manufacturer with pellet experience in the Northeastern region of the North American market and Asia.
PDI has such confidence in its system, the company has made the decision to guarantee performance and capital cost of the entire facility, not just offering the industry standard guarantee of their specific machines.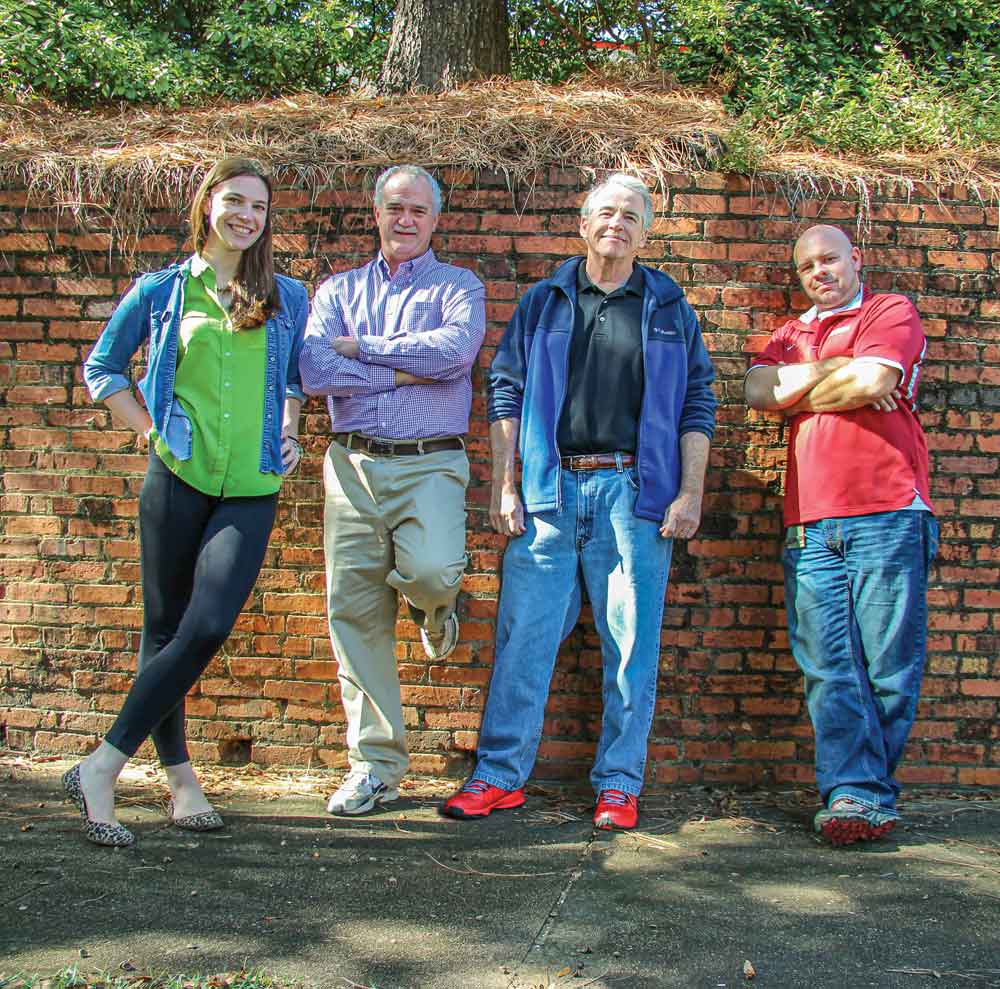 From Left: Jessica Johnson, Managing Editor; Dan Shell, Senior Editor; Rich Donnell, Editor-in-Chief; David Abbott, Senior Associate Editor
Tyler Player, President, Player Design Inc., comments, "With the drying and energy systems being such a cornerstone of a successful pellet operation, the guaranteed performance and capital cost of the facility were already something we provided. Adding the PAL pellet presses and other systems was a logical step to rounding out our complete package. Our process engineering knowledge and global expertise in construction made this an easy transition. Knowing what will work, and making certain to fix any mistakes is critical to the success of Delta Biofuels, and our willingness to share risk and resolve fault has been the basis for all of our success."
All that is left now is to wait and see if it scales. If it does, well the old hit song by The Archies said it best.
Logger Makes It With Microchips
Article by David Abbott, Senior Editor, Wood Bioenergy
MCBEE, SC – Just a few months ago, lifelong logger Daniel Rhoad, 44, decided to add a new facet to his operation: Chipping for the wood pellet market in his region. His company, Rhoad Timber Co., LLC, started testing out a borrowed 2014 Morbark 30/36 chipper. "The machine is not new, but I am new to the chipping game," Rhoad says.
With his timber buyer, Timothy Griggs of Carolina Timber Brokers, Rhoad had been talking for a while about giving chipping a shot, especially for tracts full of non-merchantable wood, like the one he was working in early April. Griggs loaned him the chipper until Rhoad could decide if he would keep it on the job more permanently.
Using borrowed chip vans, the crew has been delivering 15-20 chip loads a week for the last six months: Hauling to Enviva Pellets in Hamlet, NC, and Sonoco in Hartsville, which uses wood residuals to generate electricity.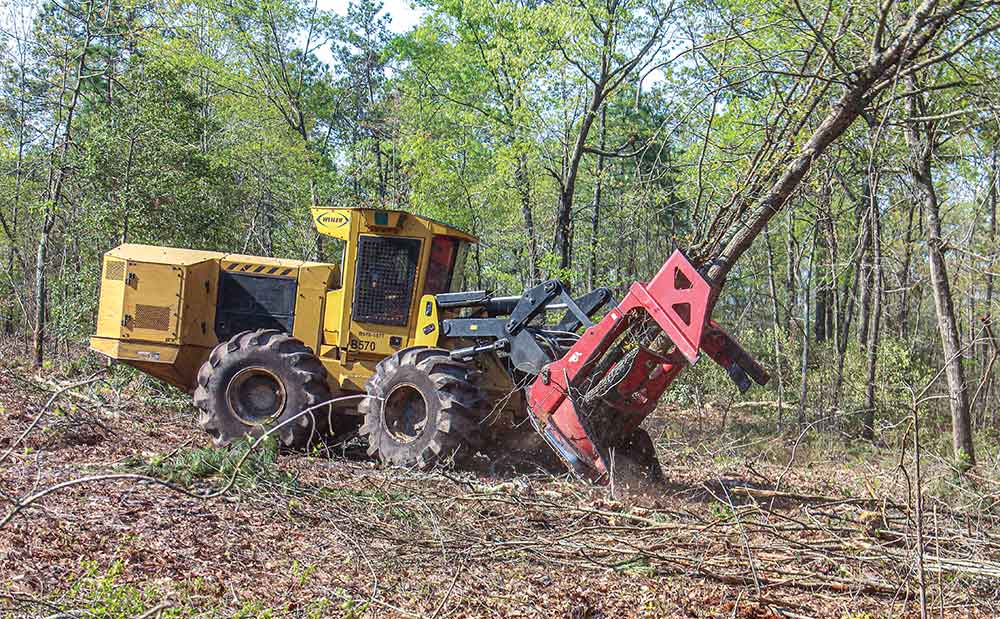 Rhoad has done more clear-cuts than thinning lately, and chipping has helped him grow.
Chipping is not a big focus of Rhoad's business, but it serves a purpose. "When you get on clear-cuts like this, the landowner wants it gone anyway, and if you take the time to cut it, you need to merchandize it some kind of way and get paid for it," he reasons. "A lot of the hardwood tops have so many limbs that it's not merchantable for pulpwood. Plus, debris piles are an eyesore and make it hard to replant So (chipping) is a service to the landowner and is a way to merchandize material that you have to handle anyway."
By late June, Rhoad was pleased enough with the chipping that he committed to keeping it as part of his operation going forward, currently securing financing to buy the Morbark from Griggs, as well as to acquire some chip vans of his own.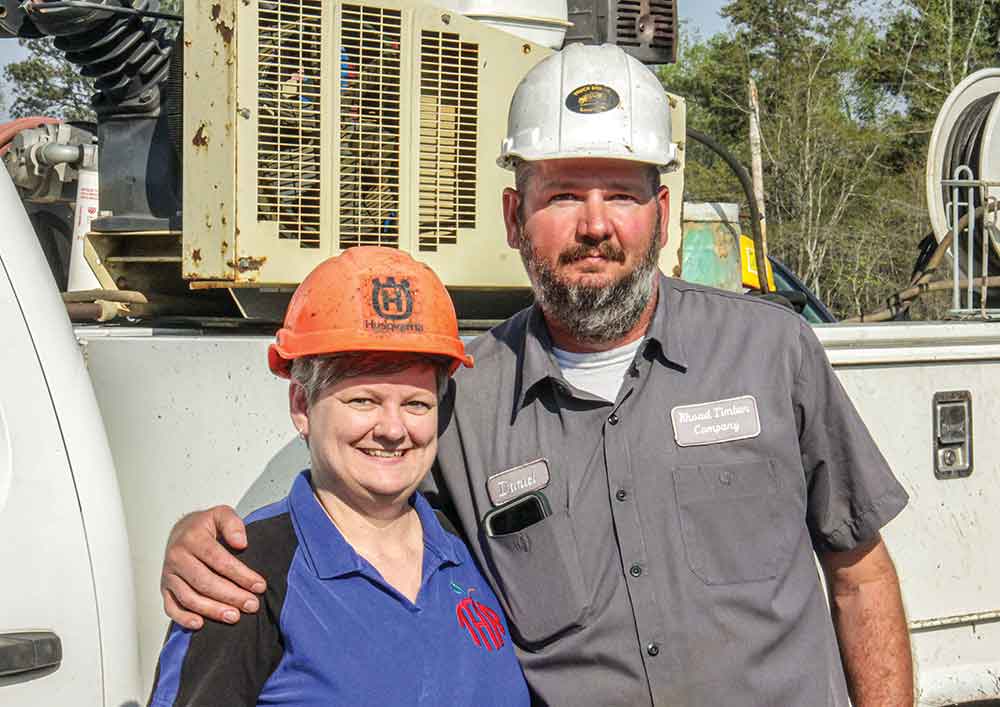 Daniel Rhoad, right, with his sister Toni Allison, left
Rhoad's dad Danny has been in logging since he was in high school in the mid 1960s, and started his own crew in the '70s. It was always a family business: Back then, Danny worked with his brothers and cousins; some of them had different last names, but they were all members of the Rhoad family.
It was the environment in which the current generation of Rhoads grew up. "When I was young I always came to the woods, and started working on equipment as soon as I was old enough to be able to do it," Rhoad recalls. As the only son to Danny and his wife Jenny, Daniel followed his dad's bootprints into the woods, though one of his two older sisters, Toni Allison, is also heavily involved in the family business as the company secretary/bookkeeper. "If it wasn't for what she does I couldn't do what I do," Toni's brother acknowledges.
Wood Bioenergy is published and delivered 6 times per year to subscribers worldwide. Readership includes corporate executives, mill ownership, mill management, logging contractors and equity venture interests. Wood Bioenergy is FREE to qualified readers.
Bruks Siwertell has expanded its product range with the introduction of the Bruks 1006.3 RT industrial mobile wood chipper. The truck-mounted chipper has a flexible design, and offers high-capacity chipping capabilities for a range of applications, like fuel chip production…
The largest investment of the forest industry in Finland—the new Kemi bioproduct mill and paperboard mill expansion—came into operation as planned on Wednesday, September 20, 2023. The operations will start department by department. Pulp deliveries from the new mill to customers will begin in October 2023…
Core Industries plans to invest $8.75 million to construct a processing and storage facility at its port facility in Mobile County to support a contract to handle wood pellets for CM Biomass, according to the Mobile Chamber and the Industrial Development Authority…
Continental has been designing and manufacturing explosion resistant conveyors and metering bins for over 10 years. Conveyor casings, hoppers and bins are designed to resist explosions using advanced…
Established in 1980, Linddana, parent company of North American newcomer TP Chippers, was the first company in the world to launch a mobile, battery chipper into production in 2019 and has become the industry leader with its dedicated focus ever since…
Enviva has named Glenn Nunziata as Executive Vice President and Chief Financial Officer. With deep expertise in finance, strategy, accounting, treasury, and risk management: Nunziata brings more than 20 years of strong leadership experience with a track record for implementing enterprise-wide changes and driving key financial and process improvements in large-scale organizations…
Subscribe to Our Newsletter
Wood Bioenergy News Online hits the inboxes of subscribers in the wood-to-energy sectors.
Wood Bioenergy is published and delivered worldwide 6 times per year. Free to qualified readers in the U.S. Subscribers outside the U.S. are asked to pay a small fee.
Complete the online form so we can direct you to the appropriate Sales Representative.