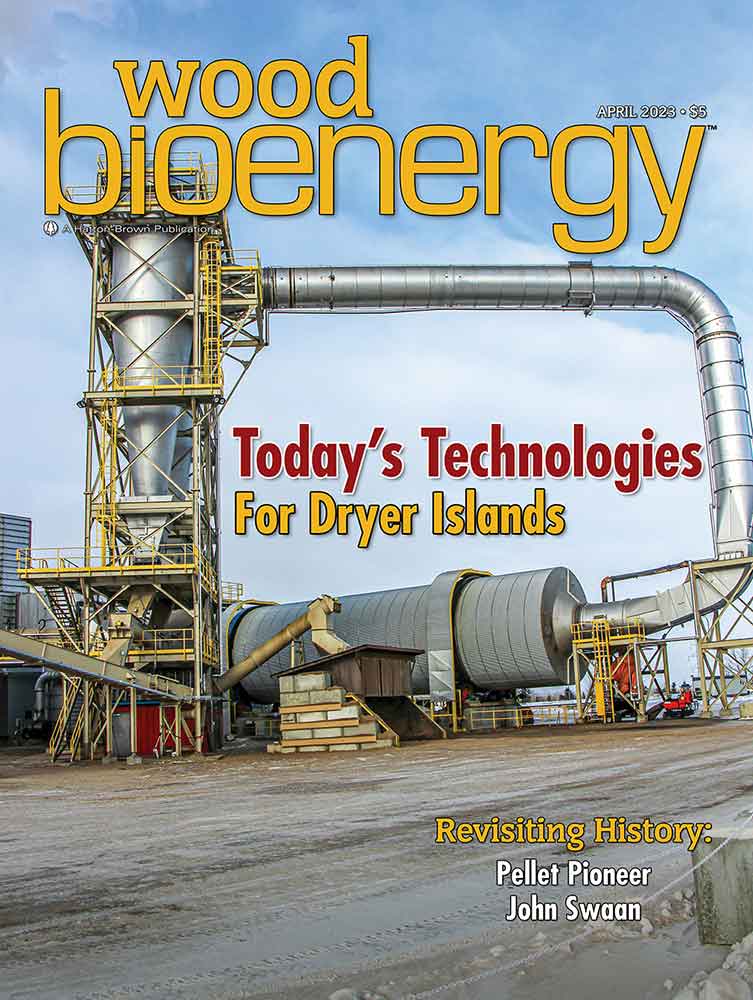 FROM THE EDITORS
COVER STORY
Today's Technologies For Dryer Islands
Throughout the years, the wood-to-energy sector has seen technologies come and go, but one thing has always remained—The Dryer Island.
EDITOR'S NOTE: The following companies submitted editorial profiles to complement their advertisements placed in Wood Bioenergy April 2023.
Büttner
Dryer One
Fagus GreCon
Hurst
LundellTech
KraftPowercon
Mühlböck
PDI
Polytechnik
Sigma Thermal
Stela
SonicAire
TSI
IN THE NEWS
Pellet Markets Continue To Adjust
Enviva Announces PIPE Issuance
Strategic Biofuels Adds Technology
Drax Group Plans Westward Expansion
Active Energy Names Schaar COO
Recent Study Shows Carbon Neutrality
Campbell Global Adds SE Timberland
OFIC Says ODF Messed Up Big
Oregon Loggers Raise Awareness
Egger-Lexington Enhances Recycling
John Swaan: Pioneer Of The Pellet Trade
Twenty-five years ago, the first bulk shipment of industrial wood pellets traveled from British Columbia to the Helsingborg Energi power plant in Sweden, marking the birth of today's multi-billion dollar industrial wood pellet industry. The person behind this accomplishment, John Swaan, tells some of the stories that led him to that first contract worth $1.67 million in 1998.
Biomass Machines Make Splash At 2023 OLC
Suppliers and vendors of biomass processing equipment were well represented at this year's Oregon Logging Conference in Eugene, Oregon in late February. The logging industry's biggest equipment show featured a wide variety of logging systems and harvesting and processing equipment.
PRODUCT NEWS
Peak North America Acquires Endurance
New Falcon Rake Manages Slash
Doosan Changes Name To DEVELON
SmartVIBE Simplifies Materials Handling
BE&E Customizes Materials Movement
Nothing Like Being In The Arena
Elsewhere in this issue we've published an article written by Hannah Campbell of FutureMetrics on the life and times of John Swaan, and more specifically about his pioneering bulk shipment of industrial wood pellets to a power plant in Sweden 25 years ago.
I guess you could say that Wood Bioenergy magazine might not even be here if Swaan hadn't paved the wave. We're celebrating an anniversary of our own: This is the 15th year of publication for Wood Bioenergy. Given that back in 2009 we were already publishing four other magazines covering various manufacturing sectors in the wood products industry, why would we start a magazine in the middle of a recession? Maybe we needed cash flow—as if that was a guarantee, maybe we needed a new challenge. It's a bit of a blur looking back, but here we still are.
Through those years we've covered biomass power, biofuels, domestic pellets, in-woods chipping and most recently something called carbon sequestration, but it's always been industrial wood pellets that really caught our attention. Something about the depth of investment and technology that goes into these plants that in the end drop out a product a little larger than the eraser at the top of a #2 pencil, which is bound for port and shipment to an electricity facility somewhere in the world— remains fairly mind boggling.
When we started this magazine, we came in with a reputation in our other magazines (that cover sawmilling, panel manufacturing and logging) for venturing out into the field and visiting these jobs. That is, actually going there, interviewing the owners and general managers and plant managers with a lot of loud machinery in the background, before walking through the operation from A to Z and taking photos along the way. I doubt that any of us has as good of hearing as we did when we started, but navigating a mill catwalk and sidestepping a log dragging behind a skidder became second fiddle—always with safety in mind I might add.
So not surprisingly once we read the story on Swaan, we began talking about the industrial wood pellet mills we've visited and written articles about. We refer to it as being in the arena, as opposed to observing from afar.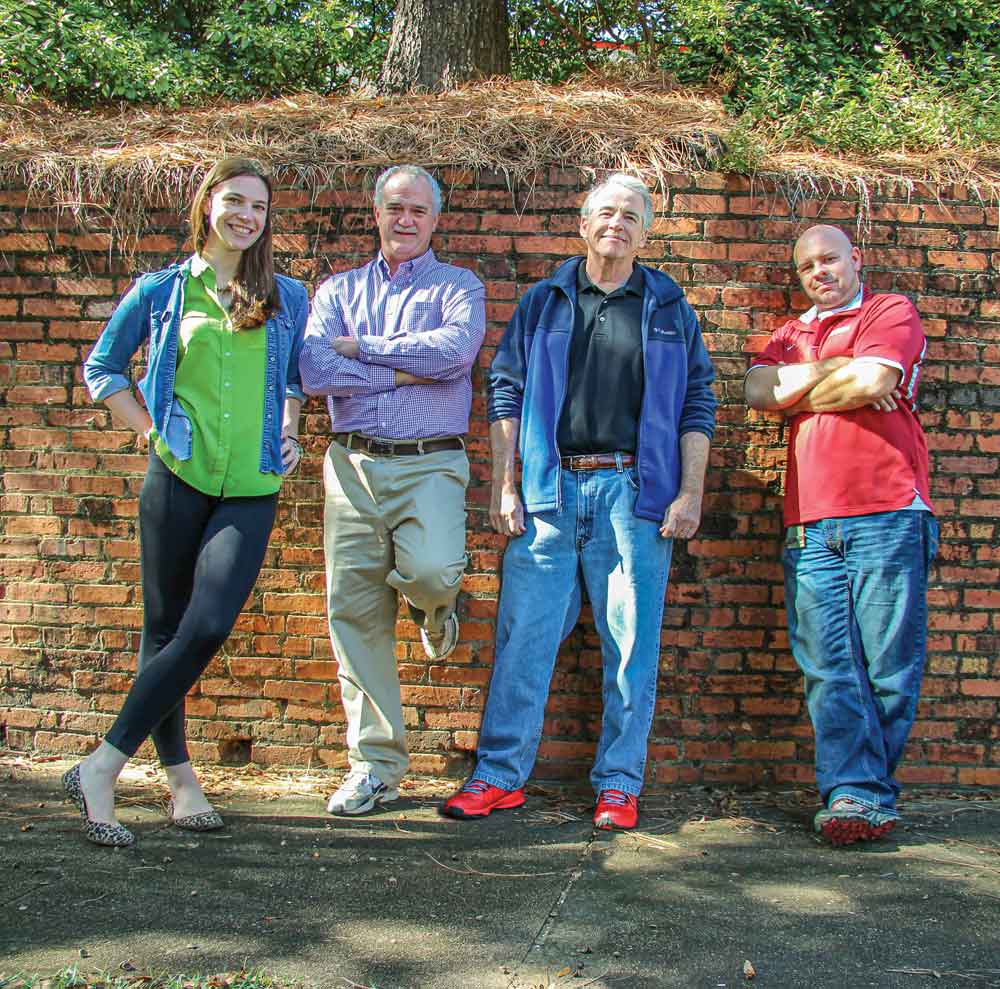 From Left: Jessica Johnson, Managing Editor; Dan Shell, Senior Editor; Rich Donnell, Editor-in-Chief; David Abbott, Senior Associate Editor
Even before we started Wood Bioenergy, we did Fram Renewable Fuels in Baxley, Ga. and Green Circle Bio Energy in Cottondale, Fla. for our Timber Processing magazine. We were dipping our toes in the industrial wood pellet water. And then we started Wood Bioenergy and have since traveled to:
● Dixie Pellets, Selma, Ala. ● Enviva, Ahoskie, NC ● Zilkha, Selma, Ala. ● Hazlehurst Wood Pellets, Hazlehurst, Ga. ● Colombo Energy, Greenwood, SC ● Highland Pellets, Pine Bluff, Ark. ● Enviva, Southampton, Va. ● Drax, Gloster, Miss. ● Enviva, Northampton, NC ● Enviva, Sampson, NC ● Drax, Urania, La. ● Pinnacle, Entwistle, Alberta, Can. ● Pinnacle, Lavington, BC ● Varn Wood Preserving, Hoboken, Ga. ● Pinnacle, Aliceville, Ala. ● Fram Fuels, Hazlehurst, Ga. ● Graanul Invest, Woodville, Texas.
There are lots of stories behind these facilities, but the interesting thing about the industrial wood pellet industry in North America is that it is still young enough for us editors to remember its beginning and development, and it is still small enough to wrap our minds around all of the entries and exits and perseverers, not only with regard to the producer mills but the technologies therein. And we've been fortunate to see a lot of it happen right before our very eyes and talk to the people who've made it happen.
John Swaan: Pioneer Of The Pellet Trade
Article by Hannah Campbell, Logistics Specialist at FutureMetrics
Twenty-five years ago, the first bulk shipment of industrial wood pellets traveled from British Columbia to the Helsingborg Energi power plant in Sweden, marking the birth of today's multi-billion dollar industrial wood pellet industry. The person behind this accomplishment, John Swaan, tells some of the stories that led him to that first contract worth $1.67 million in 1998.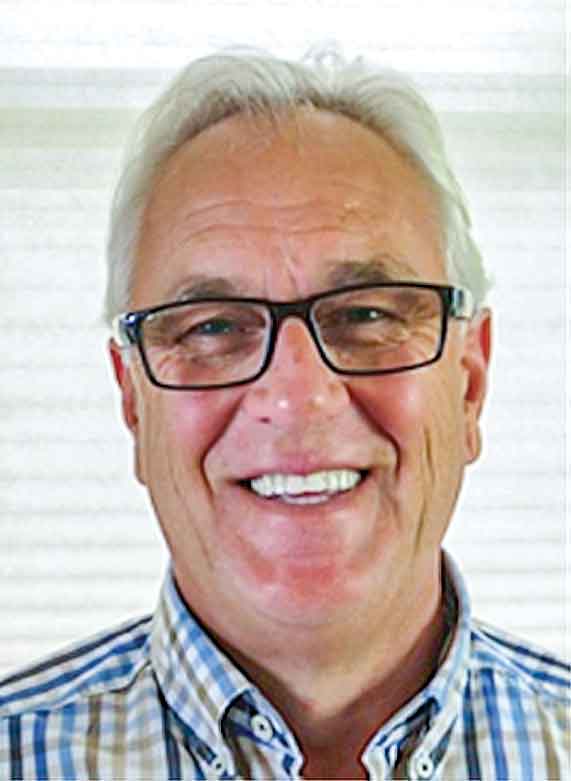 Being born and raised on a dairy farm in the Fraser Valley of British Columbia provided Swaan with the beginnings of his entrepreneurial spirit and mechanical aptitude. One of his first part-time jobs was at a feed mill, where he quickly went from unloading box cars of grain to learning the operations side of pellet mills by necessity; the afternoon guy tending the pellet mills would go for a nap by the boiler and say, "Hey kid, take care of the pellet mills would you?" which Swaan did.
Swaan adds, "The intrigue of a farm kid always anxious to get in front of something that ran or made noise (or in this case, made pellets) was pretty damn exciting—for $2 an hour!"
Swaan's brothers, Jim and Rob, moved to Quesnel, BC in the early 1980s to start a dairy farm and John soon joined them with his intent to start a feed mill to support the farm. The livestock feed industry is low margin and very cost intensive, so out of desperation Swaan was always on the lookout for an alternative to reduce costs and improve margin—by the late '80s, one such idea came up.
In 1988, Swaan made his first attempt at wood pellets after he attended an auction looking for used parts for the feed mill and met another guy competing for parts. The guy was a friend of Jerry Whitfield of Whitfield stoves, who told him that the need for wood pellets in the Seattle area was growing; largely because pellet stoves had just come on the market as a replacement for wood burning stoves.
At the time, most of the Northern BC sawmills were burning their shavings and sawdust in beehive burners to rid themselves of the wood waste they were generating by the hundreds of thousands of tons per year. Hence, Swan saw an opportunity in his backyard to take on these wood waste residues, turn them into wood pellets, and hopefully improve the profit margin of his mill.

The vessel that started it all—loaded with wood pellets produced in North America headed to Europe for industrial use.
On a Sunday afternoon, so as not to interrupt and contaminate his feed mill, he made first attempt at manufacturing wood pellets. The way John tells the story, his kid brother Jim was trying to take a Sunday nap and came out of the house wondering what the hell was the cause of the racket, to which John replied he was "trying to make wood pellets." Jim replied, "are you out of your mind?" Note that Jim Swaan and Rob Swaan went on to be quite successful as the founders of Pinnacle Pellet (now Drax).
After about four hours of the trial and generating maybe a couple hundred pounds of wood pellets, Swaan concluded a bit of a learning curve was necessary. His first lesson was when he realized that gear driven machines don't work well because the fiber is so abrasive and tough on the equipment; a belt driven machine like the Sprout machine would help absorb some of the shock of the abrasive nature of wood fiber.
Wood Bioenergy is published and delivered 6 times per year tosubscribers worldwide. Readership includes corporate executives, mill ownership, mill management, logging contractors and equity venture interests. Wood Bioenergy is FREE to qualified readers.
Canada-based biomass carbonization technology provider Airex Energy Inc. announced it has concluded a Series B funding round valued at $38 million Canadian, which Airex Energy states will fast-track its growth initiatives, including a Québec biochar project tying in with its partnership with France-based environmental quality developer, Suez, which aims to significantly boost biochar production in…
Astec has announced Bejac Corp., a heavy equipment dealer with 10 locations, will represent the Peterson line of forestry and environmental recycling equipment in California and Arizona. Bejac, founded in 1953 operated as an underground pipeline contracting business until 1985 when the company pivoted to the heavy, specialty equipment sector…
Valmet will be converting Helen Ltd.'s coal-fired district heat boiler to bubbling fluidized bed (BFB) combustion to enable wood pellet firing at the Salmisaari 'A' power plant in Helsinki, Finland. The conversion promotes the company's goal of phasing out coal, while at the same time strengthening the construction of a sustainable energy system…
Enviva, the world's largest producer of industrial wood pellets, released its quarterly report in early May, and it rippled through the wood-to-energy ranks. "The plans and initiatives underway to improve productivity and costs across Enviva's current asset platform continue to fall behind expectations," commented John Keppler, Executive Chairman of the board…
Wolfgang Lashofer has been appointed as the new Managing Director of Dieffenbacher Energy GmbH, which was formed at the beginning of the year following the acquisition of BERTSCHenergy, based in Bludenz, Western Austria. As Managing Director of Dieffenbacher Energy, Lashofer takes over the management of the newly established Energy Business Unit…
Hatton-Brown Expositions LLC announces that the next Timber Processing and Energy Expo (TP&EE) will be held September 25-27, 2024 at the Portland Exposition Center in Portland, Ore. The 2024 show will be the sixth biennial TP&EE to be produced since 2012 by Hatton-Brown Expositions, LLC, an affiliate of…
Subscribe to Our Newsletter
Wood Bioenergy News Online hits the inboxes of subscribers in the wood-to-energy sectors.
Wood Bioenergy is published and delivered worldwide 6 times per year. Free to qualified readers in the U.S. Subscribers outside the U.S. are asked to pay a small fee.
Complete the online form so we can direct you to the appropriate Sales Representative.