Dropping ashes and billowing wind-driven smoke into Portland some 50+ miles to the West, the Columbia River Gorge fires in 2017 burned for three months from September 4 until seasonal rains in late November finally extinguished the burning catastrophe that was started by a 15-year-old kid playing with fireworks. Before it was over, almost 50,000 acres of timberland across multiple public and private ownerships covering some of the most breathtakingly scenic and intensely rugged terrain North America has to offer were torched.
Aside from the timberland damages, fire impact was immense: sections of I-84 and U.S. Hwy. 30 were closed for weeks, local communities were evacuated and air quality issues affected school activities as far away as the Portland metro area and even westward. Many businesses in the area were severely impacted.
A national treasure, the Columbia River Gorge National Scenic Area is hugely popular throughout the region as a hiking and tourist destination. Dozens of trails were damaged, roads and highways were unsafe to travel because for hazard trees—and gorge fans throughout the Pacific Northwest were intensely watching recovery efforts.
As soon as the all-clear was given, one of the first companies on site to begin repairing the damage was Mr. Tree of Happy Valley, Ore., a multifaceted operation based on the outskirts of the greater Portland area that can do just about anything with a tree when it comes to commercial tree and timber work. Mr. Tree can truly do it all, from trimming and pruning dainty Japanese maples in a city subdivision to full-scale contract logging on industrial or public timberland—and everything in between. That includes stump grinding, lot clearing, right-of-way and subdivision work, plus tree trimming and thinning and hazard and danger tree removal.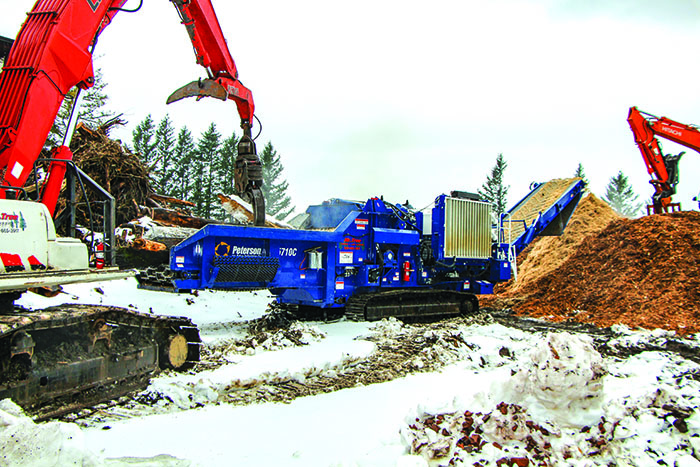 The recovery project in a national scenic area included thousands of logs and related fiber processing and removal, with fiber going directly to mills or back to Mr. Tree's sort yard.
Mr. Tree also employs three grinders that are utilized to complement the company's tree and land-clearing operations, operate at the company's expanded mulch and bark yard and also pursue outside work such as the gorge fire recovery and salvage project.
The company was founded in 1997 and is led by Wilbur Akins and his wife, Joyce. Wilbur looks after the logging and large tree work, Josh Woolsey is operations manager for Mr. Tree's tree service operations, and Kyle Pettit manages the grinding work.
Recovery
Among the first allowed in the gorge fire zone while stretches of I-84 and Hwy. 30 were still closed due to danger, Akins says the first move was to begin cutting hazard trees adjacent the highway. Work was handled by Mr. Tree's highly experienced manual cutters and also the company's Timbco feller-buncher and a Kobelco 350 with Summit Attachments & Machinery triple drum loader conversion flying an Acme 10 logging carriage.
Handling equipment includes a Link-Belt 240LX with Pierce grapple, Hitachi 210LC with PSM brush grapple and Volvo ECR2350L excavators.
Much of the work was in extremely steep areas with loose soil, Akins remembers. "When we were dropping and moving the trees to the roadside so much dirt was constantly coming down we had to have a guy with a wheel loader to keep the road clean," he says.
The area is very sensitive ecologically and for scenic values, and timberland within the official scenic area is managed similar to wilderness, with no commercial or even salvage logging allowed. As such, the project is a contract with the Oregon Dept. of Transportation with the goal of removing hazard trees and making the roadways safer. Mr. Tree was on site in late 2017, and the project is scheduled to wrap up in a couple of months, Akins says.
Just west of where Mr. Tree was grinding and merchandising along I-84, Hwy 30 (the original, pre-interstate road that runs along the top of the gorge) runs through a series of very popular parks with waterfalls and trails that were heavily damaged.
The Hwy. 30 work included roughly eight miles of narrow, heavily tree-lined winding roads with blackened trunks looming above. Mr. Tree felled the trees and hauled them to the processing location along I-84 near the entrance to Ainsworth State Park. Overall, more than 12,000 trees were removed.
Mr. Tree merchandised out a large deck of logs that were sold to a nearby sawmill, and has been using one of its three Peterson 5710C horizontal grinders to process the remaining material, much of it cottonwood with some Douglas fir mixed in. When WB visited, the grinding crew was feeding the 5710C with a Link-Belt 240LX, grinding into a pile and loading with the Hitachi-brush grapple machine. A Caterpillar 930H with bucket was keeping the pile groomed.
Clean hog fuel is being taken directly to one of several mill customers in the area, though the bulk of material processed at the site along I-84 is hauled back to Mr. Tree's facility in Happy Valley. There, it's screened and further merchandised, with cleaner material going to mill customers as boiler fuel and the remainder into the fiber yard where it's sold as mulch, soil or some other product.