Florida, Georgia and Alabama have weighed in with timberland damage assessments of more than $2 billion combined following Hurricane Michael, which made landfall October 10 in the Florida Panhandle at Mexico Beach, Fla. just southeast of Panama City. Packing 155 MPH sustained winds, the Category 4 hurricane was the third strongest hurricane in history to make landfall in the U.S. Although the footprint of the hurricane was not as big as some previous storms, it plowed a 25-50 mile path from the coast well into south Georgia.
Florida Forest Service, a division of the Florida Dept. of Agriculture and Consumer Services, announced that the estimated value of timber damage in Florida is $1.3 billion, impacting 2.8 million acres of for­estland either catastrophically (347,000 acres), severely (1.04 million acres) or moderately (1.4 million acres).
The timber damage percentage in severe and catastrophic areas ranges from 75-95%.
"This is a catastrophic loss to the forest industry in the Florida Panhandle," said Florida Commissioner of Agriculture Adam Putnam. "We are committed to helping Florida recover from this devastating storm and will continue to work closely with the agriculture industry on hurricane-related damage assessments."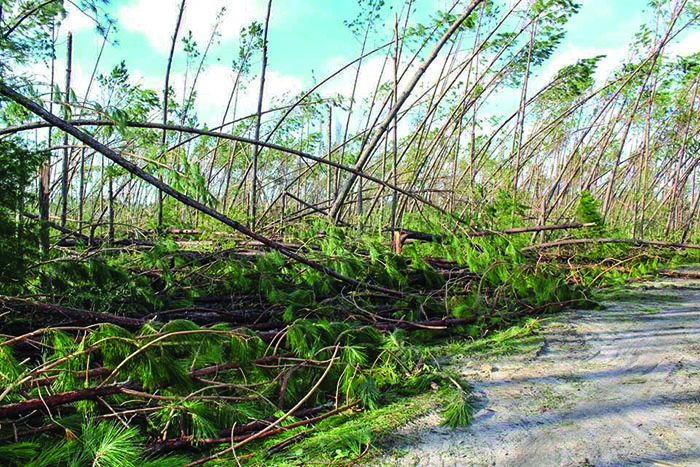 Michael's path in Bay County, Fla. (Photo courtesy of Florida Forest Service)
The 11 counties impacted are some of the top timber-producing in the state, including Bay, Calhoun, Franklin, Gadsden, Gulf, Holmes, Jackson, Leon, Liberty, Wakulla and Washington. Some forest products manufacturing facilities also sustained damage. More than 1.6 million acres of the damaged timber is in pine, with 667,000 acres in mixed upland stands, and 523,000 in bottomland.
Georgia Forestry Commission reports 2,368,226 acres of forestland were impacted with 20,510,889 tons of pine and 17,178,721 tons of hardwood being damaged with an estimated value of $762,683,909. Specifically 1.16 million acres of pine were damaged, 995,000 acres of hardwood and 213,000 acres of pine/hardwood mix.
Catastrophic damage was documented for 79,456 acres of forestland from south of Albany to Lake Seminole; this damage represents a loss of 2,164,507 tons of pine and 1,812,946 tons of hardwood with a value of $80,487,176.
Severe damage was documented for 296,112 acres of forestland from south of Albany to near Bainbridge. This damage represents a loss of 6,368,484 tons of pine and 5,333,844 tons of hardwood with a value of $236,807,442.
Alabama Forestry Commission officials estimate $20 million in timber damage in Houston County in the southeast corner of the state was lost to Hurricane Michael. Surveys conducted by AFC found that 42,357 forested acres were destroyed by the storm—13,396 acres of pine, 2,879 acres of hardwood and 26,082 acres of mixed pine and hardwood.
Forest owners should survey their property as soon as possible as storm-damaged timber should be recovered quickly if it is to be utilized, officials says. Drying timber can also create fuel for wildfires. Compromised timber is also more susceptible to southern pine beetle attack.
Alabama Dept. of Transportation has issued a supporting memorandum designating the routes that timber haulers should use in moving the storm-damaged wood. 
Much of the damage being reported across the three-state area is trees broken off 10-20 feet off the ground rather than pushed over at the roots. Recovery efforts in stands with broken off trees are severely hampered. On the positive side, falling temperatures should enhance the window for recovery.
Enviva reported that its facilities incurred only limited damage from Hurricane Michael, noting it undertook substantial preparation in advance of Hurricane Michael's landfall to keep employees safe and minimize disruption, including proactively idling operations at its wood pellet production plant in Jackson County, Florida (the Cottondale plant) and a third-party deep-water marine terminal in Panama City, Fla. The Cottondale plant did not incur substantial wind or water damage. Enviva does not own material infrastructure assets at the Panama City terminal, but a small portion of the roof on its contracted storage warehouse will need to be replaced and an estimated 5,000 tons of wood pellet inventory stored at the terminal appear to have been damaged by wind and rain.