You may have missed this during the holiday season, but in early November Gainesville Regional Utilities (GRU), Gainesville, Fla., purchased the former Gainesville Renewable Energy Center and its 102.5 MW biomass power facility for $750 million and which will really cost GRU about $1.2 billion figuring 30-year utility system revenue bonds in the equation.
This appears to be good news, bringing some sense of normalcy (even at those costs) to a project that has experienced its share of shakeups.
GRU is a multi-service utility owned by the city of Gainesville and is recognized as the fifth largest municipal electric utility in Florida. The buyout cut short a 30-year power purchase agreement in place between GRU and GREC, which required the city to pay $70 million annually or another $1.9 billion or so over the next 27 years.
Bottom line: $1.2 billion is better than $1.9 billion.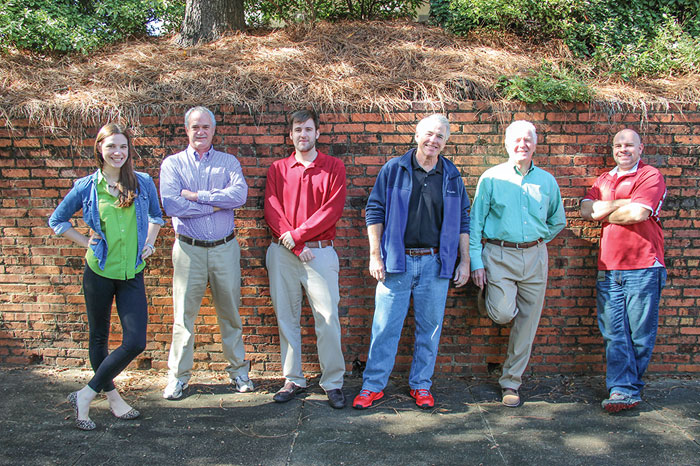 From Left: Jessica Johnson, Associate Editor; Dan Shell, Managing Editor; Jay Donnell, Associate Editor; Rich Donnell, Editor-in-Chief; David (DK) Knight, Co-Publisher/Executive Editor; David Abbott, Senior Associate Editor
Better yet: the city and GRU will actually own the facility.
In 2007, the city and utility became serious about biomass power as an option, especially to bring much needed diversity to the GRU power generation portfolio, and awarded the contract to American Renewables for the development of the plant. Construction on GREC began in June 2011 and was completed in October 2013. The $500 million facility soon began commercial operation with the intention to utilize 1 million tons of wood biomass annually procured through BioResource Management.
But the plant, which was already under local scrutiny because of the power purchase agreement, began encountering problems, from noise complaints to a lawsuit filed by one of its primary biomass suppliers, who said GREC had changed its biomass requirements in mid-stream, causing this supplier to lose out. A judge ordered GREC to pay the supplier $4.6 million.
It was also difficult for GRU to manage the plant, from the outside so to speak, as part of its energy portfolio. The city tried to buy the plant for $400 million in 2013, but was turned down by the ownership partnership of Energy Management, Inc., BayCorp Holdings, Starwood Energy and Fagen Power, LLC.
Then last August the Gainesville City Commission voted in favor of the $750 million purchase and the deal was struck. Immediately, GRU changed the name of the operation from GREC to Deerhaven Renewable.
Doing extended outages now and then, the plant was running for system reliability reasons immediately before the purchase.
As of early January, the plant was running and receiving biomass, including Hurricane Irma storm debris along with traditional sources. Plans are for the plant to run a regular schedule in 2018 at near full capacity. GRU says the projection for fuel pricing and the unit efficiency make it one of the most cost effective in GRU's generation fleet.
The goal is for the plant to have greater turndown (25-30%). An initial assessment is that it will need some modifications to allow it to run with the flexibility needed within the GRU system. GRU is near the conclusion of testing that will determine what modifications are needed. Meanwhile, BioResource Management remains the primary contractor for biomass procurement.
One of the drivers for the acquisition was Ed Bielarski, general manager of GRU, who came to Gainesville in 2015 and walked into this situation. "I came with a vision of restoring faith in a utility blemished by this lopsided agreement," Bielarski says, referring to the original PPA. "This (new) deal closes the chapter on a decade of political divisiveness related to biomass rhetoric, unproductive grandstanding and misinformation."
Meanwhile, GRU now owns a modern plant and has greater operational flexibility.