2017 is an anniversary of sorts—the 10-year anniversary of the industrial wood pellet industry in the United States. At least that's one way to view it, though if you want to say 2018 will really mark 10 years, we can go along with that, too.
It was late in 2007 that Fram Renewable Fuels began producing pellets at its new plant in Baxley, Ga. But the surge started in early 2008 when Fram really ramped up, and when Dixie Pellets started up its new plant in Selma, Ala. and Green Circle Bio Energy did likewise in Cottondale, Fla.
How those plants fared pretty much sums up the industry course over the next 10 years. The Fram plant at Baxley is still going strong and the company has since built two others, also in Georgia. Dixie Pellets, within a year after startup, went bankrupt. The facility started producing black pellets after Zilkha bought it in 2010, but that's also been a rough ride. Green Circle, which grew to become the largest single production capacity pellet plant, was acquired by Enviva in 2015, a company which by then was operating five pellet plants— two smaller ones it had purchased in the Southeast, one it built on a former sawmill site in Ahoskie, NC and started up in 2011, and two it built from the ground up in Southampton County, Va. and Northampton County, NC. Since the Green Circle purchase, Enviva has built and started up yet another greenfield plant in Sampson County, NC, has another one definitely in the making and others in the possible category.
The export of wood pellets to overseas markets to serve as fuel for electricity facilities quickly moved from peculiar jargon to a way of life.
Georgia Biomass started up its plant in Waycross, Ga. in May 2011. Westervelt picked out the site for theirs later in 2011. German Pellets began planning one at Woodville, Texas early in 2012. Smaller firms like Low Country Biomass, Ridgefield, SC, and Varn Wood Products, a sawmiller in Hoboken, Ga., began building smaller pellet mills in 2012.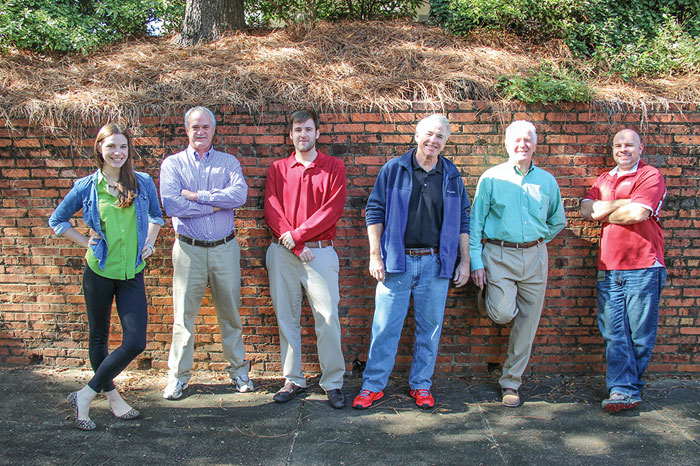 From Left: Jessica Johnson, Associate Editor; Dan Shell, Managing Editor; Jay Donnell, Associate Editor; Rich Donnell, Editor-in-Chief; David (DK) Knight, Co-Publisher/Executive Editor; David Abbott, Senior Associate Editor
The industrial wood pellet industry really became an industry when in September 2012 Drax announced it would convert three of it six boiler units from coal-fired to biomass-fired at its huge electricity plant in the United Kingdom. By the next spring, it had fully converted the first one, and by the end of last year, all three were doing biomass, in the name of carbon reduction. And oh yes, Drax also built and started up two wood pellet plants in the Southeast.
U.S. pellet exports in 2013 approach 3 million tonnes and 5 million in 2015. Some European countries and Asia began making commitments to reduce carbon with plans to move away from coal. Some projections point to a 40-50 million tonnes worldwide market by 2025.
Some people are taking these commitments seriously, as evidenced by new pellet plant startups in the U.S. in the past six months by Fram at Hazlehurst, Ga., Highland Pellets in Pine Bluff, Ark. and Colombo Energy in Greenwood, SC. Drax recently said it is adding production at its existing plants and possibly through acquisitions. We already mentioned Enviva's plans.
Of course Dixie Pellets wasn't the only failure. German Pellets went bankrupt along with its pellet plants in Woodville and Urania, La. And how many fingers does it take to count the number of announced projects that never materialized?
The new industry naturally spun off topics of discussion and debate, such as the one with the traditional wood products industry over timber supply economics. Then there's the science of carbon neutrality and the factors to be considered therein. Who knew that environmental groups would have a problem with an industry that promotes carbon reduction?
Hey, it sounds like a real industry to us, even if it isn't a teenager yet. But don't take our word for it. Beginning on page 26 we pose several big picture questions to several big time experts in the field who have been on this 10-year ride. Take their word for it.