A group representing domestic and export pellet manufacturers and woody biomass power producers is nearing a decision on whether to move forward with a formal effort to implement a "check-off program" that would seek to expand markets and support R&D, education and a positive public image for all segments of the wood-to-energy industry.
Administered by the U.S. Dept. of Agriculture, the USDA Research and Promotion Program has been around more than 50 years and most Americans are familiar with the "Got Milk?" and "Beef: It's What's for Dinner" campaigns (along with a lot more) funded by the respective dairy and cattle industries.
Such marketing, R&D and education initiatives are funded by the industry itself, as industry players donate a percentage of revenues.
The Wood-to-Energy Check-off Work Group is composed of nine volunteers, three each from the domestic pellet, export pellet and biomass power industry segments. Officials with the Biomass Power Assn., Biomass Thermal Energy Council, Pellet Fuels Institute and U.S. Industrial Pellet Assn. have also been involved as advisors.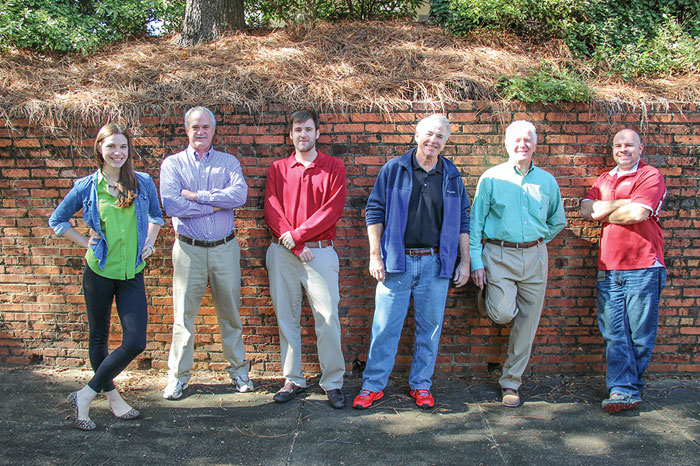 From Left: Jessica Johnson, Associate Editor; Dan Shell, Managing Editor; Jay Donnell, Associate Editor; Rich Donnell, Editor-in-Chief; David (DK) Knight, Co-Publisher/Executive Editor; David Abbott, Senior Associate Editor;
Working with help from the U.S. Endowment for Forestry and Communities (USEFC), which has provided some financial and organizational support, the Wood-to-Energy Check-off Work Group is finishing up an informal straw poll that asked producers in each segment if they were in favor, opposed or needed more information to decide—and also asked for opinions and suggestions.
The work group is taking the information and coming to a decision in early spring on whether to formally pursue a checkoff program, which includes developing concrete proposals as to how it will work and taking that to USDA. According to Bob Simpson, managing consultant for the project, the group and overall industry is about a year into what will be a 24-30 month process, culminating in a binding, up-or-down vote administered by USDA if the decision is made to formally pursue it.
"I believe the overall industry is positive toward it," says Rob Davis, president of Forest Energy Corp. and a member of the working group. "I believe the majority see the need for research and education, and most of us see this as a long-term solution."
The USEFC has been involved with a softwood lumber checkoff program that passed in 2011, and a hardwood lumber checkoff program that failed in 2015. Carlton Owen, president and CEO of USEFC, says that in his experience the biggest reason for opposing a checkoff program is philosophical: A lot of business owners simply don't want to deal with the government unless necessary. Also, he adds, many say they don't want any help marketing or educating consumers. Other simply may not want to pay out the assessments.
A more homogenous softwood lumber industry was able to pass a checkoff program while the more fragmented hardwood lumber industry was not.
The initiatives possible under a checkoff program can provide key support in developing and growing markets. For an industry such as ours, a checkoff program, if it happens, should establish and develop a beacon, a signpost, if you will, telling and promoting what the industry is all about and how consumers and others can benefit.