Elsewhere in this issue you'll notice a small news item on the developments (or lack thereof) at the new Southern Power woody biomass power facility, known as the Nacogdoches Generating Facility, near Sacul, Texas. This nearly $500 million facility, which started up last year with more than 100 MW of generating capacity, has a 20-year purchase agreement with Austin Energy. However, Austin Energy hasn't been purchasing the facility's power as of late—due to lower cost energy sources elsewhere—and is merely paying Southern Power a fee to maintain the idle facility and keep it ready for a quick startup when it's needed.
As with most new plant projects, this one went through the usual anxious feedback from the community—some people were concerned with how it would impact their power bills; others were just against the idea of a new plant, any plant. But in August 2008 the Austin City Council gave Austin Energy the approval to enter into the $2.3 billion, 20-year contract with the new plant. Austin Energy saw the plant as a way to increase its commitment to renewable energy. The Texas plant would require a combination of urban wood waste and forestry biomass.
Southern Power hadn't publicly entered the picture yet in 2008. Rather it was a new venture that would build and manage the plant, American Renewables, which itself was a joint venture between Energy Management Inc., BayCorp and Tyr Energy. EMI's resume included involvement in a small wood energy plant in New Hampshire; the majority of its work had been with natural gas electric generation.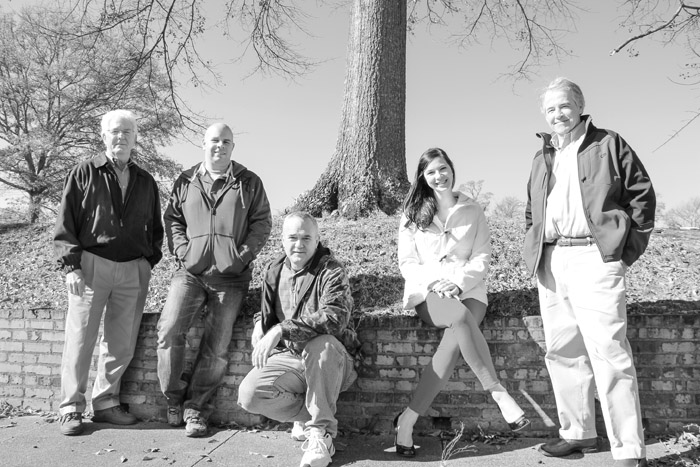 From Left: David (DK) Knight, Co-Publisher/Executive Editor; David Abbott, Senior Associate Editor; Dan Shell, Western Editor; Jessica Johnson, Associate Editor; Rich Donnell, Editor-in-Chief
Shortly thereafter, in May 2009, American Renewables and its affiliate Gainesville Renewable Energy Center entered into a similar project agreement (this one a 30-year contract) to build and manage a nearly identical woody biomass power plant for Gainesville (Fla.) Regional Utilities. Given the location in the college town (University of Florida), not surprisingly this project navigated through even greater resistance and angst, before the Gainesville City Commission approved the deal.
Five months later, American Renewables sold the Nacogdoches Power project to Southern Power, a subsidiary of Southern Company.
Meanwhile, as the Gainesville project entered the construction phase, it signed a long-term biomass supply contract with Wood Resource Recovery, a local wood waste recycler, to supply near half of the biomass fuel that will be required by the plant. WRR will deliver urban wood waste. The plant will also consume forestry biomass, and in early 2011 it entered into such a fuel supply arrangement with Rayonier.
Some residents have continued to fight the Gainesville plant, contesting everything from open meeting laws to water pipeline intrusion. And of course there is the never wavering NIMBY faction.
The latest dispute is between the city of Gainesville proper and the developer, Gainesville Renewable Energy. It stems from when in late 2011 Tyr Energy sold out its 40% portion of the investment to Starwood Energy and departed the project. Earlier, the construction firm, Fagen, had purchased a 17% stake in the project. The city says Tyr Energy's divestiture over to Starwood, combined with the sale to Fagen, constituted a change of controlling interest that should have triggered the city's contractual right of first offer to buy the plant.
GREC counterclaimed that the city is merely trying to force GREC to renegotiate the original contract and wring some concessions, especially given current low natural gas prices and the pressure the city is under from constituents about the entire project.
The idle state of the Texas biomass power plant, also borne of American Renewables, only compounds the tension in Gainesville.
Meanwhile, the Gainesville plant should be ready for startup this summer. Providing that it continues to operate, and that power bills don't increase too much, perhaps all of the participants will become friendly bedfellows once again, in the name of a worthy cause—renewable energy.