By now most of you have read about the Forest Service awarding a 10-year contract to thin 300,000 acres of ponderosa pine on four national forests in Arizona to a company called Pioneer Associates, based in Billings, Mont.
Pioneer Associates intends, as it puts it, "to establish one of the largest totally self-sustained wood manufacturing plants in the U.S.," with the ability to cover a market area that includes the U.S., Canada and Asia. More specifically, the company plans to build a $250 million wood processing complex in Winslow, Ariz. that includes a small log sawmill along with 20 dry kilns for the production of pine lumber that is to be fingerjointed (on numerous fingerjoint lines), edge glued and otherwise engineered into door products, window frames and furniture components. The complex is expected to employ 280 while adding another 160 jobs related to logging. The operation will receive 115 truckloads of logs daily.
In addition to using its fiber waste to generate steam for the kilns and for heating the facility and producing electricity, the plan includes the construction of an adjacent biofuels production facility. Pioneer will reportedly be working with Concord Blue, a German-based waste management company which specializes in turnkey general contracting and engineering for the implementation of waste to energy projects, and which offers its own gasification and combustion technologies. Affiliate company Concord Blue Energy is based in Las Vegas.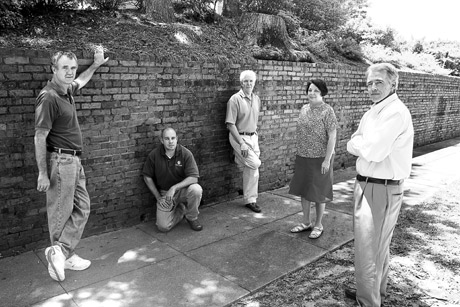 From Left: Dan Shell, Western Editor; David Abbott, Senior Associate Editor; David (DK) Knight, Co-Publisher/Executive Editor; Jennifer McCary, Senior Associate Editor; Rich Donnell, Editor-in-Chief
Pioneer Associates won the award with a $6.3 million bid. This has created some controversy because another company, Arizona Forest Restoration Products (AZFRP), offered $15 million and didn't get it. AZFRP planned to build an oriented strandboard panel plant. Pioneer apparently won the award because its wood products operation is not expected to be so commodity-driven (that is, not so reliant on a soft housing market) while also bringing in an environmentally correct biofuels plant to boot.
However, AZFRP noted after the award announcement that Pioneer's products will be destined for the same housing and commercial construction markets as AZFRP's products would have been; and questioned how the government could regard as low risk a proposed cellulosic biodesel plant as a viable project "when apparently not a drop of cellulosic biodiesel has ever been produced outside of a research facility."
This is all part of the Four Forests Resource Initiative, which aims to eventually restore 2.4 million acres on the Cococino, Kaibab, Apache-Sitgreaves and Tonto national forests. It stems from a series of devastating forest fires and drought conditions that have waylaid proper forest management.
Pioneer Associates CEO Herman Hauck hopes to begin site development by the end of the year and start up the sawmill by late summer next year, with the biofuels plant to come a little later. Pioneer and Hauck unsuccessfully shopped its small log production complex concept in Canada and New Mexico in the past, but a lack of committed timber supply turned away these efforts.
Having witnessed the serious hurt put on the Western wood products industry through bogus lawsuits brought forth by so-called "environmentalists" in order to derail perfectly good timber harvesting plans on national forests, we have some doubts that this project will reach fruition. (Sorry, but the northern spotted owl fiasco left a lasting impression.) We understand that the new governing plan for the Forest Service and its national forests is supposed to be more in tune with forest science, and is as concerned about economic vitality (especially when green fuels are in the mix) as with environmental fundamentals.
We're concerned that Tom, Dick or Harry will knock on the door of the Forest Service, say there's a threatened species in the neighborhood (when there's really not) and the whole thing will ground to a standstill. But maybe we're in a new era of federal forest management.