Stela Celebrates 100th Anniversary
Stela Laxhuber GmbH celebrated its 100th anniversary on June 24 at its operations in Massing, Germany. In the course of a century, the company has developed from a wind well producer to an agricultural machinery dealer to today's world-renowned specialist for drying systems of all kinds.
The new factory halls actually served to celebrate a double birthday party—100 years of stela and 40 years of stela Steuerungstechnik. Also, the recently awarded Bavarian SME Prize—which went to stela this year—was presented by Peter Glas, Vice President of the Lower Bavarian Chamber of Industry and Commerce, who praised the unconventional approaches to challenges on the part of stela.
More than 900 guests from all continents were able to attend the celebration. Welcomed with drinks, small snacks and a delicious ice cream stand, the new and festively decorated factory halls filled up in no time.
As stela has now installed 4,012 plants in 67 countries, the guest list was indeed a long one. The guests also reflected the company's customer base, as stela offers solutions for the small organic maize farmer as well as plants for huge sewage treatment and OSB plants.
One of the guests of honor was Mr Baumer, who was the first customer to opt for a stela drying system back in 1967.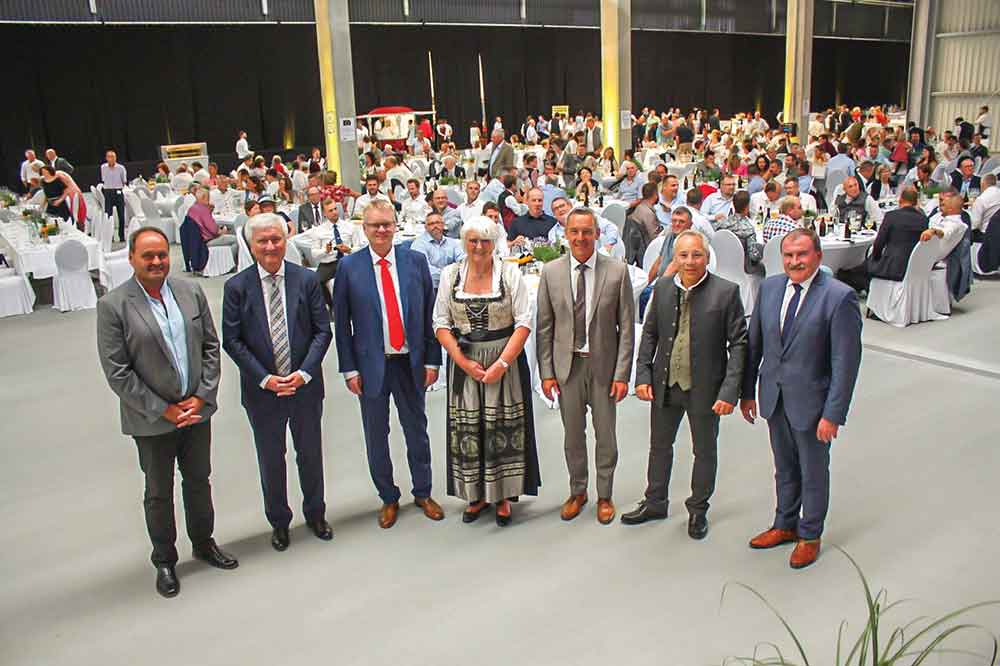 First and foremost, Mrs. Thea Laxhuber, mother of today's Managing Director Thomas Laxhuber, looked back on the past decades. Her touching choice of words emphasised the diligence that was able to turn an idea into a globally active company despite all the turmoil of the 1920s.
As a company supplying energy-efficient systems and despite its growth, stela has also become more energy-efficient itself. Since 2020, the company has been climate-neutral, the vehicle fleet has been converted to electric drives, and "refuelling" is achieved by an in-house solar system.
In his speech, Rainer Hettwer, the second Managing Director, referred to this typical stela hands-on mentality when it comes to training future workers for consistent growth. This also explains why 20 years ago stela employed 50—whereas today it employs 220.
The drying of recycling material is becoming increasingly important in times of climate crisis. "When it comes to recycling, we now only talk about raw materials—and no longer about waste," commented Thomas Laxhuber. In the next few years the company will grow in the area of drying for chipboard and pellet production.
The cuisine offered also lived up to the event's festive setting. A mouth-watering choice of dishes and desserts was followed by a magical evening of music played by the extremely popular Bavarian band LaBrassBanda. Dancing and festivities continued until the early hours of the morning.
SunGas Renewables, an independent division of GTI Energy, announced it is considering an investment of approximately $1.8 billion to establish a renewable low-carbon methanol production facility in Pineville, Louisiana. The company projects its facility, Beaver Lake Renewable Energy (BLRE), would manufacture nearly 400,000 metric tons of green methanol per year for SunGas customers worldwide…
Subscribe to Our Newsletter
Wood Bioenergy News Online hits the inboxes of subscribers in the wood-to-energy sectors.
Wood Bioenergy is published and delivered worldwide 6 times per year. Free to qualified readers in the U.S. Subscribers outside the U.S. are asked to pay a small fee.
Complete the online form so we can direct you to the appropriate Sales Representative.