New From Bandit Industries: Model 1425 Track Machine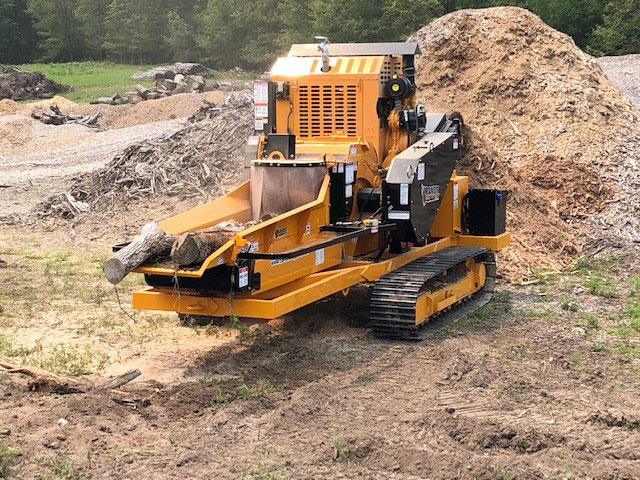 Bandit Industries' new Model 1425 track is a highly productive and compact horizontal grinder, equipped with many of the same features as the tow-behind version and adding tracks substantially increases the capabilities of this unit. Thanks to a Caterpillar steel track undercarriage, this machine can travel over a variety of landscapes.
The Model 1425 track is equipped with a 7 ft. x 24 in. steel or rubber belt infeed conveyor and a stationary discharge with a stacking height of 7 ft. To further enhance capabilities, a grinder head or chipper drum can be ordered, giving it the ability to produce mulch or a dimensional chip.
When ordered with a grinder head, there are 14 cutterbodies with teeth, creating an aggressive, yet smooth grinding action. While the chipper drum features four chipper knives that will produce a chip ranging from ¼ in. all the way up to 1 in. Like other Bandit larger horizontal grinders, the 1425 track is offered with a variety of tooth and screen options.
Visit banditchippers.com.
RELATED ARTICLES:
Astec Industries, Inc. is launching a new modern look with a rebranding initiative to coincide with its business model. The rebrand includes a new logo, color palette and website. The launch comes while the organization streamlines its internal structure and operations to improve efficiency and drive growth…
Huber Resources Corp. ("HRC") has announced the acquisition of certain assets of Sewall Forestry & Natural Resource Consulting LLC ("SFNR"), which will grow and expand its capabilities globally in key service areas including timberland appraisals, forest inventory management and forest modeling…
Drax Group has chosen Biomass Engineering & Equipment to supply material handling, layout engineering, and mechanical installation for its three recently announced pellet plants in Arkansas. BE&E will manufacture bulk receiving bins, disc screeners, SMART conveyors, SMART containers and covered pellet…
Subscribe to Our Newsletter
Wood Bioenergy News Online hits the inboxes of subscribers in the wood-to-energy sectors.
Wood Bioenergy is published and delivered worldwide 6 times per year. Free to qualified readers in the U.S. Subscribers outside the U.S. are asked to pay a small fee.
Complete the online form so we can direct you to the appropriate Sales Representative.