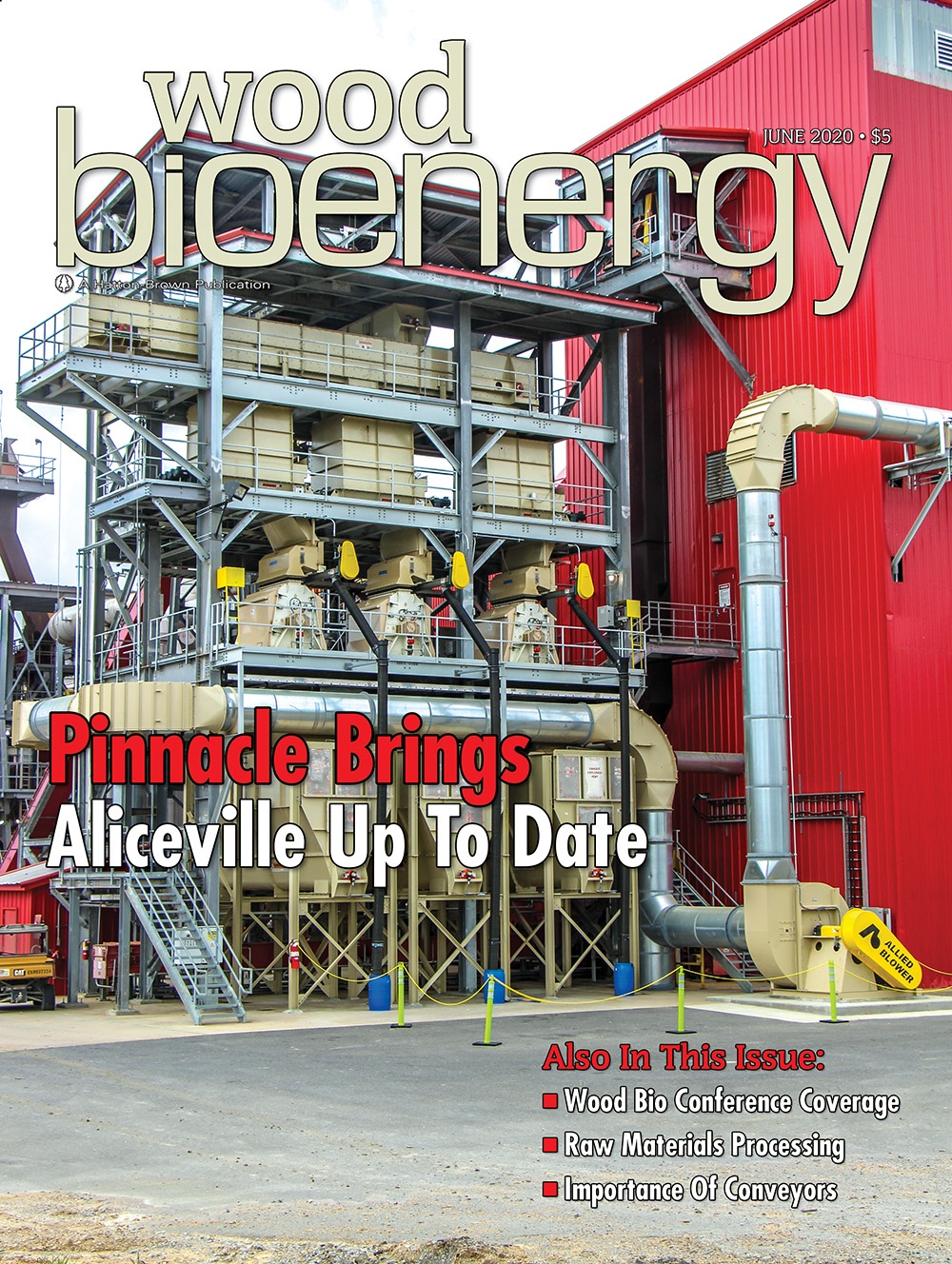 From the Editors
Cover Story
In the News
Enviva Reveals 2020 Implementation Plans
ENCE Teams Up With SENER Again
Drax Reaches Milestone Mark
Drax Donates $30,000 Toward Relief Efforts
PRODESA Will Supply Plants To Belarus
Combilift Steps Up With Combi-Ventilate
Northwest Deal Brings Parties To The Table
Sun Bio Pulls Out Of Pulp Mill Project
OSU's Waring Shares Wallenberg Prize
Wood Bio Part Two: Projects, Air Emissions
This is part two of a three part series on the coverage of the Wood Bioenergy Conference & Expo held March 10-11 at the Omni Hotel at CNN Center in Atlanta. Part one appeared in the April issue. Part two here reviews the presentations of speakers in project development, air emissions technology and process maintenance.
Conveyor Considerations
Choosing The Right Conveyors For Biomass
Raw Materials Processing
The following companies provided editorial profiles to complement their advertisements throughout this issue:
Bandit Industries
Biomass Engineering & Equipment
CW Mill Equipment
Fulghum Industries
Morbark
Peterson Pacific
Precision Husky
Progress Industries
Rawlings
Vecoplan
Vermeer
Product News
Sugimat Will Supply Biomass Steam Boiler
New Loggers-Truckers App Follows Loads
Husqvarna Appoints President of North America Division
Years ago when it was introduced, the Obama Administration's Clean Power Plan (CPP) from the Environmental Protection Agency (EPA) was quickly challenged in court on several fronts, the biggest being that the plan had over-reached by attempting to regulate energy policy through the Clean Air Act as opposed to sticking with environmental issues.
Yet now, with the Affordable Clean Energy (ACE) Rule from the Trump Administration being finalized to replace the CPP, rule-makers at the EPA have again wandered off course, this time ignoring the benefits of biomass in favor of emphasizing coal technology improvements in the pursuit of lower greenhouse gas emissions.
Scott Osbourn, principal with Trinity Consultants, covered the impact of the new rule during a presentation at the Wood Bioenergy Conference & Expo in Atlanta in March.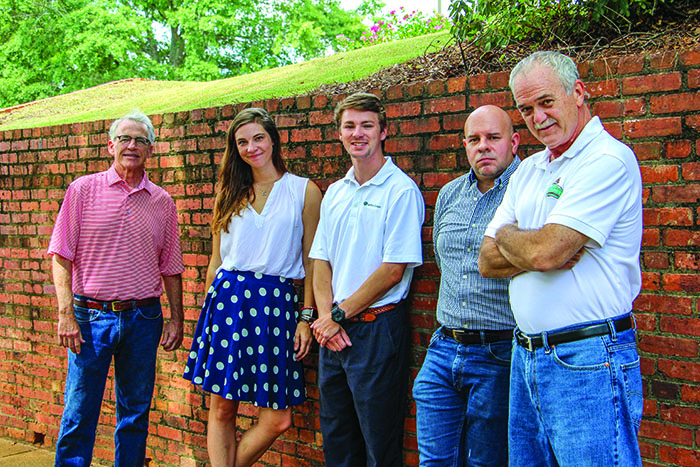 From Left: Rich Donnell, Editor-in-Chief; Jessica Johnson, Senior Associate Editor; Patrick Dunning, Associate Editor; David Abbott, Senior Associate Editor; Dan Shell, Senior Editor
The biggest difference between the two plans when it comes to biomass, he said, is the CPP only considers "inside the fence" systems and technologies that can be improved upon at a given facility, not any benefits that can be gained by using alternate fuel sources or closing facilities to shift capacity and feedstock.
 A key term EPA uses is the best system of emission reduction (BSER), which gives operators guidance on how to best meet emissions reduction goals. However, benefits derived from biomass conversions or co-firing such as sustainability and carbon sequestration from replanting aren't even considered.
Article by Jessica Johnson, Senior Associate Editor, Wood Bioenergy
ALICEVILLE, Alabama – In late 2018, Pinnacle Renewable Energy announced the purchase of the majority of The Westervelt Co.'s wood pellet production facility in Aliceville, Alabama, while also entering into a long-term partnership agreement with Westervelt. For Pinnacle it represented a continuation of its focus on building partnerships with wood products companies who operate sawmills. Westervelt had long been known in the region for its high production sawmill and vast timberland holdings, when it built and started up a high production wood pellet mill at Aliceville in 2013.
Aliceville has four dry storage silos with capacities of 9,000 tons each.
Like other Pinnacle pellet plants, Aliceville's raw material intake is dominated by sawmill residuals.
Last year, Pinnacle and Westervelt deepened their relationship and added Two Rivers Lumber into the partnership. The group announced they would build a greenfield wood pellet mill in Demopolis, Alabama, adjacent the new Two Rivers Lumber sawmill. Under the latest partnership agreement, Pinnacle owns 70% of the existing Aliceville and planned Demopolis facilities, while Westervelt retains 20%, and Two Rivers Lumber owns 10%.
Wood Bioenergy is published and delivered 6 times per year tosubscribers worldwide. Readership includes corporate executives, mill ownership, mill management, logging contractors and equity venture interests. Wood Bioenergy is FREE to qualified readers.
Canada-based biomass carbonization technology provider Airex Energy Inc. announced it has concluded a Series B funding round valued at $38 million Canadian, which Airex Energy states will fast-track its growth initiatives, including a Québec biochar project tying in with its partnership with France-based environmental quality developer, Suez, which aims to significantly boost biochar production in…
Astec has announced Bejac Corp., a heavy equipment dealer with 10 locations, will represent the Peterson line of forestry and environmental recycling equipment in California and Arizona. Bejac, founded in 1953 operated as an underground pipeline contracting business until 1985 when the company pivoted to the heavy, specialty equipment sector…
Valmet will be converting Helen Ltd.'s coal-fired district heat boiler to bubbling fluidized bed (BFB) combustion to enable wood pellet firing at the Salmisaari 'A' power plant in Helsinki, Finland. The conversion promotes the company's goal of phasing out coal, while at the same time strengthening the construction of a sustainable energy system…
Subscribe to Our Newsletter
Wood Bioenergy News Online hits the inboxes of subscribers in the wood-to-energy sectors.
Wood Bioenergy is published and delivered worldwide 6 times per year. Free to qualified readers in the U.S. Subscribers outside the U.S. are asked to pay a small fee.
Complete the online form so we can direct you to the appropriate Sales Representative.