Final Opportunity to Purchase Turnkey Trae Fuels Pellet and Chip Facility
SPONSORED CONTENT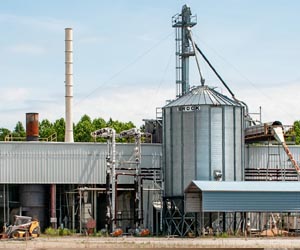 The Trae-Fuels is a fully operational production facility configured to produce wood pellets used for home heating and as an alternative in power generation. Just 40 miles from Fredericksburg, Virginia, the facility is strategically located near the ports of Richmond, Norfolk, and Portsmouth. In addition, its situation on the East coast provides plentiful, sustainable, and cost-effective feedstock.
Trae-Fuels consists of a full-scale chipping operation with rail loadouts and 700 feet of chip conveyance. The main pelleting plant has two chip dryers, a 600-ton main hammermill, four 500 horsepower Bliss pelleting mills, and a fully automated Hamer bagging operation. It also features three-car rail siding and outdoor storage for up to 20,0000 tons of product (bagged on pallets) with a placard capacity of 130,000 tons annually.
Sealed bid offers are due by July 31, 2020. Inspection is by appointment through July 25.
This is the final opportunity to purchase the Trae Fuels Wood Pellet and Chip Facility. Should an acceptable sealed bid offer not be received by July 31, 2020, an auction of the company's M&E will proceed on a piecemeal, "as is, where is" basis with lots start closing on August 20, 2020.
For more information call Bob Pabst 847-499-7023 or at hyperAMS.com.
A major reshuffling of candidates for the Arizona Corporation Commission may bring new life to a derailed effort that would expand biomass utilization in the state to help facilitate much-needed forest thinning and restoration efforts. A state court judge recently threw multiple candidates off the ballot due to irregularities in signature-gathering, including an incumbent and the commission's biggest biomass supporter…
Officials with Alaska-based Usibelli Mines, Inc. recently announced the company has acquired Superior Pellet Fuels of Fairbanks, which produces wood pellets and briquettes for local markets. New Usibelli…
A $5.8 million grant from the California Department of Forestry and Fire Protection was awarded to the State University of New York (SUNY) at Cobleskill for a gasifier project that converts woody biomass into clean burning fuel. The grant project is led by SUNY Cobleskill visiting professor David Waage and uses his patented inclined rotary gasifier, initially funded by…
Subscribe to Our Newsletter
Wood Bioenergy News Online hits the inboxes of subscribers in the wood-to-energy sectors.
Wood Bioenergy is published and delivered worldwide 6 times per year Free to qualified readers in the U.S. and subscribers outside the U.S. are asked to pay a small fee.
Complete the online form so we can direct you to the appropriate Sales Representative.